Mark 1:14-20 – The 3rd Sunday after Epiphany – for January 25, 2015

"Now is the time! Here comes God's kingdom. Change your hearts and lives, and trust this good news!" (Mark 1:15)
I did not answer the nurse's question.
She shared more about God's judgment.
I listened.
She shared more about God's judgment.
I then responded to the most neutral of the hospice nurse's comments—the vintage trope that God's ways were mysterious—with an equally banal affirmation that each person was different. She nodded like we were fellow conspirators.
She returned to her work; I returned to mine.
Such a coward I was. Wasn't I?
Though busy with making notes from a hospice meeting, and facing a list of names to call for my work in the ministry of bereavement, earlier that morning I'd read the Gospel of Mark's declaration by Jesus: "Now is the time! Here comes God's kingdom. Change your hearts and lives, and trust this good news!"
What did the Jesus of Mark's gospel mean by the nearness of "God's Kingdom?"
Is now the time of change? And what change will come to your—or my—hearts and lives?
Of the many things I enjoy about working in a hospice is being around staff members who believe in God, and believe about God, differently from me. Though I have no statistics for proof, I suspect the workforce in hospice—whether the highly educated physicians or the underpaid and overworked home health aides—claims a larger percentage of people influenced by their religious faith than those in other careers. Everyone in hospice, even the administrative staff that may never meet the patients or families, is continuously confronted by death. In the myriad ways it could be understood, Jesus' statement—"Here comes God's Kingdom. Change your hearts and lives . . ."—echoes from the hospice offices to the bedrooms of dying patients.
Of the many things I enjoy about working in a hospice is serving bereaved families who believe in God, and believe about God, differently from me. Death has rocked them. Unlike any other point in their lives, the faithful people who have buried a loved one will grow more deeply in their faith . . . or they will discard their religious beliefs like freezer-burned food. Those without faith may open to God's love for the first time and discover a comfort they'd never experienced. Or, those without faith have further confirmation why trusting God—the "higher power," Allah, YHWH, Jesus, the Almighty—was as beneficial as building a sand castle to slow a tsunami's tidal wave.
The nurse (a colleague I admire) expressed sadness for the patients and families who faced death and didn't believe in Jesus. "They'll never see the pearly gates," she said while I balanced a candle and a sheaf of notes. "You and I know where they will be going, to the other place. How terrible for them."
For the millionth time in my life (I exaggerate, but perhaps not by much), I didn't engage in a theological discussion . . . or disagreement. Cowardly? Probably.
What is the good news of belief, of following Jesus? The nurse shared a little more, and I (of course) listened, but her words focused on the failures of those not being saved by, through, or because of Jesus.
What did Jesus in Mark mean about trusting "the good news?" That some will get to the "pearly gates" and the rest will, well, go to hell?
Here's the thing with my fervent and flimsy faith: I don't know what to think about pearly gates or "a better place" or who gets rewarded or punished. I've witnessed fellow Christians intentionally berate or belittle others. Muslims I've known have demonstrated such Christ-like mercy, they caused me to wonder if I'd ever reach their level of compassion. I've met "Nones" (those answering the what-is-your-religion or what-is-your-church-affiliation survey questions by choosing "none.") and have been stunned by their neighborly love. Who will be rewarded? Who will be punished? Or are future rewards and punishments more a human contrivance?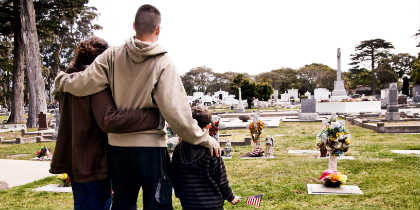 I've sat with a husband (and others like him) whose 40-something wife died a grim death from cancer. He (and others like him) simmered with anger about a flaccid, petty, pathetic God and I would never disagree with his reactions. If he allowed it, I put my arm around his shoulders. Nowadays, in moments such as that, while trying to be fully present with him, my thoughts may wander to my mother's final days. Prone on a hospital bed, her abdomen was barely crocheted together by rows of metal staples while the narcotic dilaudid flooded her veins to dull the unrelenting pain. I can't find it in myself to murmur clichés about the ways of the world and the ways of the One who created the world to the husband (and others like him). I just cry with him.
Maybe there are pearly gates. And maybe only confident believers will be welcomed inside, while the rest of us—the Nones and ones like me with wandering minds and faith—will trudge toward a hot spot that keeps getting hotter. Maybe I am a coward, theologically mute when I should debate those who praise some and condemn others.
Change your hearts and lives. A verse later, Jesus challenged the brothers Simon and Andrew, "I'll show you how to fish for people."
I'm a poor angler, a person with a cowardly faith. And yet, I will still wrap my arms around another's shoulders during the worst news. With inadequate words or humble silence, I pray for them to feel they are not without hope in the promised nearness of God's Realm.
(Image from here.)