Deuteronomy 34:1-12 – The 20th Sunday of Ordinary time – for Sunday, October 26, 2014

"Then Moses hiked up from the Moabite plains to Mount Nebo, the peak of the Pisgah slope…" (Deuteronomy 34:1)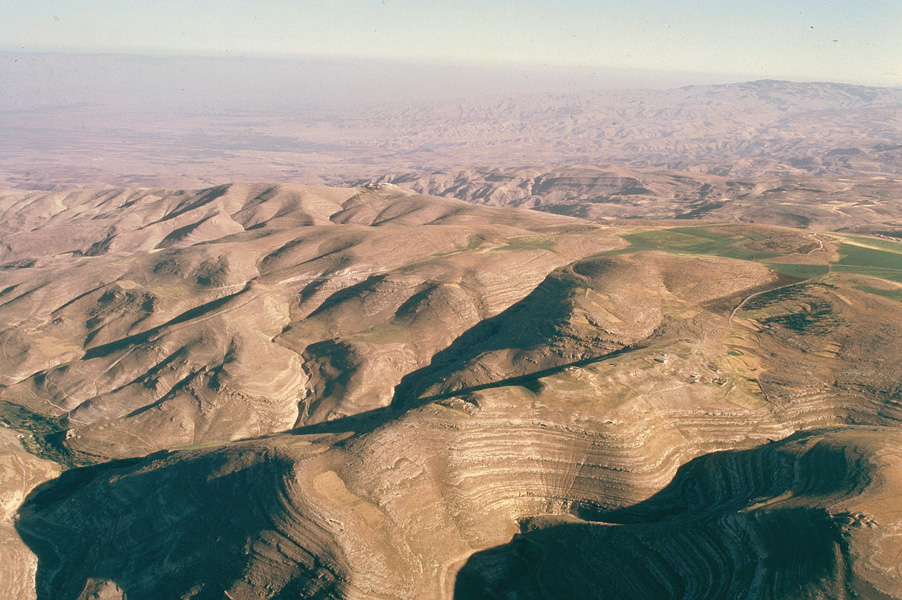 Did God weep when Moses died? The Book of Deuteronomy never mentioned divine tears.
But I wonder.
Of course, it could be claimed that Deuteronomy only passed along an exaggerated tale, one written by enthusiastic but anonymous scribes, penned to create heroics and a hero, inexplicable miracles and enduring memories. Moses, as unique as he was, and as unique as his relationship with God had been depicted, was still only another human. Somewhere, somehow, Moses died.
In Mary Oliver's poem The Summer Day, her final lines asked,
Tell me, what is it you plan to do
with your one wild and precious life?
What about when Moses' "wild and precious life" arrived at its last day? And what about God . . .
*Â Â Â Â Â Â  * Â  Â  Â  *
Moses scrambled over rocky ground and treeless ridges to the sunburned summit of Mt. Nebo. Soon, God would have the last word. Soon, Moses' still strong legs would take a final step. Soon, Moses' remarkably clear eyes would gaze at the land promised to him by God. Did the man once raised in Pharaoh's palaces know he'd strode the good earth for the last time? Did he know his view of "the Gilead region as far as Dan's territory" and "all the parts of belonging to Naphtali along with the land of Ephraim and Manasseh . . ." were the last images to fill his earthly view?
God, whose name Moses knew, whose presence Moses had reveled in and trembled over and had never fully seen; God, who Moses trusted and doubted, loved and feared, agreed with and argued against, waited nearby.
God: always, always, always nearby.
Moses breathed heavily. For all his vigor, climbing Nebo was a young man's pursuit. And Moses hoped, for whatever reason God desired him to stand at this peak, that he wouldn't have to raise his staff. His arms were tired.
His breathing slowed. Atop the summit, Moses felt as if he could see everything. And he could remember everything.
Did Moses wonder if that bush still burned? When he'd last seen it, the branches continued to burn without being consumed, brighter than the midday sun. Were the bones of Pharaoh's army drying by the sea, stacks of them bleaching under the vast sky? Did a creek still flow at Massah and Meribah? Were thirsty sojourners continuing to be refreshed from an oasis in the wilderness? Did the self-serving gold from Aaron's foolish bovine god find its way into the grasp of traders on a caravan headed for Egypt?
Pondering the past was seductive. It always is, for the infirm or the vigorous. We humans—God's finest, and sometimes worst, creation—can waste long hours remembering when. We can recall the humdrum minutia of the good old days and transform them into magnificent memories. Weren't we all once better, faster, stronger, brighter, and more faithful?
The account in Deuteronomy included nothing about reminiscing. In the moments before his last breath, Moses didn't glance behind for a life review. I'm sure Nebo, a modest peak high enough for a nice view on a clear day, could have provided the old law-receiver and lawgiver with a Technicolor panorama of where he'd been. And yet, scripture noted, Moses gazed toward the future.
Let's say he knew his end was near.
Let's say he didn't.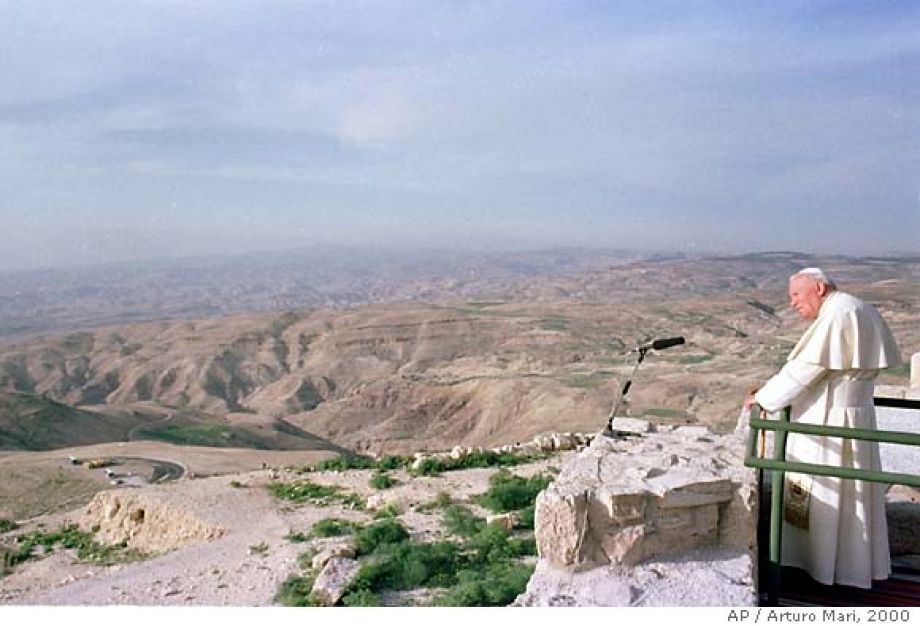 But let's say for sure he did know—believed, hoped, trusted—that God was nearby. Wasn't God the reason for his wild life? And so Moses fixed his eyes on the direction of what could be, in the direction of the tantalizing promises of tomorrow, rather than yesterday's defeats or triumphs. His faith, which sometimes could be as fragile as a slender reed along the bank of the Nile River, still compelled him to go forward. Where could he take a next step? How could he help that next person? Who next could he convince that the God of Abraham, Isaac, and Jacob was worth following? Where, as his bright eyes studied the land as "far as Zoar," was the next safest passage for the stubborn people he led and loved more than food or water?
If faith is anything, even the weakest faith, it is laying claim to the promises of tomorrow while living in this singular moment.
And so Moses straddled the pinnacle of Nebo, with dirt in his sandals and sweat salting his eyes. His breathed in the cooling wind. He reveled in the birds soaring above the lower ridges. He marveled at the deep blue of the forever sky. He was a man of the present striving for a promised future.
They say no one knows where Moses was buried. And only those concerned with the past would waste time seeking it. In our faith, will we worship the days gone by, or gaze toward tomorrow's hope?
God, nearby, before that last breath of Moses, drew even closer to the law-receiver and lawgiver. God, of course, also didn't look back.
But I imagine God wept.