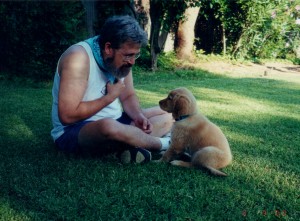 On October 4, 2014, we entered the vet's office to help our fourteen-year-old dog Hannah peacefully take her final breath. On a cold linoleum floor, nestled between my wife and me, the vet injected her with the medication. Hannah died on my wife's lap in the blink of a teary eye.
I have regrets.
Several years after Hannah entered our lives, a person shook my hand while leaving worship—I am a United Methodist pastor and served a congregation then—and told me that she was tired of the Hannah stories in my sermons. Like too many weak-willed preachers, desirous of pleasing every church member, I tried to reduce my dog tales.
I should've told more. I've never given a sermon as powerful as sauntering beside Hannah on a mountain trail, experiencing the sights-smells-sounds of creation through a dog's joy.
We should've taken more hikes with her. And more car trips. (How can a 70+ pound dog "disappear" into a back seat?) I should've spent more time tossing Hannah her beloved blue balls.
As with so many fellow, feeble humans gobsmacked by a dog's devotion, Hannah taught me many things. I won't relate them here, for other dog lovers have said them better; and if you haven't lived with a perfect dog like I have, you probably wouldn't grasp what I'd tell you anyway. But I believe this with all of my cranky human heart . . . in the English language, it is not a coincidence that God is dog spelled backwards. (At least if you believe in a God of endless, boundless, unfettered love.)
The vet was surprised at the arthritis he identified in Hannah's front legs when she was around seven. Our perfect dog began to struggle far too early with physical ailments. And, in the end, it would be her legs that became her worst enemy. Arthritis, muscle wasting, and old age took away her ability to simply rise from the floor. In her final months and weeks, we wondered what to do. Though age also brought on the inevitable cataracts and blindness, and ears that dimmed until all she could hear were my encouraging shouts, she continued to bless our home with what I can only inadequately describe as Pure Love. But on a lonely, tearful morning walk, a week or so ago, one word (maybe the answer to one of my canine prayers to God) came to me.
Dignity.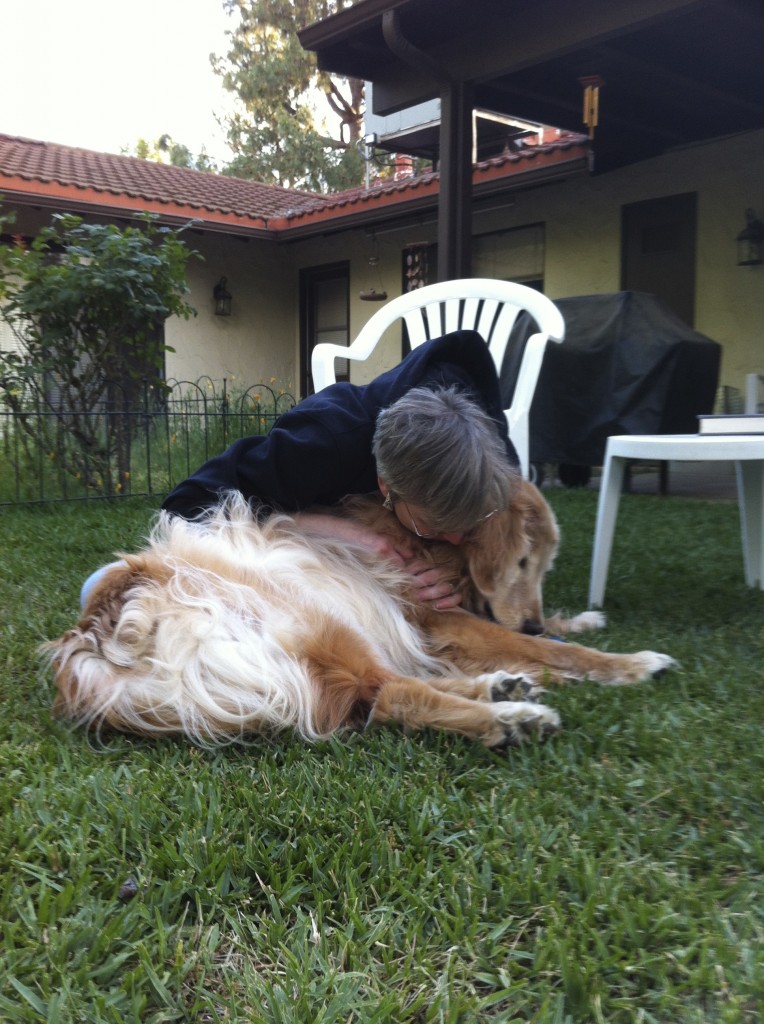 I wanted my puppy to die with dignity. I wanted her blind eyes to still be bright. I wanted her tongue to still gently lick my hand. I wanted her to still have a desire to eat. I wanted her fastidiousness about doing her "business" outside to still be possible (though I had to support all of her efforts in the last month, for she would fall and collapse and stagger). I wanted her wondrously devious diva mind to still scheme about stealing Liam the kitty's toys. I wanted to preserve and honor her desire to always be in the same room with Jeanie and me.
On the last morning, in the hours before the drive to the vet's office, the pack of three sat beside each other on the entryway tile. Jeanie and I stroked Hannah's magnificent fur. We told her she was the prettiest dog. We thanked her for sharing her life with us. I fed her string cheese (yum, more please) and the healthy jerky snacks she could never get enough of.
And then . . .
*Â Â Â Â Â  *Â Â Â Â Â  *
Will we get another dog? That's an answer for another day. I'm in my sixties now. I don't know if I could stand more loss, for losing Hannah is losing one of the best pieces of my flawed human heart. At the same time, getting another dog could be the gift of life.
Right now, though, I'll just grieve. This year, two of our cats died (the raucous Moses and the enigmatic Madison). Another of our cats, 16-year old Jynx, is rapidly failing. In 2012, Dad died. In 2013, Mom died. Now my puppy. I've wept so much. How can there be so many tears?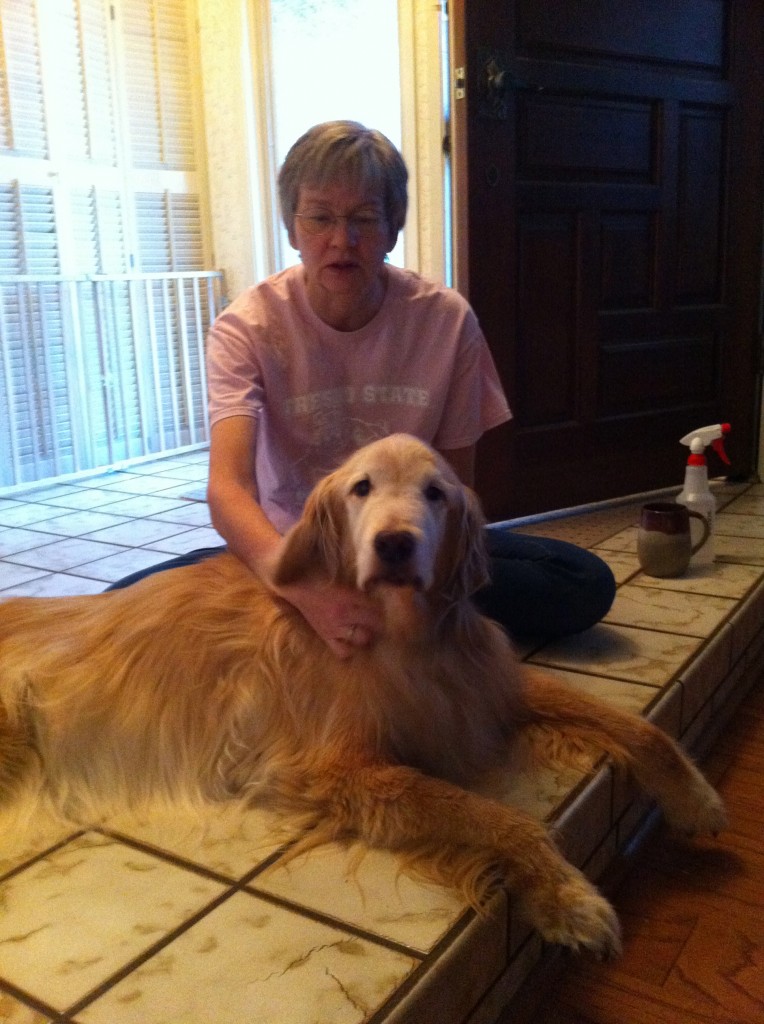 In her final days, I whispered a promise to Hannah: as long as I could remember, she would be remembered. We will bury Hannah's ashes in our backyard, alongside our kitty Olivier. (In our family's mythology, when Olivier died in January of 2000, the world's-best-cat was reincarnated into a golden retriever puppy on the verge of being conceived. Only foolish Jeanie and I believe that story, but it's true enough for us.)
Many of you rightly say this, and so can I: I got to share time on earth with the best dog ever.
Thanks be to Dog Backwards for the gift of Hannah.