Matthew 18:15-20 – The 13th Sunday of Ordinary Time – for Sunday, September 7, 2014

"If your brother or sister sins against you, go and correct them when you are alone together…" (Matthew 18:15)
Before knowing my father had dementia, I blamed his vexing behaviors on other things.
Dad was elderly and tired. His hearing was awful (and had been for years). He'd become human cement, set in his ways. He resented, as his body weakened, his loss of independence.
So when he lashed out at me during a visit to Mom and Dad's home, with his eyes ablaze and jaw clenched and his voice sounding more animal growl than human grumble, I knew where to point my finger: at those "other things."
"Get out of this house," he roared. "Don't come back."
Dad's fury, launched at me with the unnerving abruptness of a lightning strike when the storm is miles away, happened several times before my family recognized he had dementia.
I recall how I felt when my father, the lion in winter, verbally assaulted me. What a cranky old fool! Such a stubborn jerk!
And this too: how dare he sin against me? His son! His guest!
I did not retreat from his fury. Remember, I didn't know of his dementia. I had those other excuses. I tried to engage him in conversation, to comprehend his leave-my-house demand. I did not return his anger with my anger, or his hurt with my hurt. Like the Gospel of Matthew encouraged, "if your brother or sister [or father] sins against you, go and correct them when you are alone together."
Of course, in the New Testament's Greek, there wasn't a reference to "sister" in the scripture. But we moderns, desiring to be modern, readily and rightly add "sister" in the interpretation. Women are equal opportunity sinners too, right?
And so are fathers. So was Dad.
At least, before dementia had a name, that's what I rationalized when Dad hurled hatred onto me: we all sin. Mom, by the way, rescued me. Between the two of us—ah, hear echoes of Matthew's "take one or two others" to correct the wrongdoer, the sinner—we calmed Dad's anger. Later, and well past the point where he didn't recognize Mom as his precious wife of nearly seven decades, she was the only one who could salve Dad's anguished outbursts.
I now know Dad's hurtful words weren't him "sinning" against me. It was the illness.
And yet I remember my reaction: how could he be so wrong?
Which, truthfully, is often my reaction when others "wrong" me. Or disagree with me. Or have an opinion different from mine. How can anyone not see that I am right?
I understand Matthew 18:15-20 as an admonition to seek understanding and agreement. The one sinned-against should go to and talk with the sinner. Challenge the sinner to see where she or he was wrong and make efforts to renew the broken relationship. I believe these verses depicted the early Christian fellowship's goals to keep the community together (the quality of mercy) and to increase the numbers of the faithful (the quantity of members). The presence of Christ will be with two or three who gather, Matthew reassured, but it will advantageous for Jesus's followers with far more than two or three disciples!
Do you agree with my brief, and brilliant, interpretation of Matthew?
Of course you do! You must! How can anyone disagree with me?
I used the example of my father because (for me) it's safe, since hindsight revealed that Dad never sought to banish me from his house. His dementia contorted his personality. He was not "sinning" against his own son. He was a sick man with a cruel disease.
My challenge, not only as someone who might wish for a community of people to "get along," or for the followers of Christ to increase in numbers, is the ongoing struggle to admit I'm not always "right."
But here's the unadorned truth: when reading Matthew's words, I always—ALWAYS—picture myself as the one going to correct the sinner.
Here's another example, less "safe," and one with many opinions . . .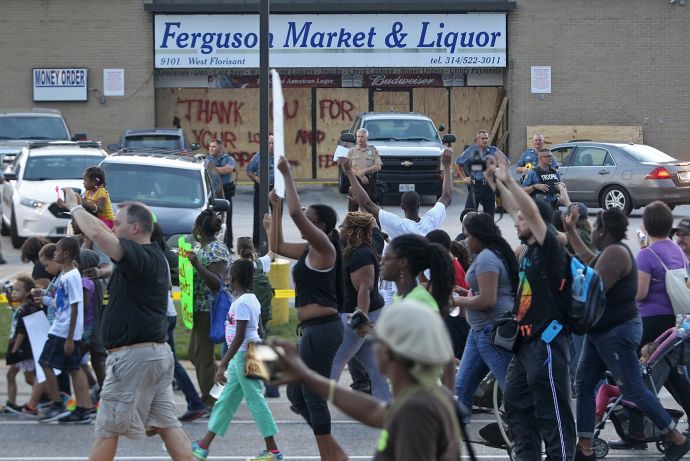 Some of the most troubling news from the summer of 2014 happened in Ferguson, Missouri. Six bullets were fired by a police officer into the vulnerable flesh of sixteen-year old Michael Brown. I believe Michael Brown's death was more evidence confirming the significant and insidious divide between races in America. We are a nation that sinned for centuries with slavery. We still pay that price; racial intolerance continuously picks at the scabs on our society's festering wounds. As a white male in 21st Century America, I am privileged. I never face, and can't comprehend, the obstacles that exist for my sisters and brothers of color*. I believe that many white Americans don't understand this. I believe my views—which seem objective and reasonable—are correct.
But are my views so "correct" that I can't or won't listen to others? How intolerant is my tolerant faith?
I wish, with my father, that I'd paid more attention to his invisible anguish and inevitable decline than in my agenda to be right. I wish that I—and others—would abandon our bullets and bullying and self-righteousness to openly talk with each other about race.
How can I, for Christ's sake, witness the world not as ignorant and intolerant sinners on one side versus the sinned-against on my tolerant and enlightened side, but as God's creation needing to find common ground?
*An opinion piece about white/black perceptions from the Huffington Post intrigued me. The author, Jeza Belle, is a drag queen and comedian; he's also gay and white, with an African-American boyfriend. He reflects on how he's perceived compared to how his partner is perceived. First, I appreciated the perspective he brought about judging others by their skin color. In a sense, how we "sin," often without acknowledging it. Secondly, several of the negative reader comments about Belle's opinions revealed the dismissive ways we belittle others. If Belle's experiences were unlike a particular reader, that doesn't mean Belle was "wrong." How often do we quickly label a person, never taking time to learn about them?
(Pharisee cartoon from here; Picture of Ferguson, Missouri from here.)