Exodus 3:1-15 – The 12th Sunday of Ordinary Time – for Sunday, August 31, 2014

"But Moses said to God, Who am I that I should go to Pharaoh, and bring the Israelites out of Egypt?" (Exodus 3:11)
After Moses was raised in luxury within the house of pharaoh, after he attacked and murdered an Egyptian, after he secretly buried the body in the sand, after he was frightened for his life, after he became a fugitive from justice, after he hid in a faraway country, after he strong-armed some shepherds and flexed his muscles for seven frightened (but impressed) women, after he was married and touted as a hero even as he continued to live a lie, Moses had a life-changing "and yet" moment.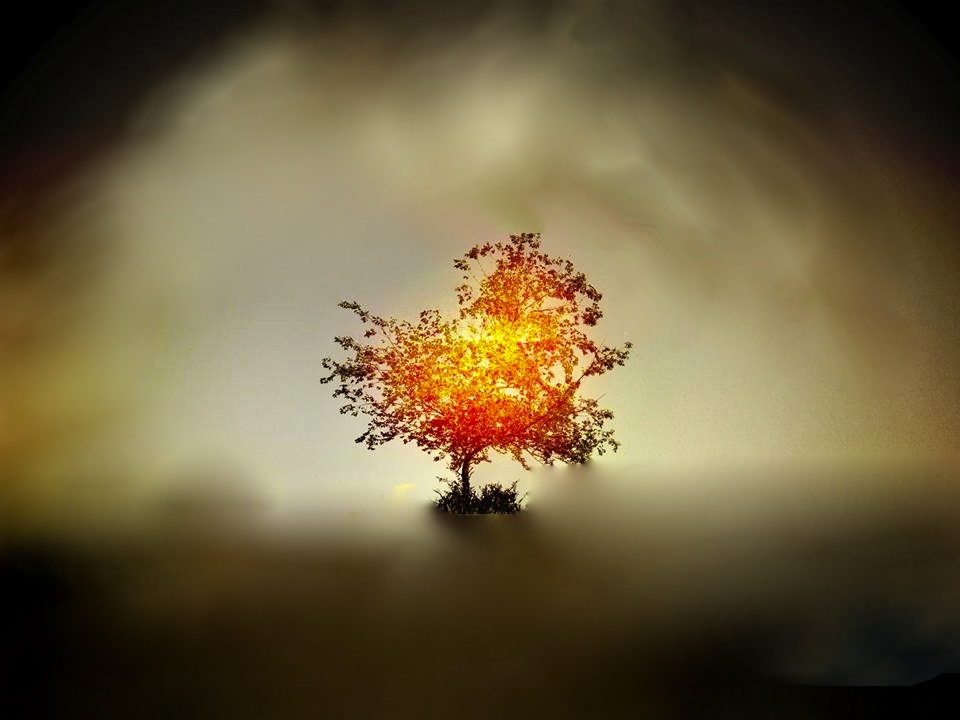 A bush burned and yet was not consumed.
After the Creator, the One above all others, the One given many names and without a name had created the world, after calling Abraham, Isaac, and Jacob, after declaring those who would be the chosen people, after triumphant glory and troubling disappointments from those God created, after the time of Joseph and abundance, after forgetting the creation, after the years and decades and generations of slavery and oppression that the chosen experienced, the Creator had a divine and decisive "and yet" moment.
A bush burned and yet was not consumed.
And yet.
That simple phrase informs my understanding of how God works. For me, "and yet" is a reminder that "there's more to come, more to learn and more to be surprised by."* Each week, as with these musings on the encounter in the wilderness between God and Moses, I find a way to work "and yet" into my Biblical wonderings. It's a gimmick. It's my so-called (laugh out loud here) brand. Sometimes, when revising an essay, I'll discover I didn't use it in the first draft! When that happens, I'll make sure to find a spot to put it into a sentence. In other words, the two-word conjunction wasn't crucial for conveying my message, but I felt I had to try to force it in.
That's the burden of gimmicks.
Whether the "and yet" is a feeble, forced addition or it occurs at the most honest and transformative point in an essay, I continue to claim its value for how I (try, try, try to) follow Jesus's way.
The encounter between God and Moses at the burning bush is a literally shining example of the worst and best of what "and yet" represents.
According to the Bible, God forgot the "chosen people." On they groaned and toiled under pharaoh's thumb. Perhaps a few of the spiritual leaders of the Israelites wondered why the Holy One had abandoned them and cursed God's absence. Perhaps a few others firmly and faithfully trusted and praised their strangely distant God. But I suspect the majority of Israelites didn't entertain any thoughts of God. When humans are oppressed, or in pain, or have no sense of a future beyond today's misery, who cares about the God of history or the history of God?
All of us feel times of God's abandonment.
What matters?
My spouse has died.
My career has vanished.
My best years are far behind me.
My children don't love me anymore.
According to the Bible, Moses was a louse and a loser. Yes, he'd been plucked from a river and placed into the privileged hands of pharaoh's daughter. And it got better for him, but then it got worse. Much, much worse. Moses was a murderer. Moses was a fugitive. Moses was born a Jew, and then raised an Egyptian, and then became a Jew again, and then was known as an Egyptian when he hid in the land of Midian.
Who among us doesn't feel like a stranger in a strange land?
Who am I?
No one understands me.
If anyone truly knew me, they'd hate me.
Once I had lofty goals, now I barely stagger through a day.
I am angry, wounded, and lost. But I hide my feelings. Or I don't.
Why did God start hearing the groans of the Israelites? When did their unending cries of anguish change from white noise in the background to something God heard? As with so much of the Biblical witness, we aren't sure.
And why did God choose such a loser for leadership? Even during their chat by the burning bush, Moses will "and yet" God in the worst ways. Though I often told my mother that one of her favorite Bibles—1971's The Living Bible—mostly watered down the scripture, I delight in its paraphrase of Moses's response to God about taking charge: But I'm not the person for a job like that!
And yet there they were—Creator and creation, God and Moses—at the bush that kept burning. The One who had ignored the cries of the chosen for generations trying to convince the runaway to lead those chosen toward a new day.
It is the most unlikely of stories.
And yet it is the truest of tales.
In your life, today and now, because you are the Creator's creation, I do believe there is more to come, more to learn, and more to be surprised by. Even when you feel abandoned. Even when you feel like a stranger in a strange land. Even in the worst moments.
(Images of burning bush from here and here.)
*Yeah, this is a quote from the introduction to ANOTHER COMPANION FOR THE JOURNEY. You have purchased a copy haven't you? (Just a simple plea . . .