Matthew 15:(10-20), 21-28 – The 10th Sunday of Ordinary Time – for Sunday, August 17, 2014

"Yes, Lord, yet even the dogs eat the crumbs that fall from their master's table." (Matthew 15:27)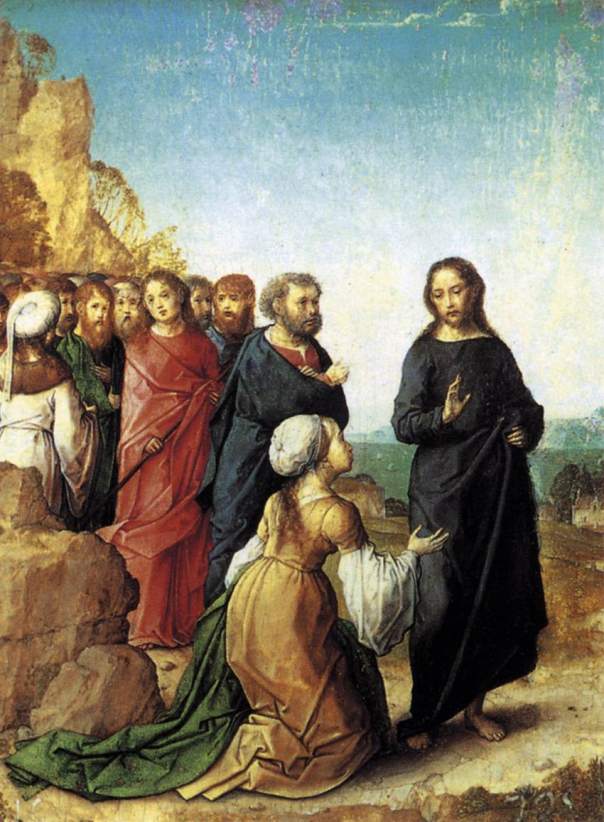 First, Jesus ignored the woman . . . But he did not answer her at all.
Then, Jesus claimed she wasn't on his to-do list . . . I was only sent to the lost sheep of the house of Israel.
Finally, Jesus insulted her . . . It is not fair to take the children's food and throw it to the dogs.
The third time certainly wasn't charming for the person known in Matthew as "the Canaanite woman." According to Prince of Peace, the Lamb of God, the One who would become the Christ, she apparently was no better than a wayward mongrel, scrabbling for discarded food.
Usually, when I read these unnerving and stark verses, I admire the courage of the Gospel writer to show Jesus in an unflattering light. I am enthralled with Jesus's change of mind. For here, in the middle of Matthew, there was odd evidence that flamed doubt about Jesus being "perfect." Here, readers witnessed Jesus not as fully divine and fully human, but far from divine and frustratingly human. How fascinating to debate what this meant (and means) about Jesus, whether we're in seminary diligently studying for the ministry, pulpiteering in a church with far from divine and frustrating humans, or cornered by a grumpy agnostic at a garage sale.
How 'bout that irksome, insulting, irritating Jesus!
And yet today, in this next reading of a familiar passage, I'm not much interested in Jesus and his heartlessness or in his change of heart.
It's that woman.
That nameless woman.
That woman with an ill, and also nameless, daughter. (Tormented by a demon, Matthew explained.)
That woman, who had been ignored, snubbed, and jeered.
That woman, kneeling on the dirt, having just heard Jesus tell her she's not worth much more than a dog.
My imagination slows and examines the potential action before verse twenty-seven:
Jesus begins to turn away . . .
Most of the disciples have trudged up the path, several are already arguing about where they'll stop for dinner . . .
A cooling breeze from the west, a gift from the nearby Mediterranean Sea, eases the temperature by a few degrees. Overhead, a flock of sparrows dips and dives as the invisible wind swirls . . .
The woman, bent to her knees, battered by the harsh responses, debates her next words or a surrender to silence . . .
*Â Â Â Â Â  *Â Â Â Â Â  *
I should go. I've wasted my time. My daughter needs me. As with so many times before, my shouting has been wasted. No one hears me. No one cares about me. I'm not even sure I can rise from the ground, not because my knees hurt so much—though they ache all the time from the wearying, bone-jarring work I must do six days a week—but because right now I simply possess no strength. And I am weak more than physically. My soul is spent, my plans were foolish.
There is nothing more to do.
There is nothing more to say.
There is only the wind kicking more dust on my sandals, only the birds of the air that taunt me with their freedom.
I am nothing and nobody going nowhere
And yet there is this . . .
My daughter does need me.
I still have a voice, and there's still breath in my lungs.
I have a choice to be silent or speak. To be defeated or try again.
Pebbles grind the thin flesh covering my knee. My throat is parched. Sweat slicks my breasts.
Am I truly nothing to him? Has everything I've heard about him been a lie?
I will shout one more time. I can trade insult for insult with him. I can curse the woman who gave him birth. I can spit at his disciples. I can barter with my body. I can . . .
He has not fully turned away yet. We make eye contact. I smile, fleetingly, and then speak. But it's not an angry shout, it's not a beggar's plea, it's not the panic of a desperate mother (though I am). No, from somewhere, from a place of honest hope, my feeble smile remains and I speak with a light-hearted truth.
Yes, Lord, yet even the dogs eat the crumbs that fall from their master's table.
Jesus stops, eyes on me, now shifting to face me. And he smiles.
*Â Â Â Â Â  *Â Â Â Â Â  *
I've made this up. There are no pauses before verse twenty-seven. I have no idea what the Canaanite woman thought. Holy scripture doesn't say she smiled—fleetingly or not—and certainly Jesus didn't smile. Not here! Indeed, the Gospels made him so darn serious. Did he never smile?
But why did Jesus so ignore her? Was she just one of Matthew's literary devices, appearing in scripture to demonstrate to us mere first or twenty-first century mortals the power of faith . . . if only we had some!
Why was she so persistent? So stubborn? So daring?
Was it—is it—as simple as having faith?
But faith is never simple.
It requires a voice.
A next effort.
From a nameless woman, with blood speckling her knees, speaking for her child and herself.
And a next effort from you and me.