Genesis 28:10-19a – The 6th Sunday of Ordinary Time – for July 20, 2014

"Know that I am with you and will keep you wherever you go…" (Genesis 28:15)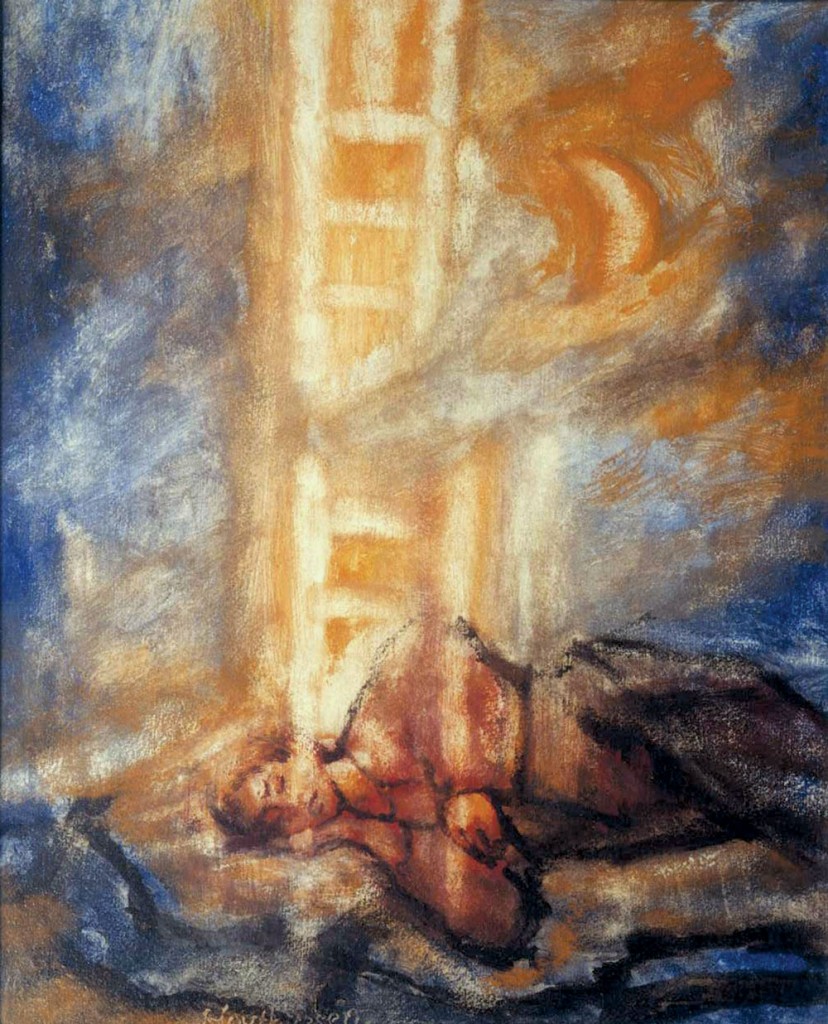 Jacob battled his brother Esau in the womb, later ripped off his brother's birthright, and then tricked their father Isaac into blessing the younger Jacob instead of the elder—and expected—Esau. After Jacob's deceit, Esau plotted revenge, declaring he'd kill his younger brother. Isaac's paternal solution to this sibling rivalry was to encourage Jacob to get outta Dodge. Dear Dad, such the pillar of the Judeo-Christian tradition, suggested that Jacob vamoose for the relative safety of Uncle Laban's haven in Haran.
Jacob, preferring to be on the run rather than be run down by Esau, heeded his father's unimaginative advice.
Notice how I haven't mentioned God?
Which is not to say God wasn't in these verses. But the Holy, the One who set creation in motion, the One who sent Abraham toward the promised land, the One who vowed to Abraham and Sarah they'd children, the One who fulfilled that vow in Isaac, was ignored by Jacob.
Isaac's younger son didn't reference God. Didn't encounter God. Didn't fear or love or call upon God.
And then Jacob did.
In Sunday school, I don't recall teachers dwelling on Jacob's scoundrel days. I guess those lovely women—and my Sunday school teachers were all women—didn't want innocent munchkins to learn that Jacob was . . . a jerk.
But they really, really wanted us to know that God got to Jacob!
There was Jacob, in the heart of Genesis, one of the ones who set the stage for Jesus, settling in for sleep on a long, lonely night. Then . . . whoa! Jacob dreamed of angels on a ladder descending to earth, ascending to heaven, affirming the connection between God and man. (Yeah, I would've said "man" back then, though I'm more human now.) On Jacob dreamed, and was told by God:
Know that I am with you and will keep you wherever you go, and will l bring you back to this land; for I will not leave you until I have done what I have promised you.
The Holy promise of land and children and future, first whispered into Abraham's ears, now continued with Jacob.
Jacob was called. Jacob encountered God. Jacob, never before paying attention to God, now knew himself as God's treasure. Upon awaking, Jacob dubbed the place where he slept Beth-el . . . the House of God.
What about your calling? Where or when was your experience with Bethel?
Recently, my college roommate asked about my call to ministry. (Hey, gotta watch out for those Facebook connections!)
With a few revisions, this is what I Facebook-messaged him . . .
*Â Â Â Â Â  *Â Â Â Â Â  *
My call came a long time ago, in the last year of college, but it still feels vivid. I participated in a young adult retreat through the United Methodist Church I then attended. The retreat took place in the Sierra foothills; close enough to make the mountains seem intimate, but far enough for sense of grandeur. Those on the retreat were asked to take "private" time. I wandered away and settled into a spot with splendid view of California's "Range of Light."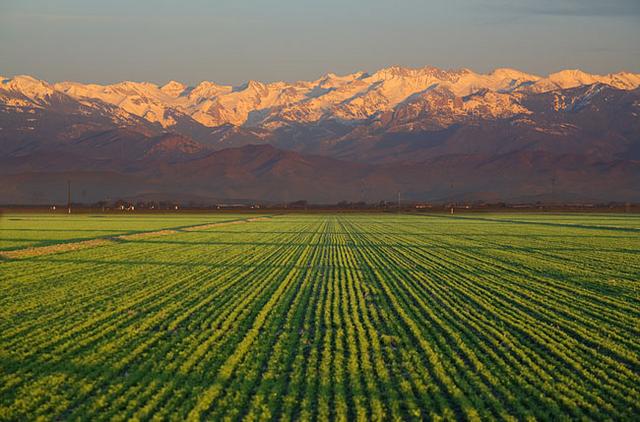 At some point, admiring the mountains, I experienced God's presence. I can only describe those moments as being with the One who is Holy, who is Other. A clear thought gripped me: without me, God couldn't view the world in the particular way I viewed the world, and that God desired my view, along with my feelings, weaknesses, and strengths. That unbidden notion was immediately followed by a realization that my view was trivial, and that God saw-felt-knew-embraced everything else, everything beyond my comprehension.
Nonetheless, it was as if God could only "see" the western slope of the Sierra Nevada in the particular way I saw it because my view was unique. But in my other more humble understanding, I grasped that God intimately "knew" every square inch of the rest of the mountain that I'd never comprehend. It was an odd, transcendent feeling; of trusting that who I was and what I did and how I viewed the world mattered to the Holy, that even insignificant me added to God's (here an inadequate word) awareness.
And yet how little I knew, how narrow and pathetic my view would always be. Still, I mattered, and indeed everyone else's view also mattered. Though the presence of being with the Other would fade like color on an Ektachrome print, the memories were urgent enough and vibrant enough to nudge me to serve Jesus the Christ and contribute to God's ongoing creation.
And so, with words likely banal and meaningless to you, that's the call I felt in 1973 that continues to grip me, and continues to lure me toward the impossible and wondrous path of Christ.
*Â Â Â Â Â  *Â Â Â Â Â  *
When was your Bethel? And I'm not only referring to ordained ministry. In his "Wishful Thinking," Frederick Buechner said it best when he wrote, "The place God calls you to is the place where your deep gladness and the world's deep hunger meet*.
If you are not doing what you are called to do, that "deep gladness" becomes a wound in your soul. If you are not helping the "world's deep hunger" with your gifts, the world is a lesser place.
Isn't it?
If you're like me (and like Jacob) you're a liar, cheat, scoundrel, foolish, and hypocritical. You spend time second-guessing yourself, doubting your faith and dwelling on your mistakes.
But there's that dream. There's that ladder. There's that mountain range. There's that deep gladness. You know it. You've felt it. And there's a world that hungers for your unique gifts.
Holy moments end, but they welcome a whole new beginning.
*I tried not to use Beuchner's comment because it's quoted "everywhere." But it's oft-used (not over-used) because it rings true.