Psalm 23 – The Fourth Sunday of Easter – for May 11, 2014

"The Lord is my shepherd, I shall not want . . ." (Psalm 23:1)
Psalm 23 is an old friend, following me throughout my ministry's journey. Indeed, even before ordination, Psalm 23 frequently starred in Sunday school lessons. As I kid, I might've wished for the Lord to act like a cowhand more than shepherd (since my grandparents' ranch had cattle), but I understood the meanings . . .
How comforting that the Lord is my shepherd.
I easily picture green pastures, imagine still waters.
My cup overflows; goodness and mercy shall follow me.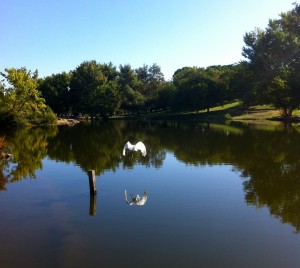 Psalm 23 is like a favorite pair of jeans.
It's comfort food, the macaroni-and-cheese of sacred scripture.
How each believer views the psalm's still waters may be different, but every distinctive memory inspired by the ancient words calms and soothes. In the six spare verses, we can be transported to a favorite beach, to the bend of a placid river, to the view of a mountain lake when the sunset paints the water gold.
*Â Â Â Â Â  *Â Â Â Â Â  *
In the year after my ordination, I was an intern in a church, a newly minted clergy testing the ministerial waters. Three other full-time pastors served the bustling church. Except for one wedding, my more experienced colleagues celebrated every "I do" event. No one trusted me with a baby (let alone an adult), and I didn't do a single baptism. I preached once, with my faulty memory recalling it as of those splendid summer Sundays where every preacher was on vacation and guess who's left to proclaim the good news?
One wedding. One sermon. Zero baptisms . . . but wait!
They gave me all the hand-me-down funerals. Whenever strangers phoned the church, searching for a pastor to do a funeral—please, any pastor will do—my ministerial mates quickly transferred the call to me.
I ventured into the local cemeteries, with a fancy new stole draped over my shoulders and a lump in my throat. How many times in that long-ago internship did I use Psalm 23? Often enough to start wearing a thumbed path to the exact spot near the middle of my Bible.
I'd fumble or mumble what I'd say about a stranger I was about to help put in the ground. I'd search out particular Gospel passages that seemed appropriate for the little I knew about the deceased. I'd find recommended denominational prayers that didn't confuse the grieving families or embarrass the Lord God Almighty. I invoked the Holy and comforted the hurting. I forced myself to look straight into the eyes of widows and orphans. I bowed my head for the Lord's Prayer, but kept eyes open to my prepared script because I didn't want to forget the words. Some funerals were lengthy and complicated, others took fleeting moments near an open grave, but every one included Psalm 23. Whether spring blossoms were bursting with colors or a harsh winter wind cooled tears, I'd read Psalm 23.
Though I walk through the valley of the shadow of death . . .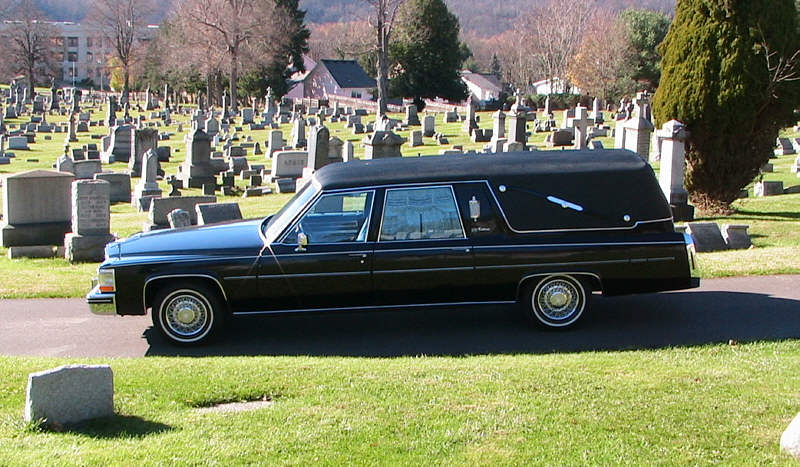 Once, headed to a cemetery, I settled into the passenger side of a hearse. The casket loomed behind me. The driver, an old guy, wore a shiny black suit and wrinkled white shirt. His shoes were scuffed; his skinny tie (black, of course) was crooked. When the driver had asked if I wanted a ride to the cemetery, I readily agreed. One of my esteemed clergy colleagues had told me that a pastor should "stay with the body at all times." Tradition! Expectation! Obligation! I suspect that while I was doing the funeral, my learned colleague was sipping iced tea and reviewing sermon notes in his backyard. But I trusted his opinion and so hitched a ride to the cemetery in the hearse.
It was a long drive.
The driver and I chatted, killing time with a dead body in the back.
"Is this your full-time job?" I asked.
"No sir, I only do this when they need me. I know the funeral directors and help out from time to time."
"Are you retired?"
"Yes sir, I drove a bus for many years."
On we zoomed, down the freeway, getting closer to our stone garden destination. It was winter. The sky was gray. The road was gray. The flat farm fields were gray. I recall thinking it made sense a bus driver would become the chauffeur of the dear departed. One oversized, awkward vehicle had been exchanged for another.
I ventured another question. "Why'd you retire?"
He cleared his throat, checked the rear view mirror. "Well sir," he said, "They made me."
He paused there, and—even with my youthful naïveté—I detected a lingering bitterness about a company that had unfairly dismissed him.
The driver continued, "Yeah, after my second heart attack at the wheel, they thought I shouldn't be driving anymore."
Though I drive through the valley of the shadow of death . . .
I suddenly felt trapped in the metal box of a hearse carrying a wooden box driven by a man likely vulnerable to heart attack #3. I wish I could say I chuckled or my anxiety was fleeting, but I didn't relax for the remainder of the trip to (and then from) the cemetery.
And yet, as my ordained journey continued and continues, I have learned to relax more, to fasten figurative and literal seat belts, careening toward a future where I (usually) trust God rather than (uselessly) worry about the worst that can happen. We are all always in the valley of the shadow of death, regardless of our mode of transportation.
I don't doubt repeated readings of Psalm 23 aided my growth. In the thousands of times I've read the venerable Psalm of six simple verses, I'm indebted to each ancient, relevant and hopeful word.
(Hearse image from here.)