John 20:1-18  – Easter – for Sunday, April 20, 2014

"Mary Magdalene went and announced to the disciples, 'I have seen the Lord . . .'" (John 20:18)
Did Mary pause and turn for a last glance at Jesus before she left the clearing around the tomb?
I would've.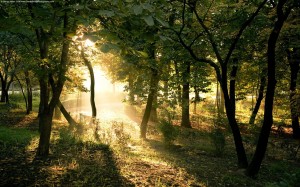 After Mary realized Jesus wasn't the gardener, he'd shared reassuring words. He'd instructed her to seek his disciples—"my brothers," John's Gospel had Jesus say—and to give them a message. In the fourth Gospel's take on the resurrection, Mary is the only woman at the tomb. The other three accounts have more and different visiting women. No other Gospel mistakes Jesus for a gardener. Matthew includes at least one tomb guard. All the Gospels describe men (or a man) in white waiting in (or by) the tomb. They are angels, or they are not. For my faith, imagination serves an essential role in (barely) comprehending the resurrection. I don't think any Gospel writer lied, or had the "better" or more "accurate" resurrection tale. And the four Easter stories—as we casually do with Christmas—shouldn't be tossed into spring blender so that, like the shepherds and magi, everyone appears at the same place with the same purposes.
I embrace imagination. No one knows what happened. Except you know how you react as you read these early morning moments.
And so I read John's version.
Mary was leaving to give Jesus' disciples a message.
Because I'd look back, I imagine she did.
The tomb was a dark, open wound as the dawn's light flared on the weathered stone. The air was morning cool. Hundreds of footsteps disturbed the ground. But it would be impossible to determine which scuffs on the dirt were the disciples' sandals as they hurried to and from the clearing. Jesus' "brothers," along with the faithful and hateful that couldn't stay away, and the guards and gardeners obligated to be present, were absent or not yet present.
Mary, my imagination claims, will not see Jesus. He who had surprised her a few heartbeats before, he who had filled her waking and dreaming thoughts for years, had already vanished from the clearing. And yet I believe she could still feel Jesus' presence. In the long shadows of the early morning, between a gaping tomb and stark trees, when the waking birds voiced a dawn welcome, and before any next curious visitor arrived, Mary sensed all things were new.
Though he was gone, she'd never again be without hope. Even in the worst times, she would cling to the memory and promise of hope. Mary would never again be without love. Even in the anguished times when there was no one to whisper, "I love you," she had tucked the deepest truth about love into her heart . . . for true love meant another fully trusted you. And Jesus had deeply, completely loved her. No one, even in her terrible grief, could steal that from her.
Mary finished her last gaze. And then she too was gone.
In the clearing, there was still the empty tomb. Dust settled. Birds flitted between branches. Shadows shortened as the sun rose in the sky. Soon, a real gardener might arrive, and maybe the open tomb will surprise him or maybe—since we humans can be so blind—he wouldn't notice. It's likely a guard appeared, sent by Roman or Temple authorities, and he'll fret over a decision. Damn, that empty tomb is nothing but trouble! Every soldier knew it was bad business to be the messenger, to be the bearer of bad tidings. So maybe the smart-enough guard will delay his report.
All of this, in my resurrection imagination, is to suggest that some on this new day we call Easter won't change. There are always gardeners who selectively see things. There are guards who say little and do less.
But some are like Mary. Her view has cleared. She may not see Jesus again, but she will never view God's world (and ways) in the same way again.
Easter means all things are new; every single, blessed, unexpected morning is the first, best day of creation.
In my weekly reflections during this Lent of 2014, I wondered what it would be like after meeting Jesus. The lectionary readings had included four different people from John's Gospel: Nicodemus and his nocturnal visit, the woman Jesus met by Jacob's well, the man born blind and Lazarus' sister Martha. Like you and me, their world was not a safe place. Not because there is a d-e-v-e-l*, but because we humans are brutal, contentious and jealous.
And yet Easter claims the worst we do, and the worst done to us, is not the view that endures.
Mary glanced back to an Easter clearing that transformed how she saw God's new world. I imagine she chose—and we are challenged to choose—to now see with Holy enough eyes to search for hope even in times of unspeakable hurt and to seek and share love in a broken world. How foolish of me to choose and use the clichés of hope and love . . . but in Easter's clearing, how foolish not to.
*A reference to my reflection on Lent 2014's first Sunday.
(Image of forest clearing from here.)