Matthew 5:13-20  – The Fifth Sunday after Epiphany – for Sunday, February 9, 2014

"You are the light of the world . . ." (Matthew 5:14)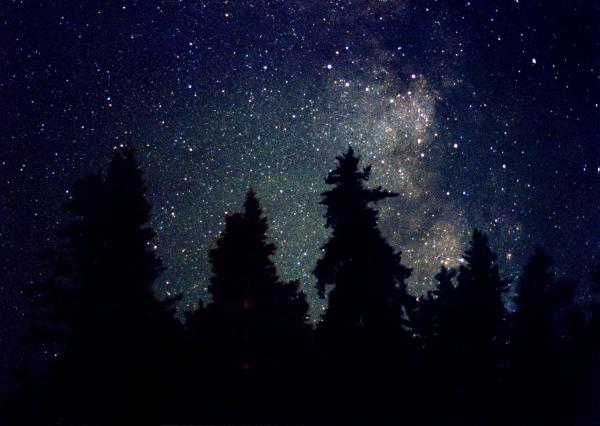 Did I want to go to church camp?
Did I want to spend a week with strangers?
Wouldn't it be better to stay home and read a book?
I think back on that week, where the first night mattered most, and wouldn't give any of it up . . . now. But then I was in my early teens, in a summer near high school's beginnings, and was always more sure of what I didn't want to do. Did my parents make me go? That I can't recall. But I'm sure they drove me to the mountains, to someplace I'd never been with people I'd never met. Se ya in a week, son. Have a good time, son. Dad shook my hand, Mom hugged me. Then a rooster tail of dust trailed their car as it disappeared down the camp's meandering road for home.
Half the campers were girls. Oh, at fourteen (or fifteen or sixteen or–) girls made me a voice-quaking, knee-shaking nervous wreck. And nearly all the guys were strangers. But every boy, save me, seemed to have been at this camp before. Most of them already had friends. They knew which cabin contained the most mice or loudest toilet. They knew the best place to hide in the woods, the best swimming spot on the lake and where to smoke so the counselors couldn't find you.
Weren't we all there to build Christian community for a week in the woods? To learn about God and become better followers of Jesus?
Right.
Then there were the girls. Foreign. Fragrant. Fickle. I'd already spotted one. Blue eyes. Straight blonde hair. Nice smile (I think she even smiled at me). Let's call her Karen. Sigh. Let's sneak another glance.
By early evening on that first day, everyone had arrived. Gear was stashed in cabins. We were herded to the cafeteria for dinner and announcements. The coming week was scheduled with Bible study, group activities, swimming, boating and other delights (or miseries). And the leaders warned, "Always tell your cabin counselor where you're going." Okay. "Always stick with a buddy." Okay. "Some trails are steep and dangerous, so be careful." Okay. "Don't fall in the lake or creeks." Okay.
After the meal, announcements and introductions, we had free time.
"Let's go to the chapel," some guys said. They were camp veterans.
A bunch of us did. Like me . . . like Karen. Up a trail we scrambled, heading for a chapel on the distant hill above the camp. Karen and I stayed beside each other (by mutual choice, memory believes). Halfway up the hill, in the fresh darkness of a summer evening, we came to a trail junction. Right. Left. Without hesitation (so it seemed), half of the ragtag gang of campers trooped left. Half went right.
Two hesitated. After all, Karen and I were getting to know each other. And maybe we were momentarily indecisive.
Then we were alone.
On an unfamiliar path.
At night.
Seconds after our fellow (and decisive) campers split at the junction, it became quiet. Graveyard quiet. Darkness dominated. Above us, though you couldn't tell which trail, flashlight beams stabbed the gloom as the groups raced for the chapel. Then all light disappeared. Had one or both groups arrived at the chapel? Or was the chapel hidden, at a low point beyond the highest point?
Karen and I—carefully, carefully—started walking. Did we choose the left or right path? I don't remember. Had we chosen an unseen third trail option? Maybe. Did we choose to return to camp, to leave the hilltop chapel for another day? Can't say.
However this I know for sure . . . in seconds we had no idea where we were. Karen and I had flashlights, except those essential battery-operated lifesavers were tucked in our suitcases back at the cabins. And the cabins were, give or take, a thousand miles away.
I couldn't see a hand in front of my face let alone the trail at my feet. We stopped. Listened. Have you ever listened so hard it seems your ears hurt? Would any of our fellow hikers return from the chapel on the trail we'd . . . chosen? Or were we on a trail?
A starry, starry mountain night can be gorgeous. Inspiring. Not when you're lost. Not when you're with a blonde, blue-eyed girl you so desperately wanted to impress. Not when your breathing is panicked. In whispers, we repeated the phrases heard at dinner . . . Some trails are steep and dangerous. Okay. Don't fall into the creeks. Okay.
Darkness. Stillness. Fear.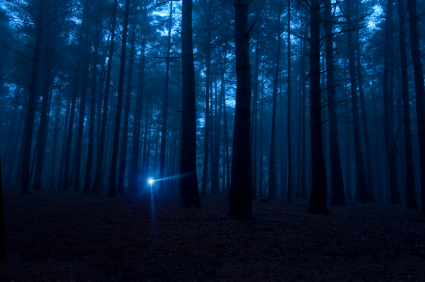 Then the light came. Was it five minutes later? Was it a half-hour? Couldn't tell you. But there they were, below us, beams blazing from flashlights. Trees, once multi-limbed monsters, were illuminated. Horrible silhouettes became rock formations. The camp counselors shouted . . . Larry! Karen! We had been missed. We were being searched for . . . We're here! We're here!
Feet rooted to the ground, unwilling to venture a step over a steep cliff or plunge into a furious creek, we waited.
Oh, how beautiful those lights were. Closer. Closer. Closer.
*Â Â Â Â Â Â Â Â  * Â  Â  Â  Â  *
It's good to have a happy ending to a lost-in-the-forest tale. It's good to remember the stupid times. It's good to remember to take your flashlight. It's good to remember that you can't impress every blue-eyed, blonde-haired girl.
I'll never forget the silvery slices of light, dancing in the woods, searching for me.
"You are the light of the world," Jesus said. I don't think we studied Matthew's Gospel or Jesus' Sermon on the Mount in that week. Or perhaps we did, between swimming and boating and seeing the (kinda boring) chapel in the daytime. But I'm over sixty now and church camp was a long time ago.
And yet if I read, "You are the light of the world," I easily recall those blessed flashlights.
I know how lost people can get. In the mountains on a dark night. Following a divorce. In the midst of grief. After the phone rings at midnight. If a job ends or a career is derailed. When the "nest" becomes empty.
Cultures, religions and nations are lost, too . . . lost in racism, sexism, jingoisms and so many other "isms."
In our lives, trails split—two times, twenty times, more—and we're clueless about what is up or down, right or wrong.
Individuals and institutions get stuck. Eyes close. Hearts harden. Why do so many prefer darkness?
In my early teens I first sensed, and at over sixty I am convinced . . . we are called to be beacons of light for each other.
(Milky Way image from here; light in forest image from here; Wiesel link here.)