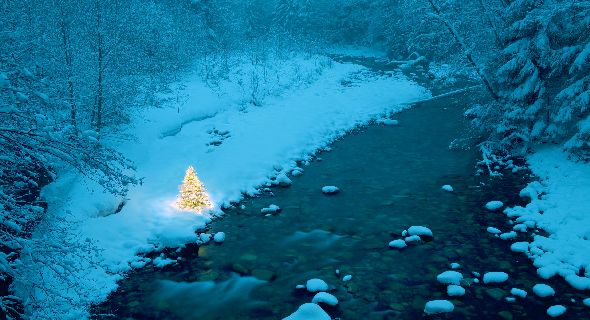 A Christmas (and New Years) story from not so long ago . . .
There were two of us, in a cramped store selling handmade products, on the last day of the year.
A clerk and me.
I searched for belated Christmas gifts. The only thing in my procrastinating favor was a foolish hope the recipients might hum the "Twelve Days Of Christmas" when they opened their presents. As that seasonal song proclaims, the Christmas celebration officially continues for twelve full days after December twenty-fifth.
While the clerk carefully placed the first gift into a box, I mentioned I was a pastor. And maybe because of that, or in spite of it, I heard about his family.
Though his father had died seven years before, many of the events from that time of loss still influenced the young man. He explained that his family, originally from Laos, were Buddhists. His father, who'd fought in the Vietnam War, immigrated to the United States and became an American citizen. Years later the father traveled to Laos for a visit and also to begin a personal spiritual journey of renewal. When he arrived home in Fresno, that journey continued as he announced he was dying.
Following his return, the father shared many hopes with his children about how they might lead their lives. He experienced visions, and tried to articulate what he thought they meant. With honesty, the father spoke about his failures, successes and love for his children.
"On the day after he died," the clerk said as he tied ribbons on my gifts, "my father visited me a final time. I think he sought forgiveness."
The clerk paused and peered at me. His expression seemed to ask: Will this stranger believe I saw my father the day after his death?
I encouraged him with a smile and brief nod.
"I'm sorry for talking about this," the clerk murmured. "I hadn't thought about my father for quite a while. But you said you were a pastor and I hope you haven't minded?"
"No, not at all. It's my privilege." Indeed, I felt humbled.
Several times, while learning about his family and dying father and with the clerk wondering if there was life after death, he asked my opinion . . . did I think he was crazy . . . what did I think of God . . . was there an afterlife?
Though some who know me might disagree, I don't always use my ordination papers as a license to give people answers to their questions about God's ways. Oh yes, I love providing my views on things sacred and profane. But much of the time I restrain myself, honoring the great chasm between my knowing and my believing, between what I think and what another has experienced. And so I did share some thoughts, but carefully reacted more out of a sense of awe about God's ways rather than to judge or evaluate.
Each relationship we have, Buddhist, Christian and more, unfolds uniquely. Barbara Brown Taylor, in her book "When God is Silent," wrote . . .
"Who are we, after all, to defend God? Once, after the composer Richard Schumann had played a particularly difficult etude, he was asked by a member of his audience please to explain it. In reply, Schumann sat down and played it again. We would do worse than to follow his example when we come to particularly difficult pieces of God's music."
What a privilege to listen to and encourage another. What a privilege to hear his deepest feelings, to know that he—so different and yet so similar to me—carries memories and questions that are gifts that may reveal new growth.
Christmas is never confined to a single season. The presents keep arriving throughout the year.
(Image from here)