John 1: 1-18  – The Second Sunday following Christmas – for January 5, 2014
"The light shines in the darkness, and the darkness did not overcome it." (John 1:5) I promise to write the truth, but muddle the facts.
I'll try, and try is all I can do, to honor the old scripture that inspired me, and the new story that also inspired me.
Scripture (the easy part) first . . . The light shines in the darkness, and the darkness did not overcome it. That's the fifth verse of the first chapter in the fourth Gospel. These are words within the eloquent opening of John. They are more poetry than prose, more theology than history; they are forever an inadequate and yet honest description of, and declaration about, Jesus' ministry.
I have opened my Bible to this passage on the coldest, darkest days of December, most often near midnight on Christmas Eve. In a sanctuary, dim and expectant, I've shared these words with strangers, friends, family and visitors, all crowding the pews, their hands gripping a simple, singular wax candle. They await permission to light that candle and to celebrate the birth of Christ. First, they hear words. First they sing carols. First they squirm, uncomfortably sitting too close to people they've never met or contentedly resting on the shoulders of persons they've longed to spend these moments with. At some point, as the proclaimer of good news, I'll whisper enough prayers, quote enough scripture, and finally invite them to light those expectant candles.
One light becomes many; a symbol flickers and expands. If only for a few seconds, with none of us strangers, we will all feel brave enough to believe in the light of Christ that shines into the darkness.
I have opened my Bible to this passage on Good Friday, in the midst of spring, two days before Easter. I've read it to a thousand, and to a handful. And on that Good Friday, as the Roman Empire (in all of its manifestations) raises the splintered wood again, the crowd cries out to crucify Jesus. The verses describing the metaphoric light will be spoken, and then the sentence will end, and every candle will be extinguished. Darkness, and Good Friday's hollow-never-hallow human laughter will transform spring into winter and will discard hope like rotted fruit.
I have read this passage at weddings and funerals, in the bright light of the outdoor sun and in the safe confines of a sanctuary.
And not long ago, with a muddling of facts to protect the innocent and guilty, I heard a version of The light shines in the darkness when we discussed a patient at the hospice where I work.
What is not true, but true enough, is that we were discussing a young man with leukemia.
He really didn't have leukemia. But his illness was killing him. Isn't that enough for you to know?
He may have been a she. But she, or he, was dying. Isn't that enough for you to know?
Let's say he was sixteen-years old. He wasn't, but does it matter if he was fourteen or twenty-one or sixteen? Isn't it enough for you to know that he was young?
So, in that hospice meeting, we talked about a sixteen-year old boy with leukemia that would probably be dead before his next birthday. And yet, according to the compassionate, seen-it-all social worker who shared about this young man, this sixteen-year old was a person of faith. He loved God. Trusted God. Being young, he also had a girlfriend (or remember, it could be she had a boyfriend, for I'm committed to muddling), and . . .
They were planning to get a tattoo. How silly of them!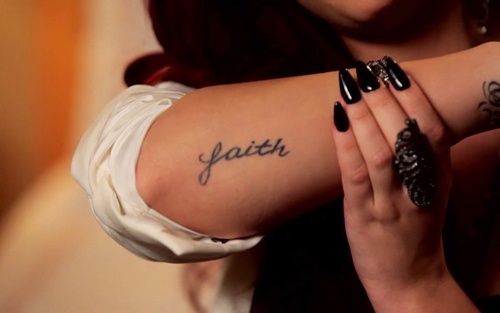 Me, I'm an old guy now, of a different generation from the young patient, and think this whole current tattoo craze is, well, crazy. How will these eager-to-get-a-tattoo whippersnappers feel about those skin markings when they're eighty with sagging, wrinkly flesh? When the tattoo's colors have faded? When a once-detailed drawing looks more like a Rorschach test left out in the rain?
Yeah, I can be cynical. And yet not.
The young man will not see eighty. Or twenty-five. His skin will never wrinkle with age. He. Is. Dying.
The social worker said, "Their tattoo will be in Latin."
"What does it say?" I asked.
She couldn't recall the phrase. "But," the seen-it-all and on-the-verge-of-tears social worker continued, "it's about light and darkness. The light from darkness . . . or something like that."
Really? (The light shines in the darkness, and the darkness did not overcome it?)
Later I considered talking to the social worker, to ask if she could find the tattoo's exact words in her notes from the visit. But I didn't. After all, I'm a professional fact muddler. I'm protecting innocent, foolish sixteen-year olds and even protecting all the rest of us guilty ones. But I searched ye olde Internet and found an apparently popular tattoo and what might be inked onto his skin . . .
Ex umbris ad lucem
This is only a guess. But it's close enough, and that's all you and I need to know: Ex umbris ad lucem, or . . .
Out of the darkness, into the light.
This is my wish for winter. This is my wish for spring. This is my wish when I'm with strangers. This is my wish when I'm with friends. Can I live today and now and declare there is light in spite of the darkness? Will I have the courage to tattoo light on my faithful heart?
I am just enough of a Christian—oh, how I often I fail—to remember we're all mortal. I can choose to live dreading that the darkness will always win—and so often it seems that's the case—or to live declaring my Christ-like words and actions and hopes and prayers will be a flicker of a candle in the room.
Soon (or maybe the deed's already done) a dying young man will have a tattoo needled into his unwrinkled skin. He will kiss his girlfriend. He will laugh with his family. He will greet the morning sun as if it were the only day.
Ex umbris ad lucem
(Candle image from here; tattoo from here. And a note to appease HIPAA's guidelines: in my hospice tales, almost everything  is muddled–a person's gender, age and even a tattoo–but I'll try to let the truth shine…)