Luke 1:47-55  – The Third Sunday of Advent – for December 15, 2013

"My soul magnifies the Lord, and my spirit rejoices in God my Savior…" (Luke 1:47)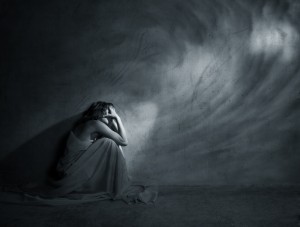 I can't read.
I can't write.
But I can listen . . . and remember.
I left my home and village to come to this place. Here, my family welcomed me, and their presence—along with food, shelter and other kindnesses—has made me feel safe.
Except, I don't feel safe.
Alone at night, I light a lamp. Then two. Then three. But it's not enough. I could light a thousand more flames and this room would still feel shrouded in darkness that has nothing to do with the night.
My mind is troubled.
And yet my soul sings with joy.
How can this be? How can I lay awake, unable to sleep, thoughts racing about all the doubts I have, all the terrible things that could happen and all of the ways the future will never be what I want and still I feel . . . confident?
I repeat the words I remembered and treasured:
My heart exults in the Lord; my strength is exalted in my God. My mouth derides my enemies, because I rejoice in my victory. There is no Holy One like the Lord, no one besides you; there is no Rock like our God. Talk no more so very proudly, let not arrogance come from your mouth; for the Lord is a God of knowledge, and by him actions are weighed. The bows of the mighty are broken, but the feeble gird on strength.
I do not speak them above a whisper, for I don't want to wake the rest of the house. It's enough these three lamps might be seen, might cause my cousin Elizabeth to come in and ask me again—for the hundredth time—how are you doing? Is there anything I can help with? Are you sure you're fine?
Of course I'm not fine.
She knows that. If I were fine, I wouldn't be here.
I repeat the ancient words again. The priest back home, who probably didn't know I'd been secretly listening as he read from the wrinkled scroll in the synagogue, called them Hannah's prayer. Did Hannah know how to read? Did Hannah know how to write? Like me, did she feel foolish or useless? Or did she only know how to trust God and believe that her child Samuel would be the one that God sent?
I repeat Hannah's words again.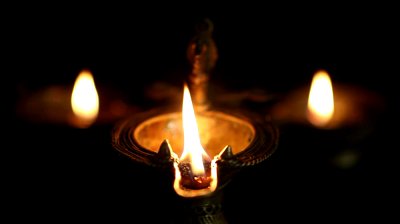 The lamps' wicks sputter and sizzle. Shadows convulse on the bare walls like storm clouds threatening across a distant horizon. Is the storm approaching or leaving?
I think of my soon-to-be-husband. Dreams fill his nights, Joseph says. Voices are heard. Suggestions are made. At his shop one day, when I brought him bread and stew for lunch, he told me how troubled he was because of those dreams. But in day's light, with the smell of sawdust prickling the nose and him enjoying his meal, he talked about the trouble as if it made sense. He said he was making the "best decisions" for us.
Of course I listened to him. He would be my husband.
I was soon to be his property.
And he could read and write. Joseph could do things I could never imagine. And for all of his troubles, he sounded assured. Even hopeful.
He had his dreams.
I had my remembered words.
Unable to sleep, unwilling to extinguish the lamps, I repeated the prayer of Hannah again. And, again, as I recalled that day in the shop filled with fresh sawdust and my soon-to-be husband's reassurances, I wished I would dream.
But I haven't dreamed because I can't sleep.
And I keep these lamps burning because I might have a visitor again. Here is the truth I hardly believe myself and will only tell myself (not Elizabeth, not even Joseph). On another night, not long past, someone or something or nothing or no one, came to me. Remaining in the shadows, in the night storms on the walls, just out of my sight, a voice announced I'd have a child.
Can you believe that?
I didn't,  but . . .
Was it a dream? But I was not asleep. Was it a nightmare? Please, trust me, I was not asleep.
But I heard him, her, it, that other, say I would have a . . .
A child?
It troubled my mind. And still does.
But not my soul. Why does this, which feels so wrong, feel so right?
After those fearsome, awesome whispered words, I crept over to the synagogue. I would feel safe there, wouldn't I?
That's when I overheard the gravelly, thunderous voice of the priest and first heard Hannah's prayer. I was enthralled by her long ago longing for her child's birth. Every word the priest spoke was branded on my soul. Every old sentence formed the foundation for my new hope.
And then I abandoned Hannah's words and made my own.
I can't read.
I can't write.
I am and will be a man's property.
But above all, I am God's child.
Three lamps spit light. Shadows danced. And I began to imagine my own words.
My soul magnifies the Lord, and my spirit rejoices in God my Savior, for he has looked with favor on the lowliness of his servant. Surely, from now on all generations will call me blessed; for the Mighty One has done great things for me, and holy is his name. His mercy is for those who fear him from generation to generation. He has shown strength with his arm; he has scattered the proud in the thoughts of their hearts.
Right now, only words bring me temporary comfort. Soon, my soon-to-be child will be my true comfort, and truest gift. At least I pray so.
My hearts soars. My weary lips repeat the new words I've made from old.
Like the three flames in the dark night, I tremble. I watch the shadowy clouds on the stark walls of my cousin's room and wonder, is the storm coming or going, will it bring nourishing rain or a flood of destruction?
(Image of woman in shadows from here; three flames from here.)