Luke 23:33-43  – 26th Reign of Christ/Christ the King Sunday – for November 24, 2013

"He replied, 'Truly I tell you, today you will be with me in Paradise.'" (Luke 23:43)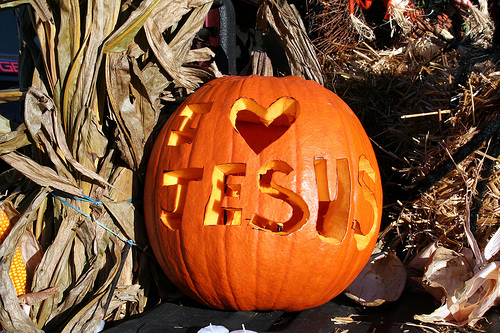 It is November. Isn't it?
When they came to the place that is called the Skull, they crucified Jesus there with the criminals.

The summer heat in Fresno has booked a flight to Australia, but the Central Valley has yet to flaunt its (in)famous wintry fog. It's a transitional season, the peculiar time when the oranges on the citrus trees still have traces of green and the green foliage on the deciduous trees are tinted orange. Autumn shrugs its shoulders and the leaves drop like dandruff. In every neighborhood, pumpkins anchor doorsteps. They once starred in Halloween and now remain, anticipating Thanksgiving. It's a restless threshold time. We wait . . . for thick fog, for raking leaves, for fresh snow in the mountains and for the coming of Advent and Christmas.
The soldiers also mocked him, coming up and offering him some wine, and saying, "If you are the King of the Jews, save yourself!"
Reading the lectionary in November always seems unsettling. Just when you're creating your grocery list for Thanksgiving or you're dreading that it's your turn to host the family Christmas gathering, Jesus arrives. He's not the cuddly infant, but the battered Roman criminal nailed to a cross. Ordinary Time limps away; Advent hasn't yet begun. In between, we are dragged toward the place called the Skull, and "suddenly" Jesus hangs between two criminals.
This brutal scene from Luke's Gospel could be ignored. Indeed, these seasonal transitions are easy for many folks . . . just let the Halloween pumpkins linger for Thanksgiving and then scoop out the gourd's innards for fresh pie at Christmas dinner. Easy as 1-2-3, right? (Well, easy except for those darn goopy seeds.)
Exchange the supermarket's pilgrim and turkey posters for Santa and his reindeer.
Let Nat King Cole and Bing Crosby start crooning carols in the malls to encourage shoppers to buy early and buy often.
Yes indeed, it's ye olde seasonal switcheroo. Again, easy.
The cross-bound, broken and bloodied Jesus? Hmmm? Not so easy.
For worship, we're strategizing where to position the colorful banners and evergreen wreaths in the sanctuary. Soon clergy and laity will light symbolic candles and proclaim familiar scriptures and highlight Advent's focus word of the day. Maybe the special word will be joy. Maybe peace. It'll be hopeful, though. Advent has rough edges, but nothing that can't be soothed over for the kids.
But then there's this damn (oops, sorry . . . darn) November scripture with that irksome cross and Jesus barely able to mumble a word. It's the threshold Sunday separating summer and winter, hot and cold, you and the baby Jesus.
Abruptly death cackles.
Good Friday elbows in for an appearance, like an embarrassing relative that promised to stay one night and yet brought a trunk full of suitcases. It's Jesus on the cross, bookended by two criminals. One snarls insults. The other whispers compassion. And Jesus said what is traditionally known as the second of his seven last words: "Today you will be with me in Paradise."
Paradise stops me between summer and winter, between the cardboard pilgrims and Santa.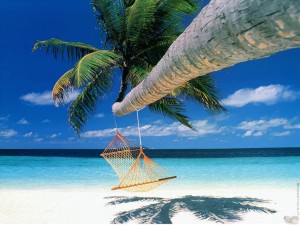 What is Paradise? It's a word with Persian roots, meaning enclosed garden, a peaceful place. Do only good things happen in paradise? I'd feel like I was in paradise if I never had to dust or vacuum the house. I'd be in paradise if all the drivers on the road used their turn signals in the proper way. I'd be in paradise if I never received another recorded call from a politician. Maybe your paradise is a hammock on the beach?
We like the notion of paradise. While the word itself is barely a blip in the Bible (three total references by my untrustworthy count), it's all over our maps. For amusement, I Googled "paradise" with each state. Here's my list:
Paradise Shores, Alabama
Paradise, Alaska
Paradise Valley, Arizona
Lake Paradise, Arkansas
Paradise, California
Paradise Hills, Colorado
Paradise Green Neighborhood, Connecticut
Paradise Ridge, Delaware
However, I was bored by the letter "D" since finding Paradise seemed as tough as picking the proverbial low-hanging fruit. (Okay, Connecticut proved a tad difficult. Paradise Green Neighborhood didn't have a zip code, though it looked like a swell location. I did find a Paradise Pizza in Oakville, Connecticut . . . their scrumptious-sounding chicken pesto pizza can be ordered at 860-274-6654.)
For a moment, with pumpkins littering the neighborhood, with the kids poised to take pictures with Santa, Jesus hangs on that cross. Battered and ridiculed, the person so unlike Baby Jesus unsettles us. And yet Jesus, tradition says, speaks the second of the "last words," and promises paradise.
Paradise, a place barely mentioned in the Bible, is probably not far from your home. But I don't think it's a place, or a heaven to be achieved. It's not really a town in a state, but more a state of the soul. When I think of paradise, in the heart of the heart of my faith, I imagine it as a promise to help me live through the threshold times.
Last August, I sat beside my mother while she was dying. Beyond the door of her hospital room, the Dodgers were making the Giants look like chumps and families were squeezing in a vacation before school started and pumpkins were growing in fields. But Mom had cancer. The doctors seemed like fools. Medical technology was a joke.
Which criminal will I be? Will I snarl? Will I show compassion?
Threshold moments arrive without warning.
Tell me about that time when all was well with you. Describe that happily-ever-after state of mind you enjoyed . . . and then, an intake of breath later, everything curdled. Your steel heart rusted. Your optimism withered to pessimism. How could divorce, illness, accident, tornado, deceit, bullets or a million other unfair and undeserved horrific events so quickly shatter your safe and predictable world?
Will you only snarl? Will you seek to be compassionate?
I believe there's paradise today. Not a spot on the map. Not even a pizza joint. But at the very least, it's a shard of divine faith that helps us face and survive the transitions.
+ Image of pumpkin from here, of beach from there. +
Full, unfettered confession: a version of these brilliant insights appeared in 2010. But in early November 2013, with my personal post-to-the-web deadline looming, and having spent time in lovely Paso Robles wine-tasting with friends for a long weekend, I revamped an old lectionary essay. However, after a hearty glass of wine and with only a smidgen of rationalizing, I believe this reflection has improved with age (like good wine) and revisions (like good writing).