Luke 20:27-38  – The 25th Sunday of Ordinary Time – November 10, 2013

Some Sadducees, those who say there is no resurrection, came to him and asked him a question…" (Luke 20:27)
I first wrote these sentences in 2010, when I volunteered at the hospice I now work for . . .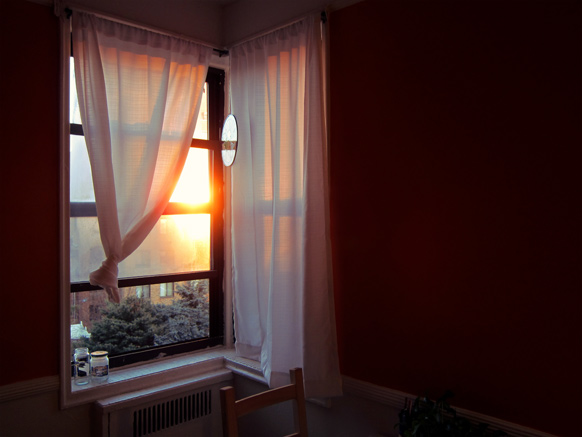 A crucifix adorns the wall.
A large dog shambles into the room. He limps by and takes a token sniff of me, then settles near the window. He's found a slice of sunshine. In the next hour, the German shepherd mix will shift positions, but it's difficult. A car accident ruined his hind legs years ago. Smaller dogs—I never know what kind or how many—stay quiet. A barrier set across the door keeps them in the back of the house.
The phone rings once or twice. I don't answer it.
I sit on a couch. I read a novel. There are "get well" and "thinking of you" cards on a side table. The room smells vaguely sour, slightly stale. It can be like that when someone's dying.
Across from me, in a rented hospital bed, the woman who owns this house, and who loves the dogs I don't see and loves the dog I can see, dozes. Medication keeps her pain in check; it also means she spends much of the day asleep. She has cancer. Her sister, her caregiver, had a to-do list of errands and called the hospice for a volunteer to be present in case anything happened while she was gone.
I am the hospice volunteer.
Nothing happens. And yet, in the somber, sour room, there's an undercurrent of peace, of the simplicity of compassion. I look again at the crucifix. A picture of the Pope is thumbtacked beside it. I can't be sure from my position on the couch, but it might be the current pontiff. However, I've visited homes in the 21st century where a crucifix joins the very 20th century Pope John XXIII on the wall, remembered for all the changes he encouraged during his 1958-1963 papacy. I've seen President Kennedy beside a Pope's photo . . . and Martin Luther King Jr. or Mother Theresa. Once, I recall Joe DiMaggio.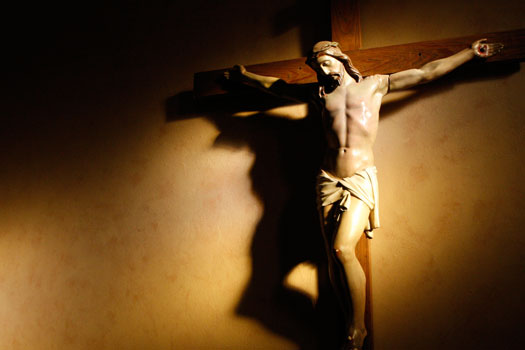 I've been told the dying woman is a devoted Roman Catholic. But while I sit in her home, I ponder the small "c" of the word catholic, which means universal. Catholic as in the whole world around us, where we humans do such wondrous and wicked things.
My mind wanders. Some long-ago, long-bearded Sadducees ease into the room. Maybe it was seeing the religious artifacts that prompted their imagined appearance in this already crowded space with the dying woman, crippled dog, and my wide-awake dreams. Did their "visit" occur because a day or so before I'd read about the Sadducees that challenged Jesus in Luke's Gospel? It's chapter 20, where Jesus taught and well-heeled, holier-than-thou types kept arriving with clever (wicked?) questions. As Luke described it, some of those questioners schemed to trap the Nazarene.
First, sneaky Scribes demanded to know about Jesus' authority.
Next, "spies" sent from the Elders asked the nasty tax question: "Should we good Jews give bad Caesar his cut of our hard-earned paychecks?" Their chicanery was undercut by Jesus' verbal coin trick (Luke 20:20-26). Serve Caesar? Serve God? Maybe Jesus tossed the denarius in the air; in my wide-awake dreams, I see its silver shimmer in the sun before falling onto the dirt.
And then those Sadducees swept in to pull the rug out from under Jesus. I won't paraphrase their convoluted inquiry. Read it during your own leisure time (Luke 20:27-38). Suffice to say, the question's purpose seemed more about setting up his embarrassment than seeking their enlightenment.
My imagination works overtime. Some of today's politicians slither into this room and crowd out the Sadducees. I know why. Over in the corner, not far from where the dog claimed his sun-dappled spot, a television murmurs. (Because my hospice volunteering happened in the 2010 election year, there were the inevitable vote-for-me commercials.) Sadly, 99% seemed negative. What saddens me more is most campaign experts chortle that negativity works. Does it? Sigh. I fear so. In California there's a heated race for Governor. One clever, irritating commercial depicts a gubernatorial candidate as Pinocchio, nose growing with all the "lies" she tells. And whether it's to slam the opponent running for local assessor or United States senator, numerous ads include unflattering photos of their rival. The "better" candidate is usually in color and always has a good hair day. Beware the dowdy politicians in black & white. They are "losers" with bad hair and worse decisions.
Other universal fools have followed the long ago Sadducees and today's politicians into this room . . .
Those who twist facts about health care make an appearance. I heard a comment on the Today Show about a survey that revealed more people spend time learning about the coverage for their cell phone service than about their health care. However, ignorance never stops humans from griping. Remember, I wrote these words first in 2010. Now fast-forward to 2013. On we gripe about health care . . .
How small "c" catholic it is that we humans yell at each other, trick each other, hurl half-truths toward each other and universally spend way too much time on the trite and trivial.
An hour or so later, the sister returns home, errands accomplished. She thanks me. I haven't done much. I've sat on that couch. I've finished another chapter in my novel. Before going, I hug the sister.
In the room with the crippled dog and the crucifix on the wall, there is only love. One caring for another.