Luke 18:1-8  – The 22nd Sunday of Ordinary Time – for Sunday, October 20, 2013

"In a certain city there was a judge who neither feared God nor had respect for people…" (Luke 18:2)
Here's a smidgen of a parable to ponder . . .
(1) Then Jesus told them a parable about their need to pray always and not to lose heart. (2) He said, "In a certain city there was a judge who neither feared God nor had respect for people. (3) In that city there was a widow who kept coming to him and saying, 'Grant me justice against my opponent.' (4) For a while he refused; but later he said to himself, 'Though I have no fear of God and no respect for anyone, (5) yet because this widow keeps bothering me, I will grant her justice, so that she may not wear me out by continually coming.'" (6) And the Lord said, "Listen to what the unjust judge says. (7) And will not God grant justice to his chosen ones who cry to him day and night? Will he delay long in helping them? (8) I tell you, he will quickly grant justice to them. And yet, when the Son of Man comes, will he find faith on earth?"
(A) Luke 18:1-8 one of Jesus' parables about prayer. But what if it's not about prayer?
(B) It tells of a good widow that achieved justice. But is justice her only accomplishment (and did Jesus mention anything about her being good)?
(C) The parable's about a bad judge that also happened to be a rotten human being. Okay, I'll buy that.
(D) And what if you didn't know Jesus—the Prince of Peace, the Son of God, the Holy Trinity's Middle Name, the Teacher from Nazareth, Joseph and Mary's Kid, the Son of Humanity, the Christ—had spun the tale about the judge and the widow? Does that matter?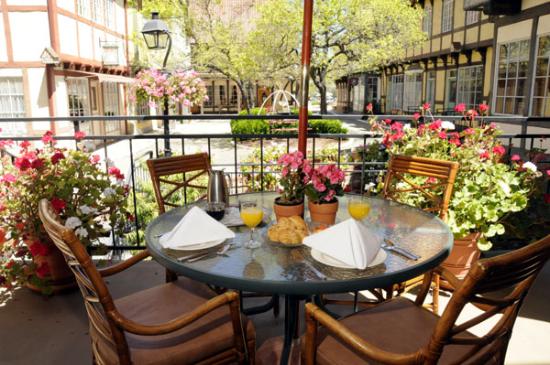 (E) I mean, what if you and I were sitting at our favorite bakery where we enjoyed the fresh croissants, sipped French roast coffee and solved all the world's problems, and you complained about how difficult it's been to take the next step in your life? You tell me you've been persistent in your efforts, but there's a person or situation that has prevented you from achieving your goals? And, to encourage and inspire you, I told you a story—about a judge, a widow and about . . .
*Â Â Â Â Â Â Â Â  * Â  Â  Â  Â  *
(D) How can we know if Jesus told this story in this way? Unless you take the Bible literally, the idea that early followers of Jesus only partially recalled any parable is likely. There are no original manuscripts. The oral tradition of Jesus' stories became word-of-mouth among believers, became written documents influenced by a particular writer's bias, contained unintentional mistakes, intentionally included or excluded certain parts, and then were all translated into different languages over and over and over and over again.
I suspect—could be wrong!—the verses I lined out (Luke 1, part of 2, and 6-8) were later additions and not what Jesus said. Some scholars support this supposition. Other scholars would call me misguided . . . or worse. You choose.
And yet, what if Jesus was not the one who told the story? What if it was me—the Dweller of Fresno, the Pre-published Writer, the Spouse of Jeanie—that told you this story . . .
(A) Can't it be argued this parable isn't about prayer? First, it's at least likely the admonitions for ardent prayer and hearty faith were added by later Gospel writers and revisers. Second, if you only read the story (verses 2-5), it's about two people and what happens between them.
(C) Take this parable literally or metaphorically, declare it's about prayer or claim prayer has nothing to do with it, and the judge will still come across as a bum. I'll bet Tea Party-types could see President Obama playing the judge. I'll bet some liberal do-gooders might cast Senator Ted Cruz as the judge. But let's ignore divisive public figures because I'll bet you know the judge: your boss, that teacher that was so full of herself, the callous sergeant at boot camp or your spouse's irritating best friend. There's always someone like the judge . . . self-serving, faithless and despicable. At least, that's what you have concluded about the "judge" in your life.
(B) I slipped in that part about the widow being "good." Since the judge is so bad, it's not much of a leap to think her good. But we don't know. However, she is a widow, and therefore one of the weakest members of first-century Palestine society. She sought justice from the powerful judge. What justice? That we also don't know. Let's assume the justice she longed for—like equal rights for women or access to education for all—was as significant as an inalienable right. But she could've merely had a petty issue with "her opponent."
(E) We sip our coffee. You tell me how you have tried and tried and tried to ________________, but you've been unsuccessful.
You've dieted relentlessly, but haven't lost weight.
You've submitted résumés, but don't have a job.
You've prayed ceaselessly, but your child remains ill.
You've _______ ________, but ______ _______.
I tell you the story about the "persistent" widow.
And you could rightly harangue me (or your waistline or the negative human resource drones or God) that you've been darn persistent and nothing has changed. And that's my issue with this parable and how it's often misconstrued. It's too easily interpreted as encouragement for persistence—in quiet personal prayer or noisy public life—and yet many, including me, have been persistent and still feel we've failed. We haven't achieved our worthy goal. The waistline continued as a wasteland. Another person got your perfect job. Tragically, a child died.
How 'bout let's have a do-over and return to our cozy patisserie. You tell me your tale of woe and how you've prayed ceaselessly or have been rejected a thousand times and I share a story that might help you (and me) and I don't emphasize persistence. And though I might be wrong—and I never say that enough—I believe it might be what Jesus meant . . .
So I emphasize relationship.
The widow's relationship with herself, and her commitment to getting justice for ________, meant she understood her values. Which is to say, how is your relationship with yourself? Are you engaged in what gives you a sense of vibrant purpose?
The widow worked (hard) on a real relationship with the judge. She, powerless, knew he wielded power that could help her. She doesn't belittle him or moan about her impotence from a safe distance. She stood before him.
The judge had a relationship with the widow. At one level, he became weary of her . . . she kept showing up. But at another level—a crucial level—he knew her . . . because she did stand before him.
Please, be persistent with your diet and exercise, but remember that within the "eyes" of our loving God, you are already part of a loving relationship.
Please, be persistent as you search for the career that gives you joy and purpose, but will you also use the time to develop relationships with those you encounter?
Please, be persistent in your earnest, anguished prayers and actions if your child is ill, but whether the child heals or worsens, will you use the time you have to be in relationship with the child?
Please . . .
(Image from here.)