Luke 17:11-19  – The 21st Sunday of Ordinary Time – for October 13, 2013

"As he entered a village, ten lepers approached him…" (Luke 17:12)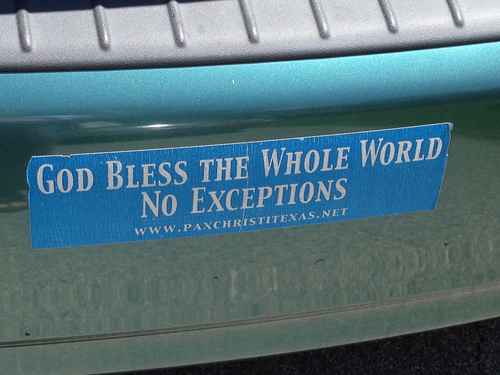 "Never forget to say 'please' and 'thank you.'"
I remember this as one of the earliest instructions from my parents. We practiced the words around the dinner table and were told to live them out in daily life.
"Pass the mashed potatoes," I might've said.
"What did you say?" Mom asked.
"Please pass the mashed potatoes."
Let's say we were at my grandparents' farm and I did half of the right thing and asked grandma to please pass her world's-best fried okra to me. She did and I scooped it onto my plate and started eating . . .
"What do you say?" Dad asked.
"Thank you, Grandma."
Please. Thank you. They are table lessons. Life lessons. They are easy to recall, and yet also easy to trivialize.
After all, appreciation can fit nicely on your average bumper. Let's watch a few cars rumble by, with their stickers declaring a way of life . . .
Choose an attitude of gratitude.
Thanksgiving's once a year; thanksliving is every day.
Learn to be grateful, not hateful.
Let's say you're desperate for a pithy quote about gratitude as you prepare to wow your Rotary Club with a before-dinner talk or to impress your high school speech teacher or you're cobbling together a sermon late on Saturday night (or, gasp, early on Sunday morning). You, being a twenty-first century type, let Google do your cruising on ye olde web and within a few clicks you are rewarded with . . .
Let gratitude be the pillow upon which you kneel to say your nightly prayer. (Maya Angelou)
If the only prayer you said in your whole life was, "thank you," that would suffice. (Meister Eckhart)
When you practice gratefulness, there is a sense of respect towards others. (The Dalai Lama)
The Rotary folks will love you. Your teacher will be impressed. The people in the pew will praise your brilliance.
And you, ever so humble, will be grateful for their adulation.
* Â  Â  Â  Â  *Â Â Â Â Â Â Â Â  *
Last year I read Jana Riess' reverently irreverent Flunking Sainthood (an account of her year-long quest to practice spiritual disciplines). Then I became her "friend" on Facebook. Not long after friending Riess, she challenged all her digital pals to express five daily gratitudes on Facebook during August 2012.
Five? I could do that!
After August last year, I continued posting a gratitude (not five) nearly every day. Such a grateful guy, eh?
August 3, 2012 – I'm grateful for…making enough food for last night's potluck to create leftovers at home (hooray for leftovers!); getting near the end of Justin Cronin's 700+ page "The Passage"; peeking at the stars last night before bed (twinkle, twinkle); sharing jokes with my hospice co-workers; for Mom settling in to her new apartment at the retirement facility.

January 6, 2013 – I'm grateful for…today being the official end of the twelve days of Christmas. Again, we'll retire our Moravian star, tuck away Joseph and Mary and their nativity gang and carefully wrap and secure the cookie dough ornaments we made thirty years ago. A season ends. (See ya next year, Baby Jesus.)

April 18, 2013 – I'm grateful for…being able to listen to my beloved gripe about work after she got home from work. (She's doing way too much administrative stuff and not enough teaching this semester. Not a good balance.) I had absolutely no "solutions" for her, but I do know that just listening was darn important.
Riess cautioned in Flunking Sainthood,
Does my gratitude practice reduce the frequency of negative thoughts? Not so far. Instead it brings to the forefront my latent judgmentalism in a profoundly discomfiting way. My critical nature is one of the aspects about myself I'd most like to change. Practicing gratitude results, paradoxically, in the increase of negative thoughts, because some of my gratitude stems from assessing my situation as better than other people's.
What is the cost of gratitude? Will it lead to comparison as Riess suggested? As in, I'm better off than you! Will it lead to the absurd? As in, I'm grateful for a half-price dessert when so many in the world (including my city) are starving.
I wonder about gratitude because of reading Luke's account of Jesus meeting the ten lepers. It's only in Luke's Gospel and it's great for a simple Sunday school lesson. After Jesus instructed the lepers on how to become cured they followed his simple orders ("Go and show yourselves to the priests.") and . . .
They were healed!
But only one returned.
And that one "prostrated himself at Jesus' feet and thanked him."
There's ample sermon material in the nine verses chronicling the lepers' newfound healthy skin. Every generation has some version of leprosy and lepers—those treated as second-class citizens. Every generation has some version of the Samaritan (the only one who returned to give thanks)—those who are our worst enemy. And every generation should grapple with Jesus' closing admonition to the tenth leper about how his faith—and not a "magic" trick by Jesus—made him well.
These are all worthy ideas to ponder.
But I'm stuck on gratitude. I'm, er, grateful to have been inspired by Jana Riess' challenge last year. My own faith, rooted in long-ago, simple Sunday school lessons, works best with the simplest activities. I might question the atonement or debate taking the Bible literally instead of metaphorically, but my day-to-day-to-day faith requires simple nourishment.
Except that gratitude is never simple. When I post on Facebook, I pause to reflect on the last twenty-four hours. Where was I foolish? Was I callous with someone? Why did I—again—engage in one of my bad habits? Who did I meet? Where did I learn something new? What brought joy? Those are powerful questions.
That one leper came back. He was not a bumper sticker. He was not a quick search on the Internet. I like to think—believe—he knew "please" and "thank you" were transformational words.
Often the very best lessons are the first ones we learn.
(Bumper sticker image from here.)