Luke 12:13-21  – The 11th Sunday of Ordinary Time – for Sunday, August 4, 2013

"For one's life does not consist in the abundance of possessions." (Luke 12:15)
My wife asked, "Where'd you get those scratches?" She fingered a nick on my elbow and pointed to a curved red slash on my leg.
"I got it from the dog when we were playing a couple of hours ago."
Our dog Hannah has raggedy claws and can be energetic. Three cats own us and one, Moses, treats my flesh like a pincushion. While biking, an errant branch might slap my cheek. I cook with sharp objects and boiling liquids. However, sometimes I'm clueless about what caused an "owie." And while some wounds are easily seen, others are invisible.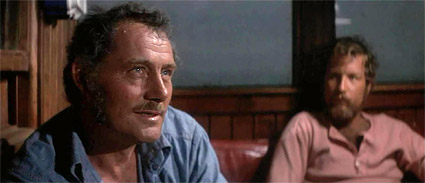 In 1975's Jaws, I enjoyed the scene** where Richard Dreyfuss and Robert Shaw's characters compared scars. As they one-upped each other with horrific tales of danger from knives and fangs and worse, they and the viewer grew closer. Wounds are stories.
A few years ago I attempted to heal an unseen wound. I tried to manipulate my father into telling me that he loved me. It didn't work. I understand . . . and yet not.
Dad had dementia in the final years of his life. When ninety-four, we placed him into a memory care facility not too far from where Mom lived. I tried to visit on a monthly basis. Each visit to the facility was brief and typically with my mother. We'd eat with Dad and usually tidy his room. Until the last year of his life, I could nudge fractured stories from him about his service during World War II. A question about cars likely brought a reaction:  he'd recall the used Chrysler Imperial from the 1950s with the miniature turntable in the dashboard or the new Cadillac Seville he didn't like and sold soon after the purchase. Mom once calculated Dad had owned forty cars by their fortieth wedding anniversary. Yes indeed, cars could always prompt a few words from my father.
On one particular visit, he seemed in a good mood. Just as we were leaving, I reached out my hand. He grasped it.
"Good to see you Dad."
Silence. Seconds passed. Then he softly replied, "Good to see you." Had he mimicked me? Did he know what he was saying?
And then I manipulated him. I told him, gazing at his mostly blank face, "I love you Dad."
I do love my father. In that moment, I hoped, if only an echo or mimicry, that Dad would reply, "I love you."
But he said nothing.
Even before dementia, he rarely told me he loved me. Oh I know he did. And my mother, who's 100% correct, would often point out that men of his era—which journalist Tom Brokaw labeled "The Greatest Generation"—didn't express much emotion. Their feelings were sealed as tight as a K-ration. Tears were for wimps. A compliment might be taken for weakness. Anyway, don't actions speak louder than mere words?
My mother soothed, "You know he loves you."
I do. But still . . .
(When I read Jesus' story about greed in the twelfth chapter of Luke, I wonder what's important in life. Excuse me . . . I've misled you. Jesus' parable about dividing a family's inheritance has never caused me to question what's important. I understood the parable when I was a kid in Sunday school and I get the parable as a so-called adult. The enduring values in life are the treasures of love, not things. How easy to interpret this parable, and how difficult to live out! Can our daily actions—first or twenty-first century—speak louder than these obvious words?)
After Dad moved to the facility, Mom and I found lists he had written. Those slips of paper suggest dementia had impacted his life for longer than we knew. Some notes were probably written in the year before he transitioned to the care facility, but others may have been done many years before that decision. Dad would record of specific objects and their monetary worth, scrawled in his handwriting on leftover business stationary or the backs of envelopes. We discovered notes in obvious places, while several were left in odd locations.
House – $500,000
Car(s) – $8,000 each
Savings – $100,000
Gravesites – $3,000 . . .
How strange. They included as many as ten or fifteen items. The house topped most lists while the graves our family owned appeared infrequently. But however many possessions were recorded, the bottom lines typically exceeded a million dollars.
My father loved me. This I know. I hold the truth of his love within my heart. And yet, in all my years as his adult son, he avoided speaking the sentiment. When I phoned home, I'd end the call with, "I love you."
He'd answer, "God loves you.
Really. That's what he would say. But I already knew God loved me.
Did Dad love me? Yes. But I wanted to hear it. And now I never will. Once I tried to get him to mimic me. But he didn't, certainly not with his dementia. He'd lost his mind. He made those lists. Things. Possessions. Treasures.
This is one of my wounds.
But I agree with Pat Conroy's opening line** of his insightful 1986 novel, The Prince of Tides . . . "My wound is geography. It is also my anchorage, my port of call." In the geography of my family, Dad served as my harbor. He was home whenever I needed him. He tossed a million Frisbees and baseballs to me in the backyard. He took me to Candlestick Park to cheer the Giants and made silver dollar pancakes for breakfast if Mom was out-of-town.
I treasure my memories, and there are many treasures within those memories. All families have wounds and are harbors and Jesus was forever right . . . "One's life does not consist in the abundance of possessions." Dad may have only rarely said "I love you," and his scribbled, demented lists may have obsessed about a million bucks, but I'll always possess the million times we played in the backyard.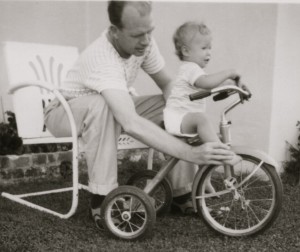 *This is revised from a 2010 reflection, but it's better/different in my biased view because I've had more of a chance to think of Dad's love since his death. I miss him.
**And yeah, I've used the Jaws reference and the Prince of Tides references before in other essays. It's cuz they are true, honest examples. Isn't truth worth repeating***?
***I re-read and re-use parables too. So there!