I Kings 19:1-15a  – The 5th Sunday of Ordinary time – for Sunday, June 23, 2013

"…I alone am left, and they are seeking my life, to take it away." (I Kings 19:10)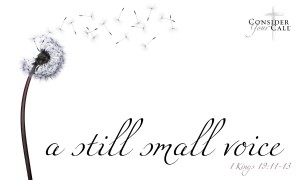 I rarely claim this, but I prefer the King James Version (KJV) to the New Revised Standard Version (NRSV) passage for reading, praying and thinking about I Kings 19. Here, the Bible described Elijah's encounter on Mt. Horeb with the Lord in verse 12 . . .
The KJV—and after the earthquake a fire; but the Lord was not in the fire: and after the fire a still small voice.
The RVSV—and after the earthquake a fire, but the Lord was not in the fire; and after the fire a sound of sheer silence.
I know why. It's for the same reason I prefer the KJV's Psalm 23 to other translations or interpretations:  a singular phrase. For the ubiquitous Psalm verse, the KJV's, "I walk through the valley of the shadow of death . . ." inspires me more than the NRSV's, "I walk through the darkest valley . . ." Why? Have I heard "the shadow of death" spoken in films or books that swept me away? Did the eager ears of my childhood first hear "shadow of death" and tucked the phrase into a central, accessible memory?
Or is it as simple as liking one phrase over another?
For me there's a wide emotional gap between surviving a dark valley versus death's shadow. In the hundreds of graveside services I've done, I believe the living sensed death's long shadow covering every part of their being. My Dad's devil's dance with dementia seemed like life in a frightening, deathly shadow world far more than a trudge through a gloomy valley.
The feeling's the same with Elijah when comparing "a still small voice" to "sheer silence." Both describe what I long for in my relationship with the Holy . . . but while I may want the NRSV's "sheer silence" in my life, I crave the KJV's "still small voice."
The world is raucous. There's 24/7 news and the clattering chatter of email, text, Skype, Facebook, Google plus, Instagram, phones at home and work (and in our pocket or purse). There are a score more whiz-bang ways of communicating I didn't list and more ways of sharing-declaring-blaring not yet invented that will inevitably add to the thunder that undermines any "sheer silence" in our lives.
Oh, I can avoid all the fizzle and frazzle of the modern world by discarding or muting the electronic devices that own me, but I can't avoid the rasp of everyone else's talking, texting and opining.
Can I escape the noise anymore?
I try. I'm a quiet guy, a shy fellow. I love chatting with folks, but it wears me down and so I literally take a hike. Or a bike ride. Or a walk. Or settle onto the backyard grass beside my dog—she never says anything, thanks be to God—for a respite of . . . silence.
Elijah certainly heard the noises:Â  the bloodlust of Jezebel, the hiss and horror of fire, the ground-shaking earthquake and the fearsome wind. And then . . .
Sheer silence?
And then . . .
A still small voice?
Earlier in I Kings, Elijah fretted to the Lord,
"…the Israelites have forsaken your covenant, thrown down your altars, and killed your prophets with the sword. I alone am left, and they are seeking my life, to take it away." (I Kings 19:10)
I alone am left. How anguished that feeling. But Elijah, in the confidence of the Biblical legends, will hear the still small voice.
How can I hear it? Can't I hear it? Am I not more called to listen than proclaim, to wait rather than hurry?
A guilty summer viewing pleasure in recent years has been So You Think You Can Dance. Me? I can't dance a lick. I possess two left feet and couldn't follow a note of music if it was leashed to my belt. But dance can stun me. One tap dancer did a few episodes ago. In tap, feet become rain on a tin roof, castanets and drum rolls. And then there was tapper Alexis Juliano. In her quest to become one of the show's selected dancers, Juliano was as loud as tap can be, and yet wowed the judges with . . . the absence of noise. In the closing movements of her routine, she emphasized the power of silence.
https://www.youtube.com/watch?v=L8JqOz7mYJk
Producer and lead judge Nigel Lythgoe said of Juliano's routine, "Silence is just as important as the rhythm you're knocking out."
How I crave to hear the Holy, be it thunder or a still small voice. My bet is that God is more often "heard" in silence.
When I seek to console another, help me not to quickly give advice.
When I converse with a friend, help me pay attention to the slumped shoulders or far-away looks.
When I pray, help me not rush to the Amen.
When I weep, help me be open to what really birthed my tears.
God knows, there's no guarantee I'll hear. But how can I create enough silence to overcome the good, bad and superfluous rhythms I'm knocking out?
(Image from here.)