I Kings 18:20-39Â  – The Second Sunday after Pentecost – for Sunday, June 2, 2013

"Then Elijah said to all the people, come closer to me…" (I Kings 18:30)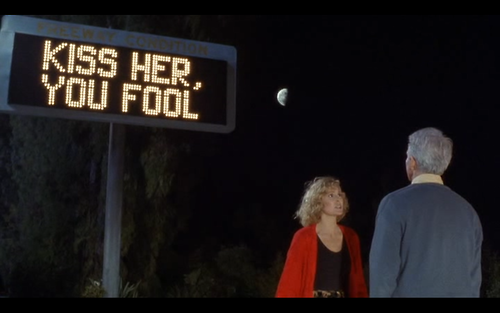 I resent Elijah.
Yeah, I mean the Old Testament prophet. The guy in Kings (the original I Kings and the sequel II Kings) who yanked the holier-than-thou rug out from under the bad boys of Baal.
Midway through I Kings a mano a mano confrontation occurred between the Lord's singular servant Elijah and four hundred and fifty Baal Busters. (With that many Baal buds, maybe it should be described as a mano a mucho mano smackdown!)
It was the Lord vs. Baal and each side sought to demonstrate the dominance of their deity.
A crowd gathered for a contest of Biblical proportions. The networks, cable outlets and papyrus media showed up in force. NBC jostled for the best camera angle with Al Jazeera. A well coiffed CNN anchor elbowed the snarky reporter from the New York Times.
Ground rules were established. A bull would be sacrificed (picture Wall Street's famous statue for a dramatic twist in this tense tale of Who's real and what's not). Human hands couldn't touch the cow; God alone would do the bovine deed.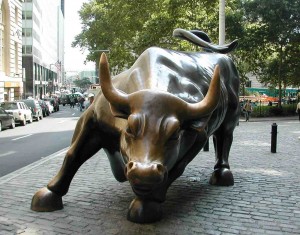 The Baal Gang beseeched their god to work wonders.
Show the people a sign!
Nothing. Throats raw and lungs heaving, all four hundred and fifty voices ceased. Silence reigned. Expectations grew.
Elijah strode forward. He made a request of the Lord, the divine One with a capital G in God. I'll condense the prophet's three verses long (I Kings 18:36-38) preamble to one of the best outdoor barbeques depicted in the Old and New Testaments with . . .
Give 'em a sign, God!
The Lord Almighty, Creator of Heaven and Earth, Universe Maker and Divine Dude did. Whoa! The bull got sacrificed! Roasted faith! Grilled glory! Holy Smoke!
Hooray for God. Hooray for God's prophet. Hooray for . . .
And yet this is where I resent Elijah.
Why can't I have signs like Elijah? I'm not talking about burning bushes or grilling bulls in my backyard, but wouldn't we all like God to be a tad more obvious? And I'm not talking about seeking Holy hints or answers to childish things like whether or not I'll get the proverbial bike for Christmas or the ways to achieve an "A" on an algebra test (though a passing grade in any math course for me would require divine signs and interventions).
Why not something like the freeway sign in Steve Martin's 1991 film L.A. Story? Was this the right woman for him? Could he not have a sign to understand his next step?
http://www.youtube.com/watch?v=SjaU_eS2Emw
Thank you very much, but I'd like to be warned when I'm about to hit a difficult stretch of life.
Maybe a man struggling with cancer desires to know if he should continue treatments.
A young CEO of a start-up software firm longs to know what she should do when Google offers to buy her company.
Should the delayed college degree be pursued?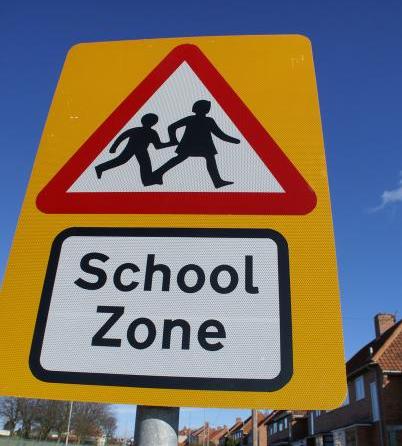 Some comfortably and eagerly mention "signs" from God. In recent years, a bevy of books* have chronicled personal experiences in heaven. Proof of an afterlife spawned best-sellers for this life. In my work at hospice, the bereaved have shared about encounters with inexplicable "signs" (a hummingbird appearing, a clock's alarm sounding, a door opening or closing) that confirmed a loved one had communicated with them after death.
And then there's an absence of signs. At a grief support group I facilitated, a participant admitted she'd been surprised she hadn't dreamed about her spouse. How much she missed him! She described herself as someone who frequently dreamed. But not once since his death had he "appeared" as she slumbered. Others in the group nodded their heads in agreement. For a few moments, they bemoaned their own lack of confirmation, of "signs," through nighttime dreams.
What about daytime "signs?" Years ago, in the primordial era before cell phones occupied every pocket and purse, I took a vacation while awaiting a job interview. I wanted the position. I sensed God was nudging me to say "Yes" to the new opportunity. The call came and I was interviewed in Yosemite Valley on a pay phone. I fielded questions while gazing at Half Dome. I spoke of my gifts and graces, blessed by the crown jewel of the Sierra Nevada. What a "sign!"
I didn't get the job.
I'm thankful for Elijah's contest with the Baal Gang. His tale helps believers glimpse the ancient, and yet still relevant, conflict between polytheism and monotheism, between stale fears and sacred hopes.
Burning bushes are rare. The bull ambles away, never becoming Oklahoma Joe's** best spare ribs or a petty god's sacrifice. Half Dome refuses to smile on a new job. Questions about cancer or career remain uncertain and anguished. Todd Burpo's kid* scampers through paradise, but all I get are next month's bills. Elijah got his Holy answer, so why can't the signs along the roads of our lives divinely state, "Kiss Her" or "Walk Away?"
I believe I've experienced Holy nudges, Godly gestures—though (oh, how I revere this phrase) I could be wrong. Maybe it's merely endorphins or right-brained intuition, but I've said the right thing at the right time, chosen silence when I'd usually blather on, risked the unfamiliar, embraced the fear, opened (or kept closed) a door. All because I sensed the Other, the Mystery, guiding me.
Mostly the "signs" I've experienced are guesses and glimpses, as fragile as a butterfly's wing. With just enough vulnerability, I look back on my life and believe God provided signs. None were as bullish as Elijah's, none transported me to heaven, but sacred whispers have, and continue to, lure me toward love.
What signs of wonder have you seen?
*For example, Todd Burpo's Heaven is for Real: A Little Boy's Astounding Story of His Trip to Heaven and Back or Eben Alexander's Proof of Heaven: A Neurosurgeon's Journey into the Afterlife.
**This is a blatant plug for Oklahoma Joe's, which is where my friend Doug Worgul works…he's also the author of "Thin Blue Smoke," which you should order as soon as you've finished this footnote.