Acts 16:9-15 – The 6th Sunday of Easter – for Sunday, May 5, 2013

"A certain woman named Lydia, a worshipper of God, was listening to us…" (Luke 16:14)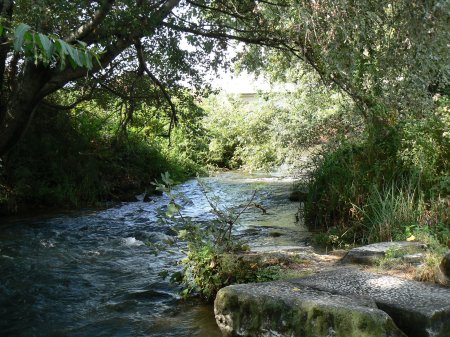 Along the banks of the Gangitis River, in the district of Macedonia, a certain woman named Lydia heard Paul's first-century message about the good news of Christ Jesus.
Soon after, Lydia and her household were baptized.
Which made her, based on the stories shared in the Acts of the Apostles, the first woman baptized on the European continent.
In Acts, Lydia spoke a singular sentence:
If you have judged me to be faithful to the Lord, come and stay at my home.
At the end of the 16th chapter of Acts, the only chapter in the New Testament where her name appeared, she was referenced once more. Following a brief stint in the local slammer, Paul and his companions beelined for Lydia's home. Then, after an interview or two by eager Macedonia-based reporters, an update of his blog and Facebook page, Paul and his buddies skedaddled from Phillipi.
Lydia was never heard from again. Like Tabitha (also a woman named in Acts), she was a charter member of the club of obscure New Testament women. We know little about Lydia, other than she was . . .
A woman
In Macedonia
A seller of purple cloth
Wealthy (or indebted) enough to have a household
Someone who met Paul
Baptized
And, with apologies to everyone else that speaks better Spanish than me, her singular statement was a variation of: Mi Casa Es Su Casa.
My home is your home.
I assume Lydia's life changed for the better, but that is only and forever an assumption. After all, she left the story.
I assume Paul's encounter with Lydia influenced his life for the better, but that is only and forever an assumption. After all, she's only mentioned in chapter 16 and doesn't appear among the friends and co-workers listed in the letters attributed to Paul.
It's easy and fun to play a "what if" game about Paul and Lydia:
What if he'd begun to his trip west a day earlier or later . . . and they didn't meet?
What if she'd been ill that day and wasn't by the river . . . and they didn't meet?
What if Paul hadn't spoken, but instead his companion Silas preached . . . and they didn't meet?
What if a buyer or seller of purple cloth distracted Lydia while she gazed at the Gangitis River . . . and they didn't meet?
And yet Paul and Lydia met. A coincidence? A colleague of mine says she prefers to think of certain moments as Godincidences* rather than coincidences.
When is it happenstance or a Holy fling? I don't know. I don't know.
Still, these moments occur. People meet. People leave. The world—in a heartbeat, a glance, a random act—changed and they were forever thankful for their shared, brief experience. Or, they're not grateful! What about the worst coincidences? You know the cliché . . . God shuts a door and opens a window. But what if the window was slammed on your knuckles and the worst became worse? Nearly everyone has a happy ending. Nearly everyone also has dismal tales of bruised knuckles . . . and far worse.
The 2008 film "The Curious Case of Benjamin Button" was a fanciful story about a lifelong relationship between Benjamin and Daisy. There's a terrific and terrible scene where Brad Pitt's title character what-ifs a sequence of events that caused an injury to Cate Blanchett's Daisy. A split-second accident was set in motion by a series of split seconds that altered the remainder of Daisy's life.
For the better? For the worse? In those heartbeats, glances and random acts, how can we know if something is bad—or good—until a passage of time unfolds?
While I never envision God as the divine puppet master, casting holy rewards or meting out almighty punishments, my faith lures me to sense a Holy presence in the essential times of my life. But I rarely know it at the time. In my familiar litany of life-changing moments, there are numerous "worst times" that eventually contributed to some of the best times: a broken leg, a divorce and a lost job opportunity.
On my worst days, I'll often be Brad Pitt's Benjamin in that scene, what-ifing the tragedy or twist or turmoil.
On my best days, I will learn from Lydia. Still wet from baptism in the Gangitis River, she invited Paul to her home . . . in other words, Lydia's home was Paul's home.
Lydia's invitation demonstrated one of my foundational beliefs about being Christian. Lydia's river moment with Paul changed her life for the better and set her onto a different, and more hopeful, journey as a baptized believer. Paul's river moment with Lydia provided him with a safe place—a home—before he returned to his journey. And here are two more Biblical examples, though there are hundreds to choose from:  In Jesus' parable of the "good" Samaritan (Luke 10:25-37), an "enemy" aids his adversary, allowing the nearly dead Jew to regain health and renew his life's journey; in Jesus' encounter with the woman about to be stoned (John 8:1-11), he confronted her judgmental neighbors and helped her restart the journey of her life.
Will we yank the welcome mat out from under our neighbor, or offer a temporary home? How will we help another on their journey?
*Thanks, Rev. Jane Schlager (maybe others have said it, but I heard from Jane first!)
River image from here.