John 13:31-35 – The Fifth Sunday of Easter – for Sunday, April 28, 2013

"Just as I have loved you…" (John 13:34)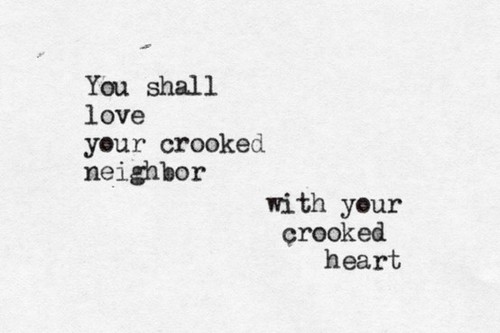 In John's Gospel, immediately after Judas departed the upper room—departed to sell Jesus out to the first bidder, departed to become one of the best or worst known disciples, departed because of his fetid fears or selfish schemes—Jesus summed up the good news in 6 words.
In the upper room, Jesus had gathered his disciples.
In the upper room, Jesus had washed their feet.
In the upper room, Jesus had broken bread and shared wine.
In the upper room, 6 stunning, simple but never simplistic words were shared. (At least 6 in English!)
You do know those 6 words, don't you?
Just as I have loved you.
Or maybe you need the context of the entire verse:
I give you a new commandment, that you love one another. Just as I have loved you, you should also love one another.
Familiar now? It's the new commandment. It's a variation of the Golden Rule. It's so easy to say and so hard to accomplish.
It's really not the Golden Rule. Isn't love your neighbor as you love yourself the Golden Rule?
Or this gilded Biblical request:Â  Do unto others as you would have them do unto you (Matthew 7:12).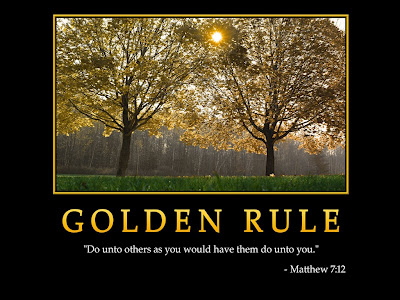 Even more ancient, how about Leviticus 19:18's You shall not take vengeance or bear a grudge against your kinsfolk. Love your neighbor as yourself: I am the Lord.
To be non-Biblical, there's Confucius with . . . Never impose on others what you would not choose for yourself.
I could keep scouring the Internet or my bookshelves for more insights. But any version of the gilded rule is usually based on me. Treat others like I want ME treated. Do I mean the ME who's thoughtful, helpful, kind, compassionate and humble? I like that ME! ME can be so good! However—and you can guess what's coming next—there's another ME. Uh-oh. The guy that's full of himself, that if he's not always right, he can at least be loud. The ME that mirrors the ABCs of human foolishness: Arrogant, Bombastic and Conniving. (Hey, I could find an awful but honest description of ME with every letter of the alphabet.)
Which ME do you want me to be whenever I treat you with my skill set? Loveable Larry or Larry the Lunkhead?
Instead, we are called to love like Jesus loved. Really?
I shudder. I cringe. I scheme. I'd prefer to turn the Biblical page to an easier section. Can't we repurpose an "eye for an eye" . . . which makes my treatment of you—you scoundrel you—easier to accomplish. Treat me bad and I'll dish it out equally to you.
In 2012, the venerable Christian Century magazine ran several articles about choosing 7 (not 6!) words to summarize the Gospel. An essay by Century editor David Heim cast the first challenge:
In his autobiography Brother to a Dragonfly, Will Campbell recalls how his friend P. D. East had badgered him for a succinct definition of Christianity. East did not want a long or fancy explanation. "I'm not too bright," he told Campbell. "Keep it simple. In ten words or less, what's the Christian message?"
Campbell obliged his friend: "We're all bastards but God loves us anyway," he said. To which East replied, "If you want to try again, you have two words left."
After Heim's article, the Century invited others to attempt a 7 word description, like . . .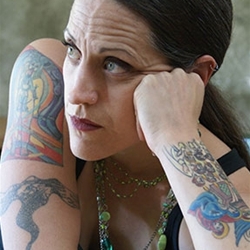 ELCA Lutheran pastor and self-proclaimed pastrix Nadia Bolz-Weber:  "We are who God says we are."
Theologian and author Walter Brueggemann: "Israel's God's bodied love continues world-making."
Emergent church guru and go-to guy Brian McClaren: "In Christ, God calls all to reconciliation."
Writer and Benedictine oblate Kathleen Norris: "God is love: This is no joke."
If we reclaim P.D. East's original challenge of ten words to Will Campbell, I'd suggest these ten words from the heart of a stanza from W. H. Auden's poem, As I Walked Out One Evening:
'O stand, stand at the window
As the tears scald and start;
You shall love your crooked neighbour
With your crooked heart.'
Auden's "crooked heart" takes my breath away. Tarnished me, with my crooked heart, seeking to love tarnished you with your crooked heart.
Just as I have loved you. Jesus' invitation seems a holy sentence and wholly impossible to me. How can I embrace my enemy, touch the leper and give away all I have? How can I witness forgiveness, humility and justice with every breath I take?
Maybe you can. I can't.
Still Jesus' six words are there: Just as I have loved you. They bear repeating. So do Will Campbell's eight: "We're all bastards but God loves us anyway."
How would you describe the "good news" in 6 truthful enough words?
Here are a few attempts, from 6 to 9 words, influenced by my favorite two-word phrase And Yet (which is my best and briefest proclamation of God's abundant love):
Selfishness rules
And yet
Christ rises
Humans scheme and yet God still dreams.
I dread night and yet God gifts dawn.
And yet even the worst are embraced by Love.
What handful of words would you suggest to describe, define and declare the good news? Even more truthfully, what words are you, with your crooked and humble heart, willing to live from and live for?