Acts 9:1-16 (7-20) – Second Sunday after Easter – for April 14, 2013

"Saul got up from the ground, and though his eyes were open, he could see nothing . . ." (Acts 9:8)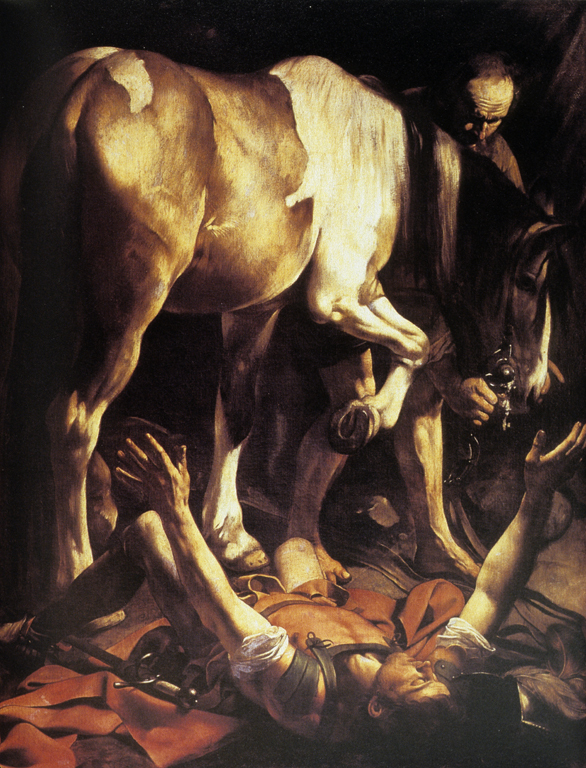 The 2009 film The Blind Side made wheelbarrows of money. Sandra Bullock received an Oscar for her performance. I liked the movie. I laughed. I wept. I cheered. The title of the film refers to a football team's need to protect a quarterback's blind side. Bad things happen when a quarterback focuses downfield, searching for a receiver, and an unseen opponent approaches to thwart the play.
Of course the title works in multiple ways. It's not only about football.
Then there's Survivor, the silly (but also oddly revealing) reality show. Contestants fret about blindsides. When—not if—will another player stab them in the proverbial back? Alliances will get tossed under the bus . . . or nearest coconut tree. (Please, in the current season, will someone blindside "secret agent" Phil? Now!)
I've been blindsided. Twenty years ago this month—and yeah, I remember the day and time of night—a United Methodist District Superintendent called to tell me to move to a different church. Nothing like a phone call before bedtime to hear your present and future have been, er, tossed under a coconut tree. He and I didn't get along. He was right about some of his concerns regarding me; I was right about some of the positions I took that irked him. So, both of us were right and wrong. However he held power over me. Bad news:  Blindsided!
And yet blindsided can have its upsides. My wife and I just celebrated our twenty-ninth anniversary. I happily recall the first time I spotted her thirty-one years ago:  the left side of the church's back row when I stood to preach. Who's that? Whoa! (If asked a few days before that pre-sermon epiphany, I'd have wondered if I could ever heal from my first marriage . . . and divorce.) Good news:  Blindsided!
Saul of Tarsus was blindsided. On his journey to Damascus Saul-who'd-become-Paul had an agenda . . . "Breathing threats and murder," the Acts of the Apostles gleefully proclaimed. Before he became Paul, he was a mean-hearted, anti-Christian, butt-kicking dude. Then God, so the story goes, blindsided the fearsome Pharisee and terror from Tarsus. Conversion!
Literally, according to scripture, Paul lost his sight somewhere between blazing light, a heavenly voice and smacking the ground. Or maybe he didn't. Even a casual reader of the Bible will notice there's a difference between Acts' dramatic rendering of Paul's conversion and the places (like the opening of Galatians) where Paul personally writes about his transformation. I view Acts as one part history and one part a cheerleading PR effort to make the rise of the followers of Christ look good. Really, really good.
Saul be bad, and then became good Paul! In Acts, the early believers were often overwhelmed and persecuted . . . but it all worked out! Humans spice things up. We like to make dramatic events even more dramatic. As a kid in Sunday school I remember the comic book-like drawings about Paul's conversion. He was usually sprawled on the ground while above him a horse—the steed he'd been astride seconds before—appeared spooked. Nowadays I read Acts as a thoughtful adult and think . . . Geez, what horse?
I decided to search for one of those old-time illustrations and Googled "Paul," "conversion" and "Damascus." And what did I find? Not some over-the-top Sunday school propaganda, but The Conversion on the Way to Damascus from the brilliant, troubled Michaelangelo Caravaggio (1571-1610). Caravaggio's brushstrokes were bold, his colors vivid. Even on a computer screen, the painting pops out at the viewer. And there's a horse!
What horse? Acts didn't mention a horse (the people with Paul "led him by the hand" after the vengeful Pharisee was struck blind.) But a horse adds drama. Whether cute drawings in a Sunday school handout or a Renaissance masterpiece, we exaggerate.
Ah, drama. Every conversion is different. Some are quiet; some spectacular like a rearing horse. Some, like good old John Wesley of my Methodist tribe, have hearts "strangely warmed." The closest I've come to a conversion experience was my call to the ministry. It included a solitary walk, a view of the mountains and a sense that the words of encouragement unexpectedly filling my mind had less to do with my thoughts and more to do with God's urging. In the years since that "call," I occasionally look back and imagine the walk as longer and lonelier or the nearby mountains more foreboding. All in all, though, to be as honest as I can with a decades-old memory, my call, my conversion, was probably low-key. Except that it transformed my life.
Blindsided.
In Paul's case, he couldn't see a thing. In my case, I suddenly saw. Both ways work. How was your conversion? Dramatic? Or not? Haven't had one yet? Maybe tomorrow. Maybe you never will. Maybe I put too much emphasis on mine . . . or not enough. Is my long-ago conversion as important as the next conversation I have where I'll choose to be honest? Or not. Revealing? Or not. Forgiving? Or not.
The blind side of me knows I spend time making plans for my next really important step and abruptly land on my derrière. The blind side of me knows that humans—even me—like to make things up. We paint a horse into the scene or foothills take on Everest-like proportions. But I believe all of us are straight-armed by the unexpected and tossed off the horse named I'm In Control. We land on holy ground named My Conversion and have a chance to see and hear as never before.
The image is from here.
(This is revised from a 2010 reflection. There's progress from my carpal tunnel release surgery. Soon I'll be able to use both hands and get back to creativity and first drafts. There's only so much insight found in the sound of one hand clapping . . .)