John 20:1-18 (along with Luke, Mark and Matthew) – Easter – for March 31, 2013

"Early on the first day of the week . . ." (John 20:1)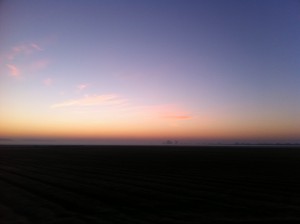 What Gospel will you read when Easter's dawn teases the new day?
Will you choose Easter celebration or Easter mourning?
When I served in churches, I'd search for Easter's official time even before Lent began. After all, sunrise in Fresno, California will be "later" than Fargo, North Dakota.
I liked discovering the official civil twilight. Civil twilight is a naval term for the first (or the last) glimpse of a defined horizon:  Night is over, but it's not yet dawn. Whenever Easter appears on the calendar, and wherever I lived, knowing when civil twilight began helped me choose the time for Sunrise Service.
On March 31, 2013 in Fresno, California civil twilight will be 6:20 AM. Sunrise arrives twenty-six minutes later at 6:46 AM. Ta-da! Now you can plan your celebration (at least if you live near me)! Quick, post the time on your church's web page. Of course, you may choose to ignore this data and start at another time because of your church's we've-always-done-it-this-way tradition or your personal pastoral preference to maximize beauty rest. Or you're a layperson and want to complain about how early or late Sunrise Service is because you have the facts about exactly when dawn will knock on Easter's door! You choose.
But let's return to civil twilight to understand another choice. The Earth spins at over a thousand miles per hour and you—whether Fresno, Fargo or far, far away is your zip code—stare toward the east. Brace yourself. Traveling at the speed of the Earth's spin is not for the faint of heart! In the dark you wait, expectant for the first glimpse of light.
Will you delight in the new day or will you have regrets? What awaits?
And what will you read from scripture that truthfully prepares you for this particular year's Easter? Hurry, the light's coming. Choose!
If you're a lectionary preacher, I'll bet you selected John's Gospel. This year—the rascally Year C—the lectionary provided a choice. John or Luke? But wait . . . this isn't Christmas with only two Gospel choices. There are four Easter choices:  twice the pleasure! Why not Matthew? How about Mark?
Easter celebration or Easter mourning?
John's good news was wonderful. From start to finish, there's drama, despair and mystery. Verse by verse, the reader charges toward the climax and overhears Mary, having experienced the risen Christ, declare, "I have seen the Lord." Alleluia! Cue the choir. Easter celebration!
But what if you chose Mark, if only for brevity's sake? Eight brief verses sum up its last chapter. Of course—as with all of the Gospels—only women were present. And yes, as with John, there's drama and mystery. But oh, that last verse. It sticks in your throat like a soda cracker with not one drop of water to swish it down.
. . . and they said nothing to anyone for they were afraid.
Gulp. That's it. The end. Curtains close. The audience shuffles away. The band packs their instruments and leave.
John shouts, "I have seen the Lord!" Time to celebrate!
Mark confesses, "They were afraid." Time to . . . mourn in the morning? Mourning may not be the best word. After all, it's me playing with synonyms.
And yet mourning is close enough. During mourning emotions are legion. Doubt, sorrow, and anger elbow us. Being afraid roughly shoves its way into our lives. When we mourn, we are often afraid of the past, of the ongoing regrets or unresolved conflicts that burden the soul like an anchor stuck in mud. What were the fears of Mark's women as they ran away? We don't know. But wouldn't it be, based on your own life, easy to guess?
On the day of Easter, whether at the first hint of light on the far horizon, or in the bright sanctuary crowded with worshippers later in the morning, I'm glad we have all the Gospel accounts. I'm glad we can't say for sure what happened at that long-ago twilight time for John's singular Mary or Mark's women scurrying away from the tomb. And also Matthew with its odd inclusion of the guards paid to be asleep (Matthew 28:12-13) and Luke's Emmaus walk that took place closer to Easter's other end of the day twilight time (Luke 24:13-35).
For me, some Easters were spent in literal mourning. Within two weeks of Easter one year, a district superintendent intentionally lied about me to a bishop and the worst time of my ministry unfolded. I'll never forget that Easter. What if I were a parent in Newtown, Connecticut in the Year of Our Lord 2013? Last Christmas, there were awful deaths instead of an alleluia birth. Now, a few terrible months later, will Easter dawn as a welcome morning or a time of mourning, of still being afraid or angry or worse?
Some Easters have been wall-to-wall celebrations. In March of this year my wife and I will rejoice in twenty-nine years of marriage. Which means that nearly three decades ago, 'round Easter, I walked down the aisle. What a bonus! Happy Marriage. Happy Easter. Happy!
Let's read all the Gospels. Let's dare to include all feelings. But even in the worst years, I will stand alert in that twilight time. I'll look east. I'll wait as darkness loses its grip. With everyone on Earth, awake or asleep, in mourning or celebration, I'll rush forward at a thousand miles an hour. Then, there it is . . .
Dawn. A hint. Enough. With laughter or tears or both, I'll honestly choose to proclaim Christ the Lord Has Risen Today!
(Revised from a 2009 reflection . . . after all, I was gone for a workshop and I have surgery coming up. Woe is me!)