Luke 15:1-3, 11b-32 – The 4th Sunday of Lent – for March 10, 2013

"There was a man who had two sons . . ." (Luke 15:11)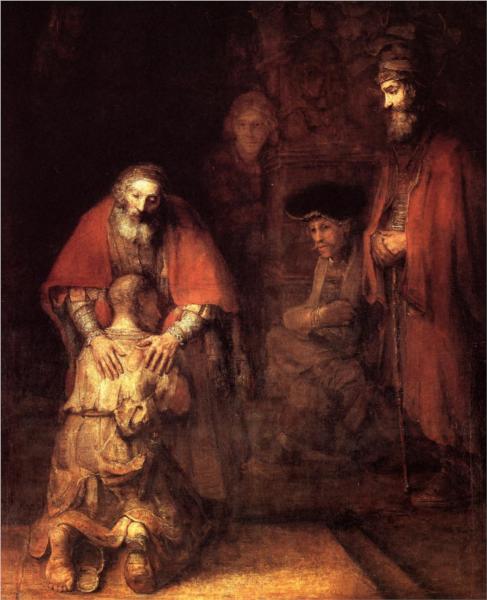 Please complete the quiz on Jesus' Parable of the Prodigal Son found below.
(This is not an open book test. Keep Bible closed. Only give answers based on prior reading or your random, desperate guesses.)
 A. Circle how many characters speak in the parable:
2Â Â Â  3Â Â Â  4Â Â Â  5
B. Where does this Parable take place (check all that apply):
___ John's Gospel
___ In other families
___ Luke's Gospel
___ Only way back then
___ Mark's Gospel
___ In my family
___ Matthew's Gospel
C. Though known as the Parable of the Prodigal Son, a better title for this story would be: (choose one answer)
___ The Dysfunctional Family
___ Don't Judge Me Until You Walk A Mile In My First Century Sandals
___ Unforgiving Jerk Of An Older Son
___ (bonus point) Your title suggestion: _______________
*Â Â Â  Â  Â  Â  *Â  Â  Â Â  Â Â  *
In his insightful 2004 book "The Four Things That Matter Most," physician Ira Byock wrote, "I have long thought that the phrase dysfunctional family is redundant." After reflecting on Jesus' The Dysfunctional Family parable for the 4th Sunday of Lent, I couldn't agree more with Dr. Byock.
Dysfunctional.
Family.
Same thing, eh? So often, when reading the stories of my faith, dysfunction is the rule, not the exception. From the get-go, Eve and Adam and their odd clan made a mess of things. Imagine yourself as a younger sibling of tricky Isaac and dufus Esau. How'd you like to join King David's family? Royally weird! Or there's Noah's drunkenness, Abraham's claim that his wife Sarah was his sister in order to placate a pharaoh, Joseph's slap-happy brothers tossing him in a pit, the disciples of Jesus and their constant grumbling and dear old St. Paul and his thinking one thing but doing another.
And yet I'm grateful the sacred book of my faith revealed family dysfunction. I read it, and I read about myself. I read Luke 15:11-32 and it's never a safe story about long-ago them, but an honest mirror for the here-and-now me.
I can't count the number of sermons I've heard, articles I've read and casual conversations I've shared that have used a character in the Don't Judge Me Until You Walk A Mile In My First Century Sandals (DJMUYWAMIMFCS) parable for an example of what a Christian should be like or not be like. For example, be like the Father and always forgive others!
And yet the Father, thank you very much, was also a fool. If we gloss over the DJMUYWAMIMFCS parable, it becomes a cliché. Isn't the Dad in the story just like God? He's so forgiving! Always welcomes his children! He likes to throw a big party! Yes, yes and yes. However, this parent raised a son who scurried away with as much money as he could carry from the family treasure. And the other son seemed cranky and petulant, as if he had a no-one-appreciates-me stick permanently placed in his judgmental derriere. If the father is only a cliché about forgiving others, we make the Christian faith easy and banal.
I know the Unforgiving Jerk Of An Older Son parable like the back of my hand. I've read it a thousand times. Or more. I'll bet I've preached on the story dozens of times and have mentioned it in hundreds of sermons and classes. This time, when I read it, I forgot the ending.
And yet I didn't (though I really did).
When pondering the lectionary for an upcoming Sunday, I don't open my handy-dandy red-letter NRSV Bible. Instead I use a worship planner with all the lessons. For this week, I'd read Luke 15:1-3, 11b-32, Joshua 5:9-12, Psalm 32 and 2 Corinthians 5:16-21. They were printed on the same page. Very convenient!
Therefore, whether studying Luke's or Joshua's verses, I don't have the before or after verses in front of me. And so I came to the end of the Unforgiving Jerk story and thought . . . the snooty scholars that select and organize the lectionary left out the parable's final verses!!!
The parable, I internally ranted, absolutely doesn't conclude with the father saying:
"But we had to celebrate and rejoice, because this brother of yours was dead and has come to life; he was lost and has been found."
Isn't there a final line about the older brother choosing to remain in the field or giving a snarky comeback to his father's announcement or even a snippet of a verse describing the party already underway back at the house?
Something must be missing. The ending seemed so . . . unsettling. Nope, the snooty scholars hadn't forgotten a single word.
Which, especially along Lent's familiar and brand new path, was the best way to end the story. What happened next? Did the older brother remain in the field? Did the younger son squander more or has he truly "come to his sense?" Did the father convince his sons to reconcile or spend the rest of his life filled with regrets about his decisions?
The parable ended and I was surprised. Jesus created a story where four different people spoke: two children, a parent and a servant. But aren't the reader and believer invited to become the fifth voice? How could I have forgotten it's up to me—and you—to finish the story with how I live out my faith?
Image–Rembrandt's painting–from here.