Luke 13:1-9 – The third Sunday of Lent – for March 3, 2013

"Do you think that because these Galileans suffered in this way that they were worse sinners than all other Galileans?" (Luke 13:2)
Remember this encounter from the 1994 film Forrest Gump*?
Bumper Sticker Guy: [running after Forrest] Hey man! Hey listen, I was wondering if you might help me. 'Cause I'm in the bumper sticker business and I've been trying to think of a good slogan, and since you've been such a big inspiration to the people around here I thought you might be able to help me jump into – WOAH! Man, you just ran through a big pile of dog shit!
Forrest Gump: It happens.
Bumper Sticker guy: What, shit?
Forrest Gump: Sometimes.
It does happen, doesn't it?
In the fanciful Forrest Gump, the dialog above depicted the life-is-like-a-box-of-chocolates Gump as the inspiration behind one of the enduring phrases from the twentieth century: Â shit happens.
Oops! Aren't I supposed to be circumspect and convey the offensive word through dashes like s _ _ t?
But it does happen, doesn't it? In Luke's Gospel, Jesus mentioned the death of eighteen people killed by the collapse of a tower in Siloam. Didn't shit happen to them? In my family, my father's dementia could've been categorized as shit. At a church I served in the 1980s I had an awkward chat at lunch with someone convinced gay men deserved AIDS . . . in other words they deserved the shit they caused.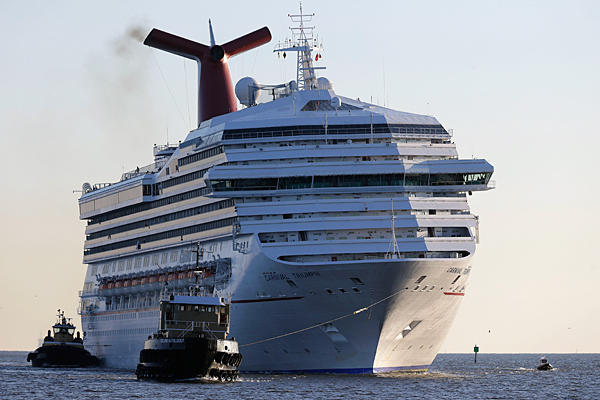 Recent news highlighted the dismal situation for the thousands of passengers aboard the crippled Carnival Triumph. Their luxury toilets didn't work and soon a whole lotta literal bad shit happened. What'd they do to deserve such a mess? Immeasurably worse—though it rarely makes the news—are the 2.6 billion people (according to the World Health Organization) that "lack even a simple 'improved' latrine" the 1.1 billion people without "access to any type of improved drinking source of water." Are those billions being punished?
Accidents happen. Revenge happens. Illness happens. Ignorance happens. Neglect happens. Poverty happens. S _ _ t's always stumbling up the sidewalk and knocking at our door.
I cringed one Sunday at another church I served. The associate pastor preached and quoted her beloved grandfather. He claimed the world always needed someone to be a "shit stirrer." Whoa! With sweet-faced children and prim, gray-haired ladies in the congregation, the associate pastor had proclaimed the S-version of manure in her sermon. As the nervous senior pastor I gulped and anticipated the blistering e-mails and angry phone calls I'd soon receive.
No one complained.
What did I know? Maybe it was because the associate pastor seemed such a nice, young lady and she'd only fumbled that once. However, I suspect the congregation knew she'd spoken the truth. The world—because terrible accidents, inexplicable illnesses and senseless violence does happen—desperately needs "shit-stirrers."
Jesus had many titles and designations. Prophet. Christ. Prince of Peace. Rabbi. Carpenter's son. Son of Humanity. Galilean. Well, what about "shit-stirrer"? I'd like to think so. Of course, you won't read "shit-stirrer" in the holy text or in any denomination's formal liturgy. And yet, it's as true as all the others.
In Luke 13's account, Siloam's tragedy destroyed eighteen lives. Did those people deserve it? Whatever took place (the Bible provided only sparse details) they were killed. They had awakened on death's morning to smile at their children, tend their herd, argue with their wife, bake bread, steal from a merchant or chat with a friend in the cool shade of the Siloam tower. Then it collapsed. In Jesus' response—"Do you think that because these Galileans suffered in this way that they were worse sinners than all other Galileans?"—we detect the concerns fellow neighbors raised.
Didn't those Galileans get what they deserved?
Jesus, Prince of Peace and Shit-Stirrer, challenged their assumptions and presumptions.
In the early 1980s I had lunch with a church member. After we ordered, he mentioned that gay men "got what they deserved" because of AIDS. (Back then we knew so little about Acquired Immune Deficiency Syndrome.) He concluded those sinners had received divine punishment. Sigh . . . how we love to drag God's holy purposes into our hollow opinions.
It just so happened Jane** (the wife of John**, the church's choir director), had died from a brief, sudden illness a few days before. And it just so happened, because I'll usually think of the right thing to say days later, I said the "right" thing at the right moment.
After listening to this caring but wrong-headed man claim God had judged and punished the "bad" gay people, I asked, "Do you think Jane deserved to die? Do think John deserved loss and grief?"
In other words, did he think horrible things happened to people because 1) they've got it coming and 2) Almighty God, Creator of the known and unknown universe and the One Jesus called Abba, schemes to smack down sinners?
Jane and John were my lunch companion's dear friends. From personal experience he knew their gifts, mistakes, hopes and troubles. Of course God didn't punish Jane or John. In some small, real way he made the connection. Repentance arrived before dessert.
I like to think I stirred some s _ _ t for him. Or, to be polite, I helped spread holy manure around his ignorance and the fruit of compassion had a chance to grow.
Running cross-country, the fictional Forrest Gump helped transform other fictional lives. Along Lent's very real road this year, where might the very real you stir some s _ _ t and share Jesus' good news?
*Forrest Gump dialog from IMDB **Not their real names, of course.
Carnival Triumph image from here.
(Note…this was revamped, revised and rejiggered from a February, 2010 reflection.)