Luke 4:1-13 – The First Sunday of Lent – for Sunday, February 17, 2013

"Jesus, full of the Holy Spirit, returned from the Jordan and was led by the Spirit in the wilderness…" (Luke 4:1)
Easter arrives early this year, on the final day and last gasp of March. However, 2013 C.E. isn't the earliest date for Christianity's holiest celebration. In the year of our Lord 2285, the movable feast of Easter will be March 22.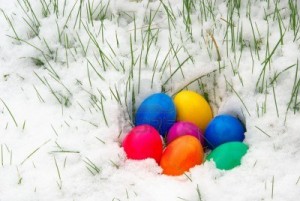 Brrrrr . . . that's early! Winter will still grip some parts of the world, with the cleverly hidden Easter eggs staining fresh snow in rainbow colors. But, no worries, you and I won't be around to grumble about how soon Easter comes after Christmas two centuries from now.
I'm getting ahead of myself. Holy Week and the climax of the empty tomb and resurrection are a month-and-a-half away, six long, fast weeks of waiting to sing "Christ the Lord Is Risen Today." We're at Lent's beginnings, at the starting line for a season of preparation. A few months before, we dreamed of Bethlehem, symbolically journeying toward birth. Now, the journey is to another place, but it's less a dream and more an eyes-wide-open, take-one-step-at-a-time slog through the uncharted territory of faith. And death, never as popular as birth, will be our eager companion as we trudge toward Jerusalem.
Did I just write "the unchartered territory of faith?
Foolish me.
After all, we know Lent's path, don't we? (Isn't it on the calendar, whether 2013 or 2285?)
First, there's Ash Wednesday, which many good church folk barely acknowledge, perhaps because it's in the middle of the work week and so inconvenient. But a few hearty types will join in the downbeat festival, whimpering about their failings and flailings. They'll either publicly announce, or quietly keep secret, the nasty, nagging things given up for Lent. Good for them. Or . . . is it bad for them?
Six Sundays will come and go, each containing well-worn Biblical lessons about Jesus' irksome parables along with familiar miracles where nature is tamed or leprosy cured. Six notches on the calendar, and we'll again read about amazed crowds, Roman angst and the curdled souls of the religious authorities as they become threatened by the Nazarene's audacity.
We know it all.
We are know-it-alls.
Let's rush to Easter.
Let's not.
Let's not turn the page of Luke (or any of the other Gospels) to get to the good stuff. Let's venture forth with only our fragile faith and easily hurt hearts. And death, of course.
We start in the wilderness. In a wild place, where Jesus was tempted . . . "The devil said to him, 'If you are the Son of God, command this stone to become a loaf of bread . . ."
No, let's not read about bread, the kingdoms of the world or angels saving Jesus after he swan dives from a pinnacle.
Let's close the Bible's thin pages, or click off the digital glow of your iPad, to confront our own private temptations in the wilderness. The wilderness of our souls. The wilderness of our nice or not so nice apartments or pleasant or not so pleasant suburban homes. The wilderness of our workplaces, churches or supermarkets. The wilderness where you live or where life hardly seems worth living.
Is Lent about Jesus' journey, or yours? We could answer "Both!" and be right, and yet I'm more concerned about your journey.
No! If Lent is more than an event spanning a few months, bridging the season of winter and spring, I need only to be concerned about . . .
My journey.
What tempts me? What pulls the rug out from under my faith?
I don't believe there's an evil Satan battling a good God for my soul. I can't blame anyone but me for the worst of what I do. Or what I think.
But I do believe death is always my companion on this Lenten journey.
Yes, literal death. I write these words almost exactly a year after my father took his last breath. I was grateful he died, because his years with dementia, where laughter, memories and personality were all stolen, seemed so awful. Still, I resent his death, and that so many others I've known have died, because I foolishly desired one more real conversation, with him . . . and also a talk—or at least a hug, handshake or pat on the back—with those others now gone. We are mortal. Every moment is a gift. But I ignore too many presents and present moments.
Yes, figurative death. I despise how complacent I've become. Blame getting old, but that's not fair. Blame instead how easy it is to let relationships drift and die, let dreams wane and die, let hopes be postponed and die.
Lent begins, and it reminds me . . . life is as elusive as the air I breathe. How dare I take breathing and living for granted?
Early or late, Lent's preparation for Easter always comes in the nick of time.
(Image is from here.)