John 2:1-11 – 2nd Sunday after the Epiphany – for January 20, 2013

"Jesus and his disciples had also been invited to the wedding…" (John 2:2)
I flip to page 116 of my trusty 2002 edition of the United Methodist Book of Worship and read from a section entitled Christian Marriage I:
With his presence and power Jesus graced a wedding at Cana in Galilee, and in his sacrificial love gave us the example for the love of husband and wife.
Like my church's Book of Worship, most Christian denominations reference Jesus' attendance at a wedding in Cana with the formal words celebrating the bonds of marriage.
The first marriage I conducted after ordination occurred in a living room, with a few family members serving as witnesses, and two teenagers declaring, "I do." I don't recall, in that simple ceremony between a fireplace and sofa, if I referenced Cana in Galilee while the teens laced hands together and made lifetime promises. But I know they were divorced a few years later. They married too young, but had to get hitched. No, the bride wasn't pregnant, but both bride and groom claimed to be head over heels in love. Sigh. The parents near the sofa didn't approve, but those same parents dreaded the notion of their children eloping and maybe losing contact with them for years.
Maybe things would've gone better if it had been an arranged marriage?
In Jesus' time, an arranged marriage was the norm. Though the Gospel of John doesn't say so, I'm confident the wedding Jesus and his disciples attended had been set up by the bride and groom's parents. Were the two who got hitched at the Cana wedding in love? Maybe, maybe not. In those days, women were property. In those days, whether rich or poor, the families of the betrothed settled down to strike a business deal before "I do" was ever happily whispered or reluctantly muttered. Maybe they were in love, maybe they would eventually fall in love, but certainly they stood next to each other—as the wine ran out, as the guests milled about, as Jesus chatted with his disciples, as Mary the mother of Jesus fretted about her son and the vanishing vino—having little choice in the matter of matrimony.
I would bet—again the Bible doesn't mention this—they were also teens like my first wedding. Just two kids. And, in the Gospel, the writer of John doesn't give the reader a glimpse of the ceremony. The second chapter of the Gospel wasn't overly interested in marriage or families or setting or ritual. This is a miracle story, the first of seven miracles chronicled in the twenty-one chapters of the fourth Gospel. Just like my Book of Worship declared, "with his presence and power" Jesus transformed well water into some darn fine Cabernet Sauvignon. Okay, it likely wasn't a French varietal, but still, according to the chief steward in John 2:10, it was "good wine."
Cheers! À la vôtre! L'chaim!
Other miracles would follow in dear John's tale, seven all told, from healings to feedings to walking on water. How nicely they are arranged in the fourth Gospel!
I'm not one for arranged marriages. But I'm also aware they aren't an anachronism from the days of yore. While most marriages mentioned in the Bible were likely arranged, many twenty-first century marriages are also arranged. According to a 2009 ABC News report . . . "In fact, today up to 90 percent of marriages in India and 60 percent of all marriages in the world are arranged." Do your own sketchy search on the web and/or scholarly library research. Perhaps you'll find statistics that contradict mine. Regardless of how we spew and spin the numbers, arranged marriages are not a thing of the past.
First or twenty-first century, we can all argue about the virtues of falling in love before or after one is married. Facts probably won't change your cultural and familial traditions.
But what about arranged miracles?
I'm tepid about miracles creating a significant foundation for why I follow Jesus. In particular, John's Gospel dampens my enthusiasm. Everything appears precise and programmed; too, well, arranged.
When I read Jesus' miracles, silliness distracts me. Like . . . water weighs about 8 pounds per gallon and so who carried those 160 pound jars after they were filled to the brim? I'm waylaid by the trivial. Like . . . why did Jesus call Mary "Woman" rather than "Mother?" But when the silliness and trivia fade, when I reflect on a possibly arranged miracle like the water into wine, I also discern a rearrangement of the expected. Theologically, this account declared Jesus as the "new wine." It's a glimpse of how the Holy engages with humans, at commonplace settings in unsettling ways.
And yet I never ignore my personal reaction to this (or any) miracle story. Because it was my first official matrimonial ceremony, I easily recall those teens between a fireplace and sofa. Other weddings followed in the years of my ministry:Â  different gender, same gender, old, young, interracial, cross-cultural and more. Regardless of age, gender or cultural background and regardless of length of engagement or apparent maturity, some marriages thrived while others crashed and burned.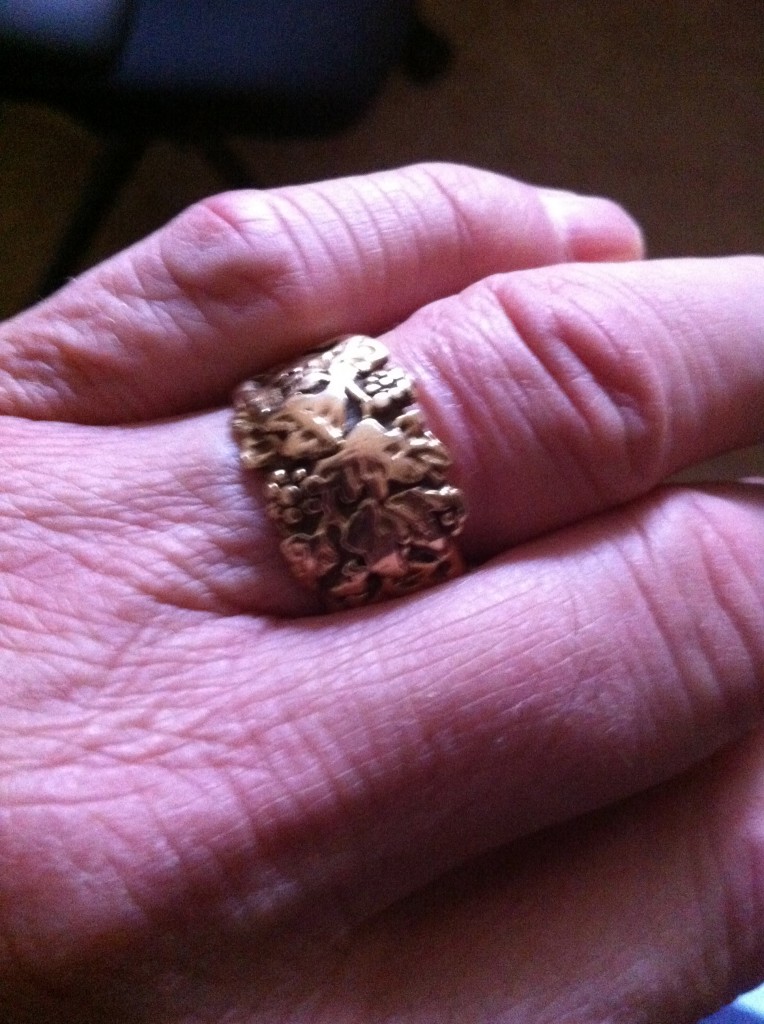 Me? I've been married twice. I never imagined getting divorced. But it happened. Over five years later, I remarried. In March my beloved and I will celebrate 29 years. We both wear rings with "As Is" inscribed on the inside. Yup, kinda like used cars! "As is" is how we try—and sometimes fail—to embrace the other as we enjoy our individual gifts and understand (mostly) the inevitable differences.
I believe God longs for us to embrace each other "as is," and the miracle of it is that the Holy invites all of us to keep growing, and to welcome the new.
Cheers! À la vôtre! L'chaim!