Advent 4 – Luke 1:46-55


"And Mary said, "My soul magnifies the Lord, and my spirit rejoices in God my Savior…" (Luke 1:46)


(This is a revised 2009 reflection. In my new 2012 Advent reflections I'm ignoring more traditional interpretations of the Advent/Christmas scriptures. Of course, you may read this and think, "Hey Larry, this 2009 piece is also ignoring the obvious!")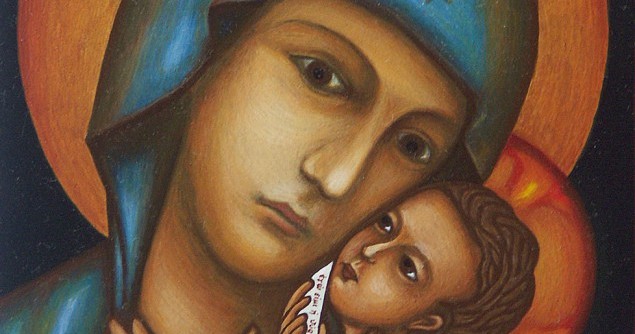 The preacher turns the page and there it is: And Mary said, my soul magnifies the Lord . . .
What can the modern bearer of Mary's good news say that will feel different for this year, for this moment?
Advent has obligations. Christmas is habit. Here comes Mary again.
The mind wanders momentarily. Maybe the preacher reads these words in the heat of a fading summer, diligently planning the sermons she'll proclaim four months later. Or maybe her colleague, another preacher across town or across the continent, ponders Luke 1:46-55, Mary's magnificat we declare it, a few panicked hours before he slouches toward that pulpit. He's procrastinated, the Advent days have been busy, the demands relentless. Next year he'll plan better. And yet, whether in the calm of a summer's day of long-range sermon preparation or with a bleary-eyed and desperate stare at those holy verses printed on the thinnest of pages, both share a nagging thought: What to say?
Whether you're fresh from seminary with a burning ache to proclaim the Gospel or you're nearing retirement and spend more time analyzing pension benefits than scriptural, it's the same. The same. You've heard Mary's words most of your young or old life. Joseph has annually dreamed and the shepherds will tremble as the angelic—ho-hum—chorus voices a perfect alleluia. By the first Sunday of Advent, when your sermon never mentions an inn without room or wandering magi, every store, elevator and radio station is already silent-nighting you into seasonal and spiritual numbness.
Preachers know they're not alone. Those folks in the tear-stained pews, on the same hardwood their grandparents' occupied, are experiencing similar reactions. And even if it's not old oaken seats the derrieres spread across, but cushy chairs in a sparkly-bright contemporary sanctuary with digital bells and high-tech whistles, it's likely still the same. The congregation has been silent-nighted also. They know the essential celebrations of this Holy Season: Black Friday, Cyber Monday and Christmas Eve. Did I put those days in proper order? Oops, I forget the holy day of the last time for free shipping. Should we call that Postal Tuesday? Don't worry, everyone will be reminded of the last day, hour, moment when the package you must send to Uncle Speaks Too Loud or Auntie Smells Funny will arrive in time for the festivities.
You'll bake the same cookies. Bring out the same ornaments. Have the same arguments. Drink too much. Do one more day at a time. Time will sprint or stroll. Someone's always watching football and hardly anyone knows the score. The kids will be home for the holidays or they won't. Either way invites weeping or a sigh of relief or both.
And then Mary. My soul magnifies the Lord . . .
Who has brought the powerful from the thrones.
The hungry are filled with good things.
The rich go away empty . . .
Really? Are you going to preach that? Are you going to listen to that? Do you believe that? We drag the words out, weary but longing for God. Ho Ho Ho or Ho Hum?
*Â Â Â Â Â Â  * Â  Â  Â  *
Not long ago, I walked by a woman who, without breaking a sweat, dragged her plane out into the street.
Whoa! What?
I live near an airfield surrounded by houses. Fresno's Sierra Skypark claims to be the oldest airport of its kind. Built after World War II, it allows a plane-crazy homeowner to possess the best of both worlds: your favorite easy chair is several steps to your oversized garage that houses a small private plane a few hundred yards from the field and take-off. Talk about a different lifestyle than mine! Some of the airfield homes are sprawling monstrosities, others unpretentious. But all have a garage or "carport" big enough to, well, hold a plane.
I walk along this peculiar neighborhood and here comes this woman dragging a plane. Mind you, it's a small plane—a Cessna 150 I think—that only weighs (I researched this later) 1,600 pounds. Hey, that's barely four times the weight of the average suburban refrigerator (more of my brilliant research). And she's got a sturdy dolly with fat wheels attached to the plane's front. Maybe a six-year old could do what she's doing:  pulling her plane from home to airfield. Her dog trots near her. She holds a cup of coffee in her hand. I don't care if a six-year old could do it . . . I'm impressed!
And I also think, this moment seems like Mary's words. Magnificat. We drag those old new words out, don't we? Here they are again with verses we store away for most of the year. Secretly we doubt the hungry will be fed. Not so secretly, we think the rich always win.
But I believe Mary's words dare us to take flight. A hundred times we've listened to them. For a lifetime or a first time, we preach them. We open the good book, out of obligation or curiosity, and they challenge us to believe just enough. Why can't we feed the hungry? And don't Mary's words demand we remember what true wealth is? Let the rich win or lose; every thing rots or rusts. In the last moments of Advent, even if we're only barely listening or believing, these words rise on the best hopes of the world.
Mary's words are built to help us soar.
(Imagine of Mary/child from here; image of Cessna from here.)