Luke 2:41-52 (and Luke 2:1-20 & even a measure of Matthew) – 1st Sunday after Christmas (but during Christmas, too) – for Sunday, December 30, 2012)

"…Then he went down with them and came to Nazareth, and was obedient to them. His mother treasured all these things in her heart. And Jesus increased in wisdom and in years, and in divine and human favor."  (Luke 2:41-52)
We entered the town, cold and hungry. And so very dark, maybe even darker than the open road a few miles before, when the stars slicked the horizon and the moon, fat in the hard winter sky, cast light across fields and created shadows on the undulating hills.
Our donkey kicked loose stones along the well-used Bethlehem streets. At first, when rock and hoof met, the clattering seemed the only noise. People slept, doors were shuttered, candles extinguished. Then at one place movement, a face briefly peering out the window, a hint that someone watched and also a hope that a room or even a protected corner might be available for rent or barter. We knocked there. No answer. We tried another place. And another. In the distance, beyond the village, sheep baaed, wind stirred, and we turned the corner to search the next street for . . .
"Hey, Larry, how ya doing?"
Shocked and disoriented, I slowed my running pace and looked at the fellow runner alongside me. In a split-second I'd shifted centuries, from lonely Bethlehem to the paved roads of southwestern Wisconsin.
My interrupted thoughts on that frigid wintry morning in Wisconsin are one of my many vivid memories of Christmas. It was 1989 and the Christmas Eve service loomed mere days away. In those days, years ago and before four knee surgeries, I ran. I served three small country churches, like a good old Methodist circuit rider, in the middle of Wisconsin's prime dairy country. When I ran, even on the icy and snowy days, I loped along rutted county routes kept open for the deliveries of milk from farm to the local processor. And when I ran, with a Sunday always in front of me, I thought of upcoming sermons or classes or counseling sessions.
On that morning, with a Christmas Eve sermon to soon be delivered, I'd left the twentieth century. I'd forgotten the parsonage where I lived and ignored the entrance to a church member's farm. I wandered through Bethlehem, imagining Joseph and Mary and a soon-to-be event that would transform the world and reveal the power of God's unfailing tenderness and . . .
. . . Then along came the guy who owned the store two blocks from my home. Like me, he ran. Like me, summer or winter, he circled the local roads for exercise. But on that morning, envisioning an arrival on the hushed streets of long-ago Bethlehem, I never heard my neighbor's approach. When he greeted me, I felt disoriented. I was that deep into my Bethlehem sojourn.
Which is why the Christmas story still thrills me.
In seminary, and with all the reading and pondering I've done since seminary, I've become enlightened (or corrupted, take your pick). Did the Christmas story happen as Luke and Matthew depicted it? Ha! Of course not. Contemporary scholars easily and routinely reveal the Gospel writers' intentions and agendas. Was Jesus born in Bethlehem? Just as likely as a king burning the city of those that wouldn't attend the wedding (Matthew 22:1-14) or tenants killing a landowner's beloved son (Luke 20:9-19). Both are fiction. Parables. Stories to help us speak a larger, deeper truth. Of course, regardless of scholarship, we've saddled the Christmas story with more, making it less real or very ridiculous. Santa waves from the chimney. A grumpy innkeeper never says, "Welcome." Scrooge lurks nearby. Usher in as many animals as you can to encircle the manger. Camels? Bring 'em. Cows? The more the merrier. A poodle? Always room for a dog in a manger.
Yes, in this blessed and befuddling season, 'tis easy to string lights on the artificial tree and to admit, professionally speaking of course, that the Christmas story is just that . . . a story. Both Matthew and Luke re-purpose old mythology, tell tales to challenge and belittle Roman authority and include enough wishful thinking to fill an entire section of Macys' holiday window displays.
But love it I do. Every year, at some point, I enter into the world of divine gumption and human risk. In my imagination I can see and smell and taste this breathtaking—and breath giving—beginning.
Mary, after the shepherds leave, treasured all the words that were said. And a smidgen of verses later, with Jesus suddenly twelve and acting exactly like we expect a teenager to act, Mary will again be one who "treasured all these things in her heart."
Yup, the story be fiction. Made-up. Facts are few and far between.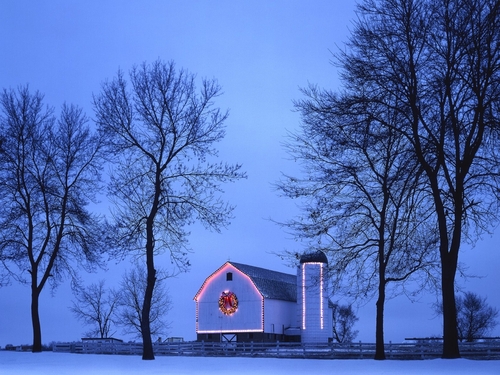 And yet like Mary, I treasure these things. In a bygone December, as I prepared to proclaim the good news at a Christmas Eve service to dairy farmers, Luke and Matthew's imagination inspired mine. But the story also resonates in a sweltering July, in a city where folks rarely see starry, starry nights because of pollution and strip malls. The birth story still echoes, still demands faithful attention.
Imagine. A child brought forth. A treasure.
(Image of Wisconsin barn from here.)