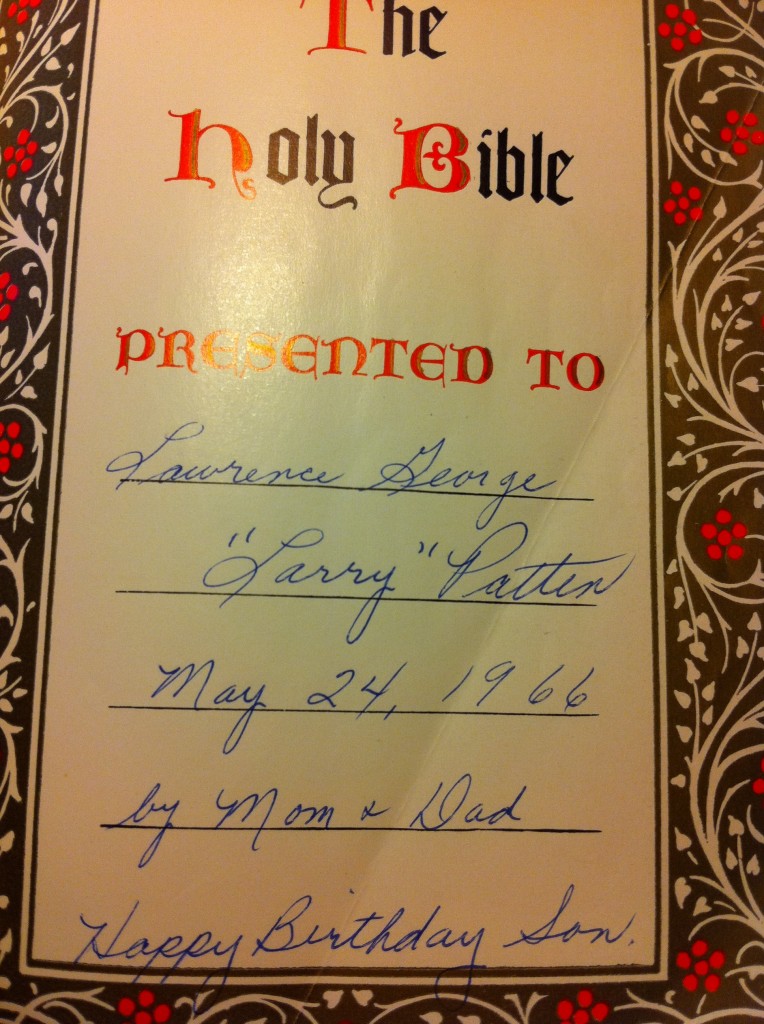 Do you have a favorite Bible verse?
I was thinking of that question after meeting with a family to plan an upcoming memorial service. One of my "standard" questions for a family's funeral preparation is to ask about any special readings from the Bible, or other sources, they'd like to include in the ceremony.
Sometimes I get a quick answer. Often, it's the obvious: Psalm 23.
Occasionally it's popular, like the non-scriptural account of walking along the beach with God (or Jesus), but seeing only one set of sand-marked footsteps. Google "footsteps" and "beach" and "God" and you'll find a host of versions, and a confusion of sources, for that reading. A few years ago, in a month with three or four memorial services, I remember at least two different requests for the "footsteps on the beach" reading. The requests came from people of extraordinarily different backgrounds. But, each in their own way, the words had mattered to those individuals and families.
On rare occasions, I've been handed the deceased person's Bible and it's very clear, on a well-worn page with an underlined verse, or a faded newspaper clipping tucked into the pages, what held meaning for them. Equally rare, a member of the family voices the hope that a favorite reading of theirs is included. With these choices, the Bible competes with the likes of Kahil Gibran, Oprah Winfrey and Buddha.
Most typically, the family has no "favorite" to suggest. They look at me and basically say, "You choose."
And so I do. The more I know about the person, the easier it is to search for words that honor God's guidance and the individual's uniqueness. I don't think I've ever not included at least one Biblical reading in the hundreds of memorial services I've celebrated. In many cases, with a bit of trepidation, I've also sought out "non-Biblical" material that seems appropriate.
But back to my original question: Do you have a favorite verse?
Not surprisingly, as a guy who happily went to good olde Sunday school nearly every Sunday of my childhood, survived the brutal years of seminary, and have spent three decades in the ministry (with at least a 1,000 sermons preached), I have a bunch of favorites.
Several stand out.
The first is Proverbs 14:34. "Righteousness exalts a nation, but sin is a reproach to anyone." Today, I could tell you what I think it means. But when it was my "favorite," I was just a kid and clueless! However, it was a passage I found printed in the front of a Bible at my grandparents' farm. Next to Proverbs' words was a tiny (printed in color) American flag. The Stars & Stripes was linked to the ancient words of Proverbs. In my childhood, I liked it because 1) I found it at my grandparents' farm and that was always a magical place to visit; and 2) every time I told someone my favorite verse was Proverbs 14:34 (rather than, for example, the predictable John 3:16), I got weird stares. Ah, personal triumph . . . nothing better than adults giving a kid a weird stare!
Another favorite is Psalm 19:14. In the New Revised Standard Version (NRSV), it reads: "Let the words of my mouth and the meditation of my heart be acceptable to you, O Lord, my rock and my redeemer." If you have heard me preach, you might realize those are the words I use as a prayer before I begin the sermon. I suspect, of the 1,000 or so sermons I've preached, about 998 have had a version of Psalms 19:14 as the opening.
Why? Because a person that influenced my preaching used Psalm 19:14 at the beginning of his sermons. Thus, I stole his style. I borrowed his prayer. Every time I preach, I honor a friend and colleague who shaped my faith. And so, while I can analyze Psalm 19:14 in the context of post-exilic Judaism, the bottom line is that those Biblical words are rooted in a personal, essential, relationship.
Finally—though far from complete in my lengthy list of favorites—is the first part of John 18:38. "Pilate asked him, 'What is truth?'"
As with much of the Bible, it's important to read before and after a verse to gain understanding. The impact of John 18:38 is more deeply felt when you begin at John 18:33 (or, better, read the entire 18th chapter of John's gospel). Unique to John, this is the climatic scene between the symbol of Roman authority, Pontius Pilate, and the upstart peasant from Galilee.
In the words leading to verse 38, Jesus said, according to John's account, "Everyone who belongs to the truth listens to my voice."
Then Pilate asks his question. "What is truth?"
And, frankly, what I love about this verse is the unspoken, unwritten silence after Pilate's question. If you read the whole passage, quickly and "normally," I believe you lose its meaning. Arrive at 18:38, and once Pilate's question is out in the open, its impact as unavoidable and as stunning as the dawn sun cresting a mountain ridge, stop and listen. Watch. Wait. Pause. Take a breath.
Full disclosure! I first appreciated Jesus' silence after Pilate's question because of reading Frederick Buechner's Telling the Truth. Buechner poignantly described that wordless moment, that verse within the verse, after the Roman's anguished (or was it angry or arrogant?) question.
So, again, I honor—in my reading of the Bible—another influence. And yet, as with any favorite, it has become mine.
Pilate's question, when I feel most human and most vulnerable and most alive, is my question. Did Pilate really ask Jesus that question? We will never know. Remember, there weren't any smart phones in the first century. But the writer of John cast forth a holy and unavoidable truth in asking a question about truth.
Pilate's longing is mine. That imagined pause, where Jesus never gives the impossible and the obvious answer, dares me to live out my faith.
So, what's your favorite verse? And why? Hey, I'll make you a bet . . . that at least some of the Biblical verses, or other readings, that inspire you are directly linked to a person who helped transform your life. We never truly read the Bible, or discern its "truths," in isolation.