2 Corinthians 6:1-13 – 4th Sunday of Ordinary Time – for June 24, 2012

"We have spoken frankly to you Corinthians; our heart is wide open to you…" (2 Corinthians 6:11)
Every year United Methodists meet in regional conferences for work and worship. As with most situations where "two or three are gathered in my name," good Christian folk might will disagree.
One person's necessary budget cut is another's lost opportunity to serve Christ. I've witnessed clergy squabble during a public Q&A session over whether #6 in Moses' Top Ten was "shall not kill" or "shall not murder" in the original Hebrew. Another time our then Bishop Kelly (in the mid-1980s Rev. Leontine Kelly became the first female African-American bishop elected by a major denomination) defused a controversy during a business session by declaring, "I don't follow Paul, I follow Jesus."
Perhaps the spat between two opposing theological views involved the scriptural basis for women's role in the church. First century or twenty-first century, we still debate Paul's views about women.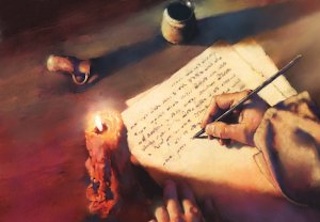 Perhaps it had to do with same-gender marriage. First century or twenty-first century, we still debate Paul's rants about homosexuality.
Perhaps the tension had escalated through interpretations of the value of one the lists (i.e. I Corinthians 12:8-10 or Romans 12:6-8) Paul scribed in his missives to Christian communities. First century or twenty-first century, we still debate Paul's inspired or infuriating lists.
I really don't recall the specific point of tension . . . other than a knock-down, drag-out, I'm-right-you're-wrong argument ceased when Bishop Kelly announced her allegiance to Jesus.
I silently cheered. Had I, or another clergy, intervened with the same comment, it likely would've been ignored. But she was THE BISHOP. Regardless of her title, I also agreed with her.
I don't follow Paul!
Isn't that obvious? Without pausing to review any of my prior 10 (or 100) online lectionary reflections, I'm confident a Gospel reading influenced most of them. Each week the lectionary offers four choices (Gospels, a New Testament book, the Psalms and an Old Testament lesson). Paul's letters—either written by or attributed to him—is usually one of the New Testament options.
To make my own list to justify ignoring Paul, it's because he frequently angers, bores, confuses, dumbfounds and embarrasses me. Those are only five relevant feelings, ordered alphabetically, that could easily extend to "Z." After all, Paul often causes me to zone out.
Then Paul scribbled a few words, launched from his century to mine, that strip away my petty skepticism, and I know my faith can't live without the guy once knocked off his horse on the way to Damascus.
In his second note to the rascally Corinthians, I sense a lump in his throat and sweat slicking his cheeks as he pressed his metal stylus to parchment to bare his cranky heart about how he served Jesus . . .
We are treated as impostors, and yet are true; as unknown, and yet are well known; as dying, and see—we are alive; as punished, and yet not killed; as sorrowful, yet always rejoicing; as poor, yet making many rich; as having nothing, and yet possessing everything. (2 Corinthians 6:8b-10)
All is forgiven, Paul!
This week I settled behind my desk at hospice, where I make bereavement calls, where I stare at long lists of people to contact, and Paul's words came alive for me. We are, he wrote of his long-ago ministry in Corinth, "as dying, and see—we are alive." Also this: "as sorrowful, and yet always rejoicing." The people I call have had mothers, fathers and siblings die. Parents have buried children. Children, well into their seventh decade of life, with parents both dead, feel like orphans. Soulmates—don't ever take that word casually—have their lives gutted when a beloved partner dies.
The people at the other end of the phone may have tossed dirt onto a grave that now has grass growing over it, or flung ashes into the ocean that have long since drifted to the calm seabed, but their hearts remain open wounds and the relentless currents of grief roil their days every waking hour.
I phoned a man ten years younger than me. His wife, not yet 50, died two weeks before. "My soulmate," he called her. See . . . that word. "The only time I don't think of her"—and every square foot of their home reminded him of her—"is when I sleep. He rarely slept. He's a wreck. His voice never rose above a whisper.
Elbows A-framed on my desk, phone squished against my ear, I concentrated on his hoarse, horrible words. I said a few things to him, but the best of what I said was what I didn't say. I refused to meet his wrenching grief with cloying clichés. God shuts a door, opens a window. No! God moves in mysterious ways. No!
I struggled to not mutter a cliché. I clenched teeth to keep one from escaping. Not then, but later, when I read 2 Corinthians, I'm grateful Paul abandoned clichés. He tried, with his letters to those friends (and foes and doubters and jerks and saints) in Corinth, to be brutally honest about himself. Paul knew there was death, but there was also life. Paul knew there was sorrow—daily, everywhere, touching the rich and poor, the young and old—but also joy.
In the call to the man whose soulmate breathed her last, who'd witnessed cancer ruin her flesh, I listened to the cost of death and the cry of sorrow. Right now, two stark weeks after their shared lives abruptly ended, he is more a hurt being than a human being. Like Paul, I have faith there will be new life and rekindled joy . . . but not yet. The wound of a forever loss is too raw. He doesn't need clichés; he needs companionship.
Do I follow Paul? No. But on some days, I relish every honest word he bled onto the parchment.