Acts 8:26-40 – 5th Sunday of Easter – for Sunday, May 6, 2012

"…then Phillip began to speak, and starting with this scripture, he proclaimed to him the good news about Jesus…" (Acts 8:35)
Who will you meet today on the way to . . .?
Abraham and Sarah journeyed toward the land of milk and honey. Exodus is the name of a book of the Torah and a description of what the Israelites did for forty years as they fled slavery. Jesus told the tale of the man on the "road to Jericho," beaten nearly to death and cared for by the unexpected Samaritan. Paul had his road to Damascus experience.
Once, according to Acts 8:26-40, Phillip was on the way from Jerusalem to Gaza where he met an Ethiopian eunuch. The NRSV translation includes a wondrous foreshadowing of events through parenthesis in verse 26:
. . . the road that goes down from Jerusalem to Gaza. (This was a wilderness road.)
Ah, a wild road: dangerous or adventurous or both?
One on that wild road is a follower of Jesus, the other an influential member of a royal court. We can gaze through the lens of history and appreciate the vast difference between these two, remaining calm and scholarly as their spirit-led encounter unfolds.
We can also, here in the twenty-first century, view this meeting as an enduring and transformational moment. The "court official," enthralled by reading Isaiah, ignorant of Jesus' ministry, has an opportunity to learn from Phillip. The one seeking enlightenment, the one who is treated by Acts' writer as a positive "role model," would seem to be a black man (Ethiopian), wealthy (the treasurer of a court) and a person of a particular sexual orientation (a eunuch). Our modern wide-open eyes can witness this event and celebrate its inclusiveness, its unabashed challenge to our ongoing contemporary tensions.
Here and today, racism roils our society. Right now I could write about Trayvon Williams. Almost twenty years ago, I could mention OJ Simpson as a cultural lightning rod for racism. Do you think there'll be incidents tomorrow or in the next decade to provide new examples about the clash of culture, faith and racism? I fear so.
Here and today, there are haves and have-nots. The royal treasurer comfortably rides his chariot—how different is he than Donald Trump or Warren Buffet in a Cadillac? As someone who's not rich, I love Jesus' statement about how tough it will be for the rich to get into heaven—like a camel through the eye of a needle—and yet there's that damn rich Ethiopian being helped by poor Phillip. Why let the rich get richer—though in this case, it's the "wealth" of faith.
Here and today, we live in a post-don't ask, don't tell era. Everything's just fine and fair with issues about sexual orientation. Right? Not! And yet, is it appropriate for the eunuch to be a mirror for our modern quandary about queers? I think so. Someday, same-gender marriage will be accepted from left to right coast, and all United Methodist churches (my tribe) will welcome gays with open hearts, open minds and open doors. Some. Day. For everyone–everyone–who's not "normal," some day still hasn't appeared as one of the days of week.
I am enthralled with this passage in Acts because, as Phillip shares about scripture, Jesus and baptism, one marvelous "bonus" stands out. Yes this passage can challenge the faithful 2,000 years ago and today. But it's also a simple reminder about two people—strangers, if you will—converging for one brief moment where profound changes occur.
I'm sometimes asked why I support gay rights. And I'll sometimes say I don't. I prefer to say I'm a supporter of human rights, of equality for all. I've married same-gender couples, though my own denomination continues to, er, frown on that aspect of ministry. There are many reasons why I'm "pro-gay," but one is rooted in a brief relationship with a young man. Ayton lived across the street from a church I served in the ancient 1980s. If you want, you could find his name on the directory for those who have a quilt with the Names Project*. Ayton died of HIV/AIDS. Ayton was homosexual. Ayton's mother kicked him out because she didn't want a deviant under her roof.
I moved to another church before the worst of Ayton's life and death happened. But while a pastor there, Ayton entered my life after I started a project where I desperately needed warm bodies. I, ever so foolishly, decided to direct a play. A fund-raiser! Kids busy! Adults helping! Community building! A play with a stirring message about the weak confronting the strong! But we needed lots of people on stage and we were missing several key roles. "Let's ask Ayton," several suggested. A high school student, he lived across the street and loved theater. He said yes. Whew.
One night (like so many) I worked late in my church office—a thousand things to do and never enough time. It wasn't just the silly play, but a memorial service or sermon or counseling or prepping for a meeting or . . .
In walked Ayton. He'd noticed my light in the dark church. He arrived with a steaming mug of coffee and leftovers from his family's dinner. He placed the meal on my desk and said, "Eat." I don't remember what we talked about. I don't think he was there for long. And before or after the play, I rarely saw him.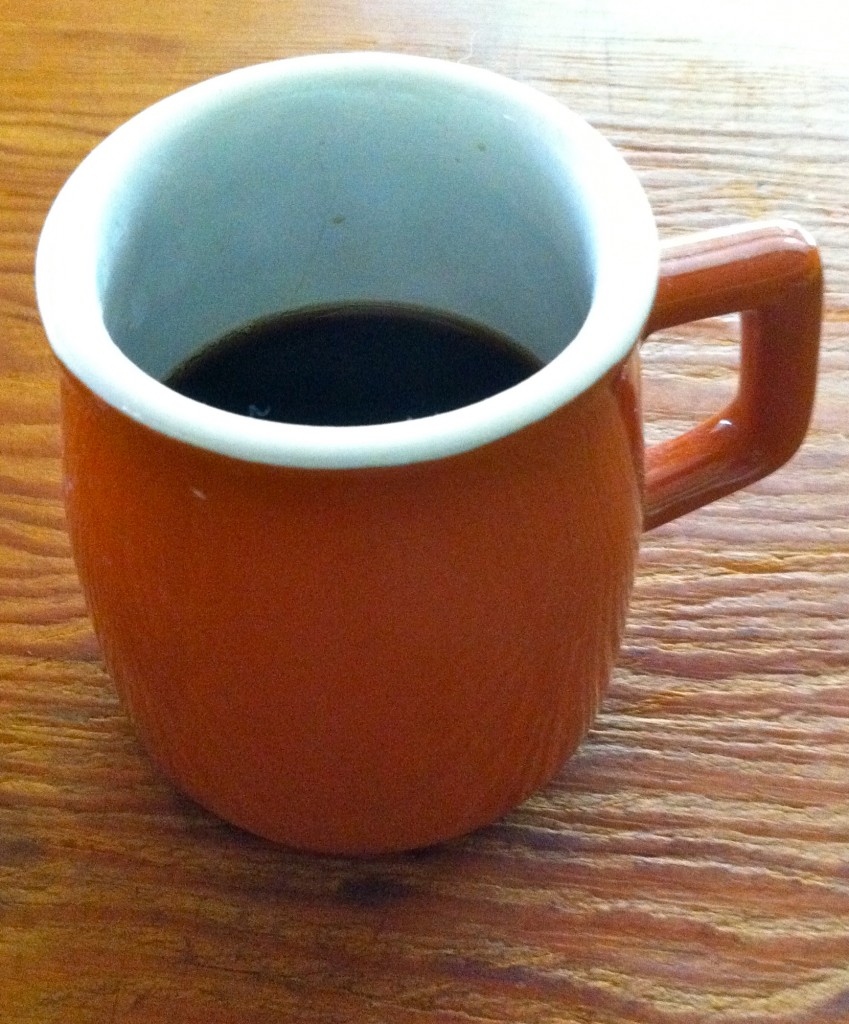 But on one night he served me. I still have the mug he brought over, once filled with delicious hot coffee. Ayton didn't have to walk across the street, but he did. He didn't have to pay attention to my needs, but he did. Do I now recall his act of simple kindness because of all the cruel things that eventually happened to him? Maybe. But, perhaps like the Ethiopian eunuch, I had someone unexpectedly arrive in my life that helped me know I was noticed and needed and appreciated.
Why do I support gay rights, full equality for all humans? Because Ayton did walk across the street, balancing a steaming mug of coffee. And because of so many other sometimes brief, sometimes lengthy relationships with people who cared for me, let me care for them, and who shared their broken, blessed, hurt-filled and hopeful lives.
Where has a brief encounter transformed your life? Please, I'd love to hear about it. In the eighth chapter of Acts, we read about the work of God's spirit; it deepens our understanding of baptism; it challenges us to witness the good news of Jesus the Christ. And it's also about two strangers on a wilderness road where both lives—thanks be to God—are forever transformed.
Who will you meet today on the way to . . .?
*If you want to learn about the AIDS quilt project, and/or see Ayton's quilt…try here. His quilt is Block #01078. And don't see the quilts as a history lesson. Humanity is always one calamity away from pointing fingers, creating an us and a them and using hate for a weapon.