Psalm 23 – the 4th Sunday of Easter – for April 29, 2012

"The Lord is my shepherd, I shall not want…" (Psalm 23:1)
Four decades ago this coming Memorial Day, my friend Michael dragged me away from college classes for a weekend sojourn into the mountains.
My first backpack.
While we often embellish or compress a first event in the re-telling, they are like a tree's taproot: deep, essential and nourishing. I wore steel-toed work boots with slick soles (great for not gripping the trail), couldn't make a fire after going through a mess of matches (Michael got a blaze underway with a single strike) and generally had a rousing time. I'd never hiked, never slept in the woods, never witnessed the Milky Way sprawl across a midnight sky, never had blisters between my tootsies nor splashed water onto my face from a snow-fed stream.
We were men. We were children. We were adventurers. We were college kids.
Early in the evening, we (okay, Michael) built a campfire. As the sun faded, and the surrounding trees seemed to tuck the day's light behind wide branches, we positioned sticks as long as our arms into the fire. Their tips glowed. Spontaneously, we raised the sticks, probably fallen branches, and began a sword fight. Swoosh. Whoosh. Feint and thrust. Laughter and banter. Two man/boys, pretend Knights of the Round Table, battling at the edge of the forest. As the imagined weapons cut through the darkness, the tips—aglow from the fire—etched spectacular orange-tinged slices and circles against the dark background. Simple and dazzling. Instant fireworks. Special effects in a movie only made in our minds and memories.
A slender piece of wood became an imaginary weapon.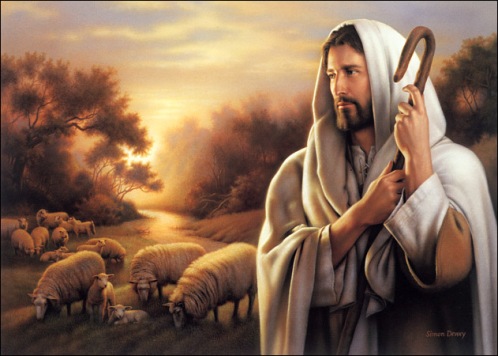 "Even though I walk through the darkest valley, I fear no evil; for you are with me; your rod and your staff—they comfort me."
I read this verse from Psalm 23, arguably the Bible's most familiar passage. Can I discern anything new? Do these ancient words still possess the ability to keep my eyes open to the world around me?
Not likely . . . until I considered the rod and staff. Even more, when I considered that the word "comfort" was linked to these two slender pieces of wood. Why did the psalmist add comfort as a description?
A man/child in the woods, I repeated actions I'd done since first wandering away from my parents. As a little tyke exploring the backyard, I'd grasp a stick and transform it into a weapon. How easy to turn a gnarled branch into a sword, jousting pole, Winchester 73 ("the gun that won the west") or an RPG launcher. Though I've seen girls do it, the stick-to-weapon transformation seems more a part of the male DNA. Is it genetic? Is it primal? Is it cultural? Is gender really a factor?
Psalm 23's rod and staff were the shepherd's tools of the trade, equally used for aggression or compassion. One was likely straight; the other had a crooked neck. Either could be swung or jabbed, weapon-like, to ward off an attack on the sheep. And yet the curved end of a shepherd's staff was perfect for reaching an animal after a tumble into a ravine or creek . . . the slender stick became an extension of the arm, a literal lamb-saver.
I think of the rods and staffs that are part of my daily life.
Crutches once propped me up after a broken leg.
My aging father, who died last February, often refused to use a cane (though he owned several). Was he too proud? Too stubborn? Both? He rejected his staff.
Earlier this week I spotted a blind man, white cane firmly in hand, maneuvering along a sidewalk. Tap, tap, tap. On he strolled, unseeing but appearing confident.
Now with arthritic knees, I typically bring a fancy, telescoping hiking pole when backpacking. I just finished Cheryl Strayed's memoir "Wild"—based on her 1995 hike along the Pacific Crest Trail—where she found a discarded ski pole. She gratefully used it to help her stride, and sometimes stagger, across granite-bound passes and wide, furious rivers.
Variations of rods and staffs are legion. A neighbor strolls by with a golf club: to fend off aggressive dogs or practice his swing? A young woman twirls a baton before a marching band. A kid down the street, a baseball bat on his shoulder, hurries to a playground.
Who have you seen grasping a "rod" or "staff?"
Every time I've turned the page to Psalm 23—at countless formal funerals and brief graveside services—I'm aware how helpful it can be. And, of course, ignored because of familiarity. It could've been read a century ago at your great-great-grandpa's funeral and will just as likely be read at the end of this century for today's newborn child. It is familiar and comforting. "Even though I walk through the darkest valley, I fear no evil; for you are with me; your rod and your staff—they comfort me." We all approach dark valleys, literal or symbolic; places as challenging as a forest path and spaces as frightening as hospital corridors.
Canes and crutches provide support. The odd truth is all of them, a literal rod or symbolic staff, can become a weapon. What will we choose?
I believe Psalm 23 is subversive. Though difficult, I pray for it be read and lived out like a first event every time. It is a taproot for our faith. A kid who might've scampered a stone's throw from the Bible's King David probably found a stick and pretended it was a sword. A kid today, plugged into his (or her) iPod, does the same. Psalm 23 challenges our upbringing, our genetics and our cultural expectations. As boys become men, as girls become women, instead of wielding weapons against others, we are called to bring comfort in the name of The Comforter, in the way of following the Good Shepherd.
*I first borrowed this drawing through my friend Dan Paul's Facebook page. Okay, it's a silly old Sunday School in the 1950s style drawing. But I liked it as a statement about wearing a "hoodie" because of the terrible death of Trayvon Martin…even Jesus wore a hoodie. And he also has that shepherd's crook…