Exodus 20:1-17 – The 3rd Sunday of Lent – for March 11, 2012

"You shall not make for yourself an idol…" (Exodus 20:4)
I experience a mix of reactions whenever I reach the 20th chapter of Exodus.
There they are again . . . The Ten Commandments.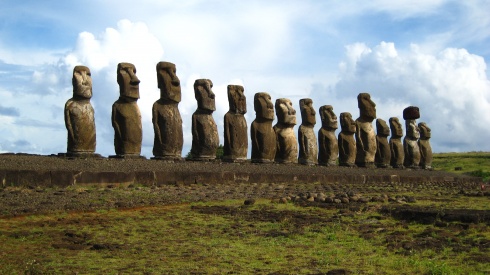 Charlton Heston invariably drifts across the far corner of my view. I'm not sure what he's doing or saying, but he's Hollywood handsome. I doubt he looks or sounds anything like the "real" Biblical Moses, but I can't shake Heston's image when re-reading Exodus. It's probably a baby boomer curse.
I'm bored . . . oh, yeah, those old laws. On some occasions, I've tested myself—or others—to determine how well I remember these statements I've known since I was a fresh-faced, smart-mouthed kid in Sunday school. I might miss one or two, but I generally know them so well I never sweat the final grade. Ho-hum. (And I'm not one of those fools in surveys mistakenly claiming, "Love your neighbor as yourself" or "Cleanliness is next to Godliness" is a Commandment.)
Then there's a superior attitude that slouches along with me. If the Ten Commandments are a checklist—and who doesn't like a checklist to accurately discern the accumulation of knowledge or the increase of spiritual awareness—I'm in darn good shape.
#1 – God's my main Divine squeeze. I'll proudly sit in the bleachers of life, waving a foam YHWH's #1 for all to see. (For proof, see #2.)
#2 – No homemade idols in my backyard (like those stone faces on Easter Island or a Mayan temple…in spite of this being 2012).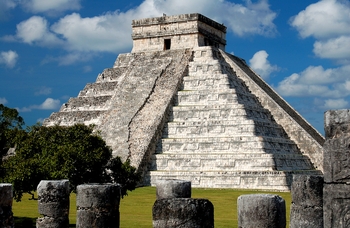 #3 – I keep God's name out of my personal promises. Never once has my bank heard me declare, "I swear to God I'll pay that mortgage."
#4 – Maybe I'm not attending church like I once was, but I'm still well over a .500 lifetime hitter for Sabbath-keeping.
#5 – Mom and Dad never filed a lawsuit against me. I've known people who can't say the same!
#6 – No murder convictions . . . and by the way, the bearded guy with the scowl who looked like me on the FBI's "Most Wanted" . . . only a coincidence.
#7 – With adultery, sorry, I'm a bum, a louse, a loser. But Jimmy Carter's 1976 Playboy interview is my go-to excuse: "I've committed adultery in my heart many times…. This is something that God recognizes, that I will do and have done, and God forgives me for it." I'm not any better than the 39th President of the United States, but lots better than any Kardashian . . . right?
#8 – Stealing? Maybe a few hearts or smiles. Well, fine, there was that pack of cigarettes I permanently borrowed from the supermarket when I was ten. My older sister and I wanted to experiment and I volunteered for the dastardly deed. The Ten Commandments surely don't apply to childhood misdemeanors.
#9 – Bear false witness? I've seen bears . . . right next to my tent. And that's the truth!
#10 – Darn, I was doing well until #10. Wait, the Holy checklist has a sub-checklist at #10. So maybe once or twice I've coveted someone's house or wife (isn't my honesty refreshing?), but not slaves, an ox, a donkey and only a small percentage of my neighbor's belongings. All in all, I'm above average here at #10.
And yet I'm a Christian and, truth be shouted, the good old Ten Commandments are just that: merely good and very old. As a fine, semi-upstanding Christian, I know the better way. Jesus, after all, was once asked what commandments were most important and he boiled the old ten down to the new two: Love God, love neighbor. (You can read the "long" version at Luke 10:25-28.)
Judge me as a two-timing Christian, please. With Jesus' lean and mean version, we don't have to quibble about whether the ancient Hebrew language translates "do not murder" vs. "do not kill" or if lust and coveting are literal or if Jimmy Carter was right. When we use Jesus' two-for-the-price-of-ten commandments, I don't need to show pictures of what I don't have in my backyard.
Can't laws become land mines? I won't give anything away about Lent by reminding you what happens near the season's end. Lent, even for the newbie believer, holds no surprises, no tricks up its 40-day sleeve. When Jesus was dragged away by his Jewish brothers and sisters, it's because they claimed he broke the law. When the Nazarene staggered in front of Pilate's ambivalent gaze, the bureaucrat first found no fault according to Roman law . . . and then later sent Jesus off to be punished in the worst way because of Roman law. Religious laws. National laws. All can be ignored, tweaked or rationalized to insure the powerful stay powerful and the weak . . . well, you know.
Do I have a mix of feelings and reactions to Exodus 20's Top Ten? You betcha. It's easy to be cynical, dismissive and humorous about these familiar . . . edicts, guidelines, encouragements, orders, laws, policy statements, suggestions, commandments? I'm enough of a scholar to know Biblical mandates should be cautiously approached. Simple (or complex) edicts are often far more convoluted (or obvious) when we understand the historical context. I'm enough of global citizen to be reluctant to elevate one set of laws over another. As someone who claims the Ten Commandments as part of my tradition, I don't want to ignore lessons from my Buddhist or Hindu neighbors. I'm enough of a humble believer to be merciful when using the Bible's "laws" to judge others or myself. On too many occasions I've stood before my soul's mirror and, from first to last Commandment, felt I'd failed the "test." Self-focused and shortsighted, I forget about God's forgiveness.
I am grateful for the gift of "The Top Ten." I learn something about God and myself every single blessed time I review the list. God does long for my love. God does long for me to respect neighbor and creation. The commandments were not written to trap or trick me, but to allow me to sense who I can become.