I don't want to forget the fear.
On the final morning of a church backpack I led, by a Sierra Nevada lake four pleasant downhill miles from the trailhead and trip's end, I became lost.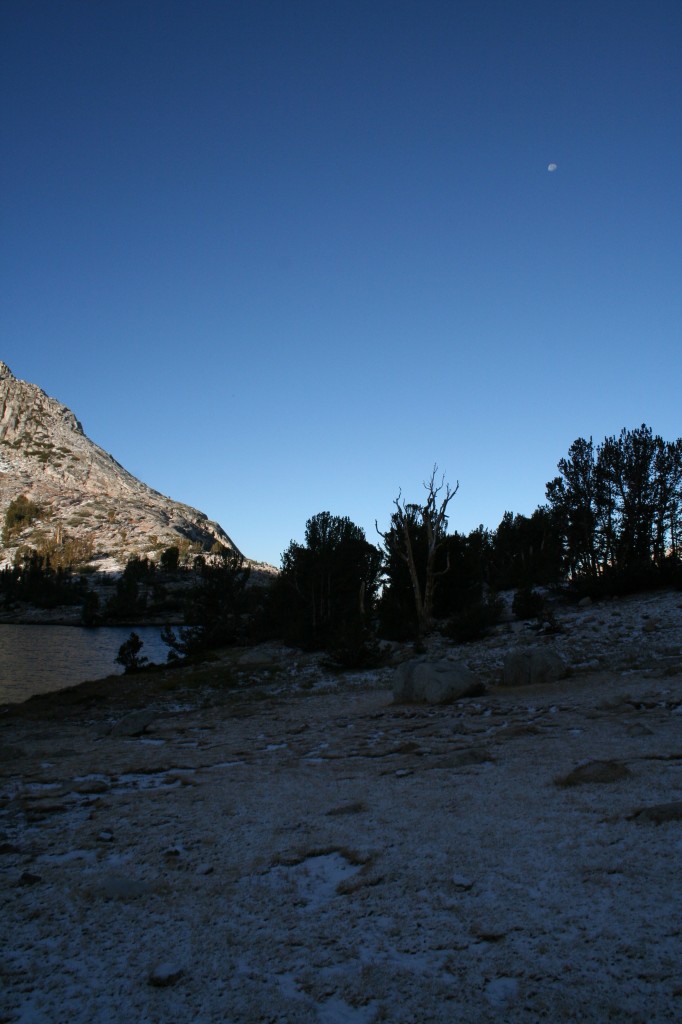 Since then I've reviewed the actions that inexplicably transformed a routine morning jaunt to standing anxiously at the edge of an unfamiliar lake. No. Not anxiety. What gripped me was primal, relentless fear. A fear that kept shoving logic, inch by inch, beyond reach. A fear that made any sound threatening and every silence even worse. A fear that caused the friendly lodgepole pines and stately Douglas firs to blur together into a foreboding green and brown wall.
The morning began with a stroll for my "constitutional." With toilet paper and trowel in hand, I made a series of mistakes. One blunder (ignoring landmarks around me) added to the next blunder (meandering further from camp than necessary into an area I hadn't explored). Worst of all, when I finished my "business," I didn't pay attention to my first return steps, instead reminiscing about yesterday's thunderstorm and the next day's obligations. Dreamily pondering, I could've been sitting in my office or walking around the block.
But I was in wilderness. Middle Blue Lake*, where we camped, went from right there to where the heck is it?
I love California's Sierra Nevada. I've hiked the Cascades and Olympics in the northwest, the rolling Porcupine Mountains of Michigan, the rugged New England stretches of the Appalachian Trail, and the "inverted mountain" of the Grand Canyon, but the Sierra remains home. The joyous interplay of sky, granite, light, and water beckon me for rambling hikes and demanding backpacks.
But there I was, probably no more than a quarter-mile from Middle Blue Lake and the companions I journeyed with, adrift in the woods. I yelled and whistled. No response. I stood still, attuned to any familiar sound. Nothing.
Then I ignored the advice of the experts: stay where you are when disoriented. After all, being lost and acting stupid are always eager to make plans together. So I started tramping through the woods, my heart pounding louder than a woodpecker searching for dinner. After slogging through dense trees and thick underbrush, I proved the experts wrong. I found a lake. Well, half wrong. The lake I stumbled onto, about the size of a baseball infield, was definitely not Middle Blue Lake.
However, I believed this was either Upper or Lower Blue Lake. I remembered the three lakes mentioned in the guidebook I didn't have. But surrounded by trees, and with no nearby high ground to acquire a better view, I wasn't sure which one. Fear reigned. Fear roared. More bushwhacking could mean I'd even lose this wrong lake's glimmer of hope. I might be four miles from the trailhead, but choosing a new wrong direction could make that six or eight miles. What if my companions searched the other 230,257 acres of the Ansel Adams Wilderness we were officially in, but neglected the solitary acre where I wandered around a lake that was barely a speck on the map? What if this pond-more-than-lake wasn't even on some maps? What if I sprained my ankle or broke my leg? I've done both on hikes and it's frightening to go from upright confidence to groveling in the dirt. Fear reigned. Fear roared.
I tried to slow rapid breathing that had nothing to do with the mountain's thinner air. Carefully, I searched the dry inlet and outlet streambeds to find a link between what I guessed—okay, fervently, desperately prayed—were interconnected lakes. After encircling the lake twice I identified three dry streams that seemed my best chances. The first petered out into a grove of lodgepole a few hundred yards uphill. The second snaked into a meadow and disappeared. Both were probably only wet during spring runoff. The third path was the sigh-of-relief charm. Wider and more established, perhaps a lively creek in the big snow years, I followed the boulder-strewn inlet to Middle Blue. Cue the angelic choir. After two hours, still clutching the plastic trowel, my fellow hikers welcomed me back. They'd started searching an hour before, but in the opposite direction from my original wandering ways.
I did not become a headline: "Local Pastor Found; Last Will and Testament Written in Blood on Two-ply Toilet Paper."
I did not become a statistic: "Twenty hikers were officially lost in the Sierra Nevada last year, with 5% grasping cheap plastic trowels."
Instead, I was welcomed into camp with hugs and laughter. All things considered I'd rather be found than lost. I'd rather be the younger son returning home to a father's embrace. I'd rather be the Israelites when the freeway signs announce "the land of milk and honey" at the next exit. Yes, I'm the spiritual descendant of the lost becoming found.
But I won't forget the fear.
Throughout the Bible, especially in earlier English translations, there are many phrases about "the fear of the Lord." And even if we don't agree with the theology, we continue using phrases like, "That'll put the fear of God in you!" For some, a compliment can still be, "He's a God-fearing man."
I don't try to follow the path of Jesus to draw closer to a God I fear. In my heart of hearts, in the ways of believing where I try to shape sermons that are honest or take intimate moments in prayer, I serve a God of abundant love and generosity.
And yet, I refuse to forget the fear I felt in those moments around the lake that I eventually discovered was Lower Blue Lake, connected to Middle Blue by a third inlet stream. I hope I never use fear to manipulate a person or a congregation to believe in God (though the institutional church has done that from Christendom's beginnings), but I will never again take fear completely out of the equation of faith.
Two hours lost? Not much time off the clock, right? But it was enough. I felt fear's sharp elbow in my side. The barren inlets and outlets I tracked seemed little different than the emptiness souring my gut. Fear is a raw, truth-filled feeling demanding I remember I'm not the Creator. I am the one created. I am a mortal, mistake-prone human. Like all of us, in my next stride—whether it's a foolish blunder or a sure step—I am as vulnerable and fragile and temporary as a blade of grass.
When I finally reached Middle Blue, not yet seen by my friends, I studied the rocky streambed I'd just traveled. How was it so easy to get lost?
And then I turned back to face the shining waters of the lake where I camped and took a deep breath.
*Middle Blue is not the lake's real name. No need for you to identify where I made my mistakes. Find—or lose—your own!