Luke 2:22-40 – 1st Sunday of Christmas – for January 1, 2012

"And the child's father and mother were amazed at what was being said about him." (Luke 2:33)
How will you spend Christmas?
Of course, my question is a two-edged sword.
Christmas. Spending.
Christmas time brings out some of our worst questions. If someone gives you a gift of a certain "value," then shouldn't you give him or her a gift of equal worth? If you make up a Christmas list, do you have it as easy as Santa's "naughty" and "nice?" Or do you have to pro-rate family and friends, creating a graduated scale of who-gets-what based on who you:
Like the most . . . Want to impress the most . . . Have guilt about . . . Feel warm & fuzzy or cold & sandpapery about . . .
Choose. Quick! The shopping days zoom by more quickly than Rudolph and the other hoofed wonders on a clear night.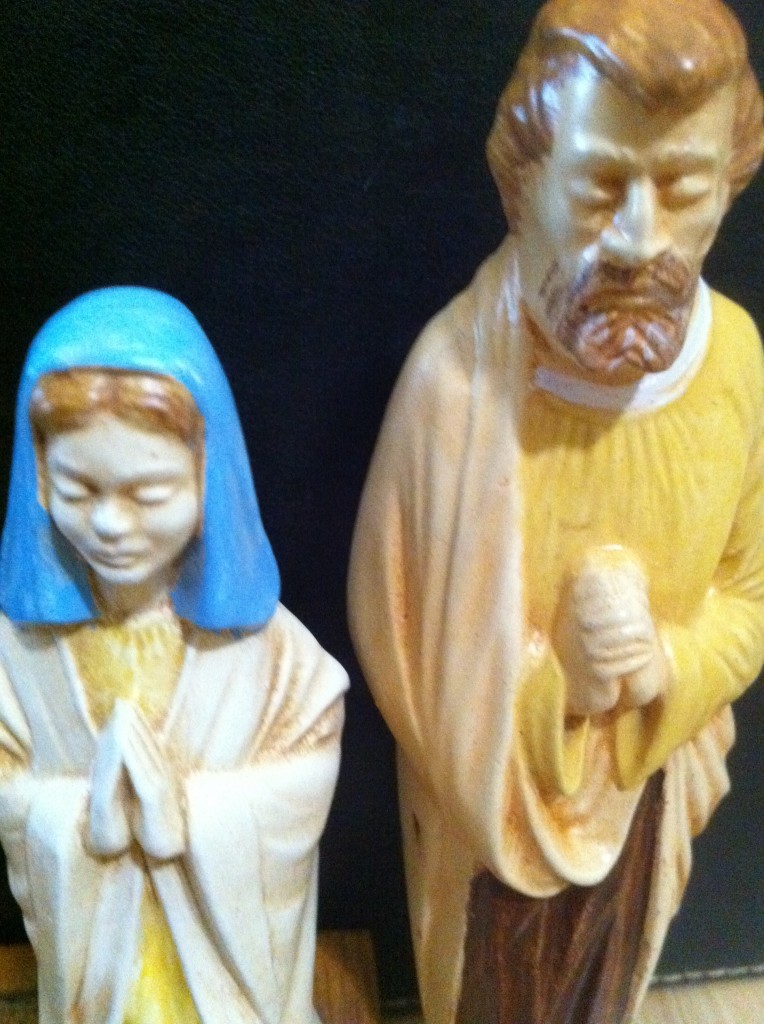 Oh, the many variations of obligation. Don't some stores need us to shop because this time of the year represents such a high percentage of their annual profit? I remember, following the September 11 terrorist attacks, that a not-so-subtle message from our political leadership was to . . . shop! Scurrying to the nearest mall after a horrific attack on our country will show them we're a people of courage. Really? And shop-shop-shopping during every Christmas pre and post sale reassures store owners how much we care about their year-end bottom line. Right, sure.
The sword cuts both ways.
In Luke, eight days after Jesus' birth, Mary and Joseph head for the temple to fulfill their Jewish obligations for a newborn. There a fellow named Simeon—who is never described by any official temple title, but as simply "righteous and devout"—takes the baby Jesus into his arms and says,
This child is destined for the falling and rising of many in Israel, and to be a sign that will be opposed so that the inner thoughts of many will be revealed—and a sword will pierce your own soul too. (Luke 2:34-35)
Wasn't that happy news for Joseph and Mary! Thanks Simeon. What a gift! And yet, with all the impossibility of knowing any actual-factual details about the time and events of Jesus' birth, Simeon's whispered temple words are a worthy gift for us to remember. Whoever Simeon was, whether a real memory or an invention of Luke, I'm forever challenged by his role in this sacred story.
How will you spend Christmas?
Every year, from my Fresno home to wherever you are, this child is plopped into our arms. We sing the carols, read the scriptures of old, stagger from store-to-store or website-to-website with a glazed look on our eyes, stumble into homes of uncles or cousins in our annual awkward (or awesome) family pilgrimage . . . and, amazingly, every single moment is an opportunity of how we will spend Christmas.
This story told about Jesus as an infant, even with all the ways we've rearranged it, demands an answer. Again, the child is in your arms. Again, you are before another . . . maybe a stranger, maybe your lover. How will you and I spend Christmas so that our soul is pierced, wounded, opened, and revealed?
Every day, in so many different ways, we enter the temple, breathless and carrying that gurgling infant in our souls. Call the temple Macy's or your classroom or Uncle Bob's house or the stretch of ground between you and your neighbor's property, but there you are . . . how will you spend that time?
I can pose the question, but each of us will have our own answer.
Simeon, in my imagination, still whispers; his metaphoric sword opens our soul, with the joy and pain of life.