Luke 2:1-20 – Christmas Eve/Day – for December 24/25, 2011

"…and found Mary and Joseph, and the child lying in the manger…" (Luke 2:16)
What child is this who, laid to rest, on Mary's lap is sleeping?
Whom angels greet with anthems sweet, while shepherds watch are keeping?
Hey! Let me answer the song's question. Right now, I'm holding the child in my hand . . .
Mary's child has a shock of brown hair and, with eyes closed, is clearly sleeping. I like his snug blue coat with the collar protecting his chest. I delight in the hint of tummy above the clean white sheet warming his legs and feet. He's fair-skinned, sports a pug nose and—like infants often do—his tiny, tiny fists are closed tight while he slumbers.
See . . . I know what child this is.
It's baby Jesus in ceramic form, hand-painted by my mother, given to my wife and me on our first married (and merry) Christmas together. Thus I'm confident of how old Jesus is (he turned twenty-seven this year). Thus I'm confident of what he wore—and always wears—to keep cozy in the hay: a cute blue jacket. Thus, though I'm less confident the "angels greet with anthems sweet," I can prove Mom did make Baby Jesus. Her initials—a slightly uneven FP—are scrawled on the hollow backside of the baby.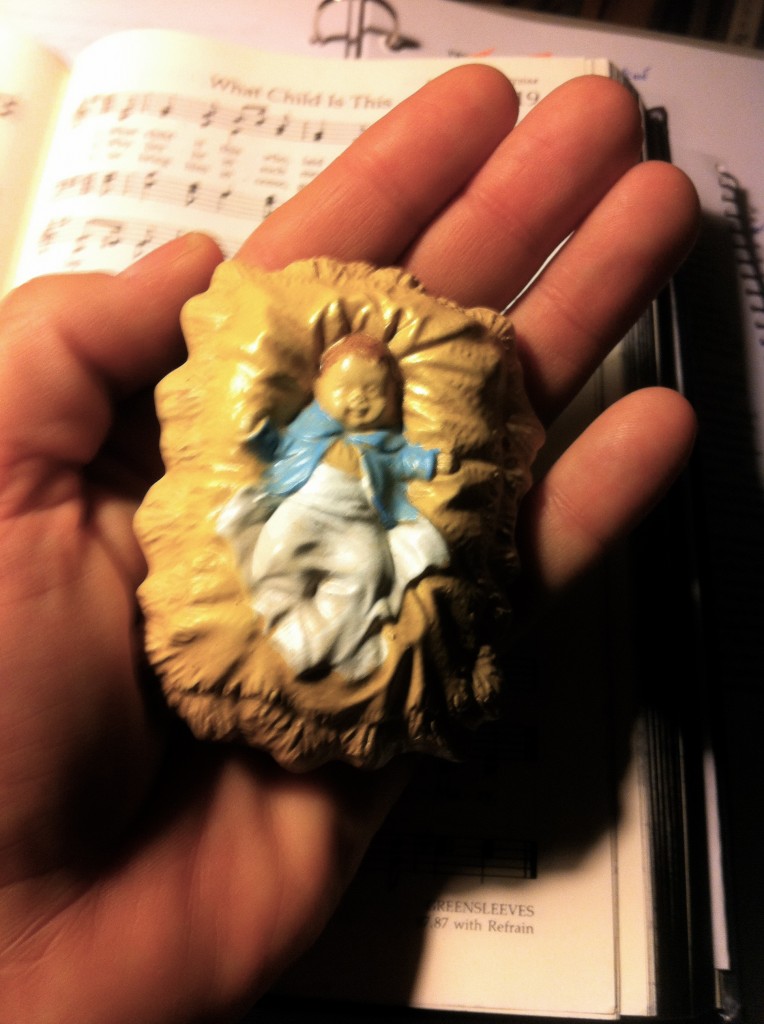 Yeah! I know about this child, laid to rest, and center stage on my mantel every year. While he rests, the other ceramic creations surround him: the stoic shepherds, the tall, thin magi, the calm camels and—of course—Joseph & Mary. And let me not forget the solitary angel Mom painted, wings spread . . . and in my imagination a bit exhausted from all the anthems sung in the fields.
This is my nativity. A Christmas tableau. The manger scene. An indoor putz (as my wife's Moravian tradition might say). Joseph and Mary and their child, forever fixed in ceramic.
Well, maybe not forever. A few stalwart characters have been patched with a smidgen of glue. Out cats roam the fields where shepherds watch, after all. And we display the putz high on a mantel, with hard bricks below that won't cushion accidental leaps of faith.
In my hand, I cradle the Baby Jesus Mom made for us. How much I enjoy displaying it every year during Christmas. And yet, isn't this little pug-nosed, blue-coated infant a lie?
Long, long ago, in my first wide-eyed year of seminary, I read these words from theologian James M. Gustafson: "The proper stance of the Christian community in its ethical reflection is self-criticism and repentance, not pride and self-aggrandizement." Whoa. That throttles Christmas cheer in this most wonderful time of the year. Gustafson's words cause me to study the ceramic child in my palm and declare, you are way too aggrandizing, little fella. And so are Santa and those reindeer and Black Friday and eggnog and the zillions of catalogs depicting perfect people and perfect gifts that have burdened my mailbox since Halloween. Christmas has become the season of self-aggrandizement.
Wait.
Stop.
Pause.
Hold still and hold on to that little ceramic tyke. I turn Baby Jesus over. I touch Mom's initials. Hand-carved. A gift. A token of love passed along from one generation to the next.
What is Christmas? What of this child, who is, according to Luke, "wrapped in bands of cloth and lying in a manger?"
'Tis different for everyone, generation to generation. Your nativity scene is not mine. What your family claimed about Santa or Frosty the Snowman is not what mine said. And Gustafson's words always, from my first ah-ha! reading, ring true and hard. I believe the myth Luke (and Matthew) helped create has guided seekers to seek light in a dreary world, then and now. It was told to confront arrogant power with the tenderness of hope. Told to claim the worst news isn't the last news. Told to embolden those who are poor in spirit or just plain poor. Told to challenge us to begin again, because birth is not just a one-time event in a lonely manger but happens throughout our lives and our faith. Told because we are hardheaded, heartless and greedy and, at least once a year, we better proclaim a story about a vulnerable, precious, pug-nosed baby.
I am thankful for Mom's gift. It's a lie and it's the truth.
I wish you, dear reader, the merriest of Christmases. Like always, whether for Joseph and Mary or your family, it'll be a tough year. There will be death and disappointment. We'll have too much pride and are engulfed with way too much self-aggrandizement.
But just maybe, in the darkness of our high-tech lives, we'll cradle the child and let go of just enough of our fears to sing songs of joy.