Did my red socks display jolly Santas, lush Christmas trees or singing angels?
I don't remember. I've worn and worn out many festive socks over the years.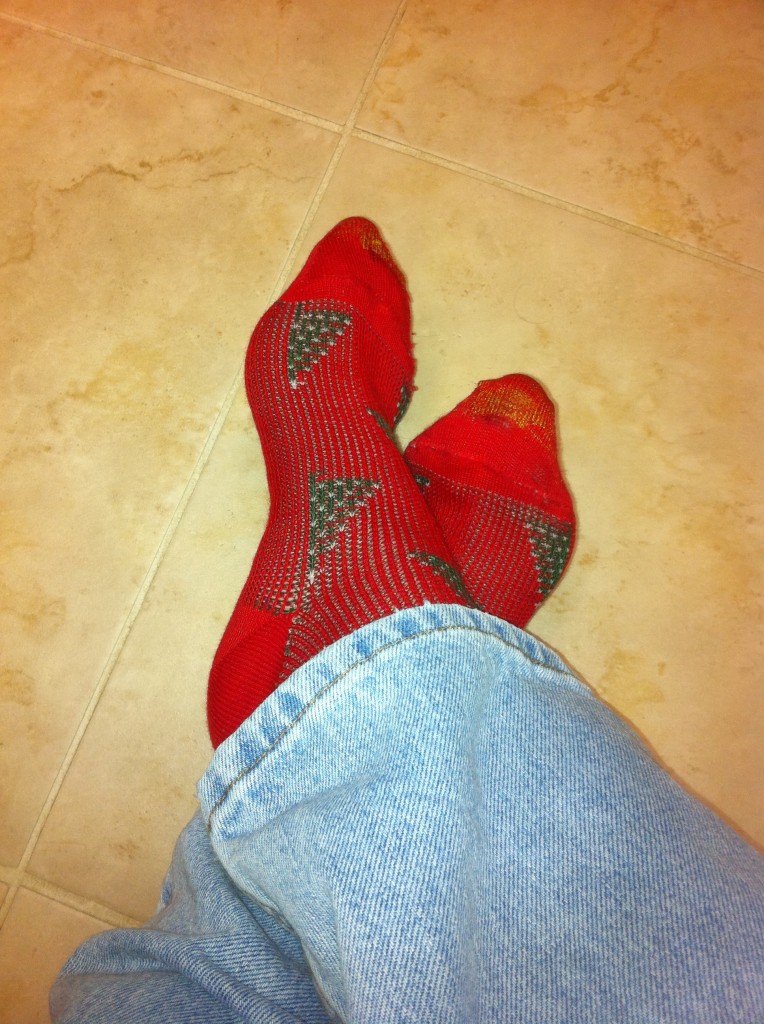 Advent's Third Word: WITNESS!
But I recall the snow, my December breath adrift like a miniature cloud, the long tramp from the driveway to their house. An hour or so outside of Madison, Wisconsin, the brittle night air contains the smell of cattle from the barn as my footsteps crunch on the icy path leading to the front door.
I also don't remember who answered. His teenaged daughter? His wife? His brother from the next farm over?
"I'm Larry," I say. "I had called and asked–"
"Yes, of course, come inside before you freeze. We're glad you came."
I entered a home I'd never been to before, and shook the hand of a stranger. In my faulty memory I can't be sure if the friendly hand grasping mine was the daughter, wife or brother, but I certainly felt welcomed. Other family members voiced their greetings. An unseen Christmas tree cast splinters of red and green light against the wall. Evidence of baking, maybe cookies, teased my nose.
Someone offered to take my coat. Then, after a cleared throat, one of my greeters quietly asked, "Could you take your shoes off?"
They gestured toward the entryway floor. Work boots, clogs, running shoes and other footwear rested on a throw rug. I shrugged off my shoes and added them to the mix. Especially in a Midwest winter, a season of mud and snow and ice, this wasn't unusual. Removing shoes helped in the battle for a clean house.
With my Advent/Christmas socks obvious, I padded into the living room, accompanied by members of the family. Everyone glanced at my feet, at those Santas or singing angels prancing against a bright red background. A Christmas tree anchored a corner, across from the fireplace. There was a sofa, several chairs and a hospital bed.
His wife said to me, eyes unblinking, voice strong, "This is John. He's so looking forward to meeting you."
Was his name John? The names have slipped away and, in the blur of thousands of visits since then, I could not now find the correct road, or the farmhouse built in the early part of the twentieth century. But I'll never forget the warmth, the friendliness, and his family's reactions to my silly socks.
This was my first "informal" hospice visit. In that long-ago home, filled with strangers facing the death of John, their brother and husband and father and friend, I witnessed to God's love. For the next hour or so, and in the handful of visits that followed, I entered into the disrupted rhythm of a family's life—as they prepared for the death of someone they loved as much as life itself—and tried to add a dash of hope and faith and trust . . . to let them know they were "a people whom the Lord has blessed."
Even at death.
Then I served three rural Wisconsin churches—officially a three-point charge—and a member of one of my congregations asked me to visit John, a friend "down the road." John's impending death, in the season of expectation and joy, of journeys to Bethlehem and shepherds waiting in the fields, would come soon according to the hospice team caring for him. In my visits I met nurses and social workers, the team of professionals who supported John and his family. There were no longer any attempts to cure him, but the hospice team helped John's family claim moments of Joy to the World in a room jammed with a Christmas tree and hospital bed.
In every visit, John's family joked about my bright, seasonal socks. The silliness relaxed them, seemed to prompt sharing about long-ago and just-last-week family stories. I don't recall why I wore them at the first visit . . . maybe I'd come from church where an Advent potluck had been hosted by one of the congregations. It's always fun to wear garish socks and to get reactions from kids. How could (mature, responsible) Pastor Larry wear something so silly?
And yet this I believe: those silly socks aided me, if only in a feeble, foolish way, to witness God's gifts of life even as a family faced death.
Was I a trivial witness? Yes. I knew it then, and certainly know it now. After all, a friend has been jailed because she protested at the White House, demanding equal rights for gays. God bless her remarkable witness. I have older colleagues who still shed tears when they recall marching with Martin Luther King Jr. God bless their unselfish witnessing. A younger colleague, a campus minister at UC Davis*, helped diffuse a tense situation related to the Occupy Wall Street movement with her calm presence (in the aftermath of students pepper-sprayed by police). God bless that compassionate witness.
Advent, with it honest anticipation of Christmas' deepest meanings, invites us to witness. For so many, it's a bleak world. Equal rights are part of an ongoing struggle. Rich trample the poor. The powerful ignore the weak. Death haunts us.
Advent opens a door. I remove my shoes. Am I not entering holy ground? I cross the threshold and pray, help me witness.
*Rev. Kristin Stoneking, a campus minister at UC Davis, is a fellow United Methodist clergy in the California-Nevada region. Read her account of being a witness…here.