Mark 13:24-37 – the 1st Sunday of Advent – for November 27, 2011

"Beware, keep alert; for you do not know when the time will come." (Mark 13:33)
Mark's Gospel begins Advent season with a smack against the back of the head. Stay alert.
Stay. Alert.
Stay alert!
As always—for even if Mark 13:24-27 is read for the first time, almost everyone knows about end times, the coming of Christ, the last days of the late great planet Earth, the rapture—we'll declare, "Sure, I'll try to stay alert."
Advent's First Word: ALERT!
However, will your declaration have an undertone of confidence, sarcasm or boredom? After all, Mark was written over 1,900 years ago. Whoever served as Mark's first audience, they may very well have tried to stay alert, inspired by the Gospel scribe's urgency. But those first century believers are dead and gone. Nonetheless, every generation has experienced enough of the worst of the world to be convinced the end's approaching. Families in the last two millennia have buried children, seen a farm foreclosed or had a spouse's betrayal cause those particular persons to feel as if the end was not just near, but crashing through their front door. Since Mark first wrote "But in those days…" we've had genocide, pogroms, crusades, slavery, depressions, plagues and millions of precious humans riddled by the swords, muskets, bazookas or rocket propelled grenades of war. Is the end near? It feels like we wake up with The End sipping coffee in our kitchen every morning.
Stay alert? Sure, but only because we want to survive the commute to work or the ride home from school. Or we want to make sure we keep the job we almost like in this lousy economy or finish school so we can search for a job that will likely keep us from spending time with our beloved spouse and kids . . . but we have to keep food on the table and gas in the car. On we go.
Can we believe in this ancient warning on this year's brand new first Sunday of Advent?
I have no interest in staying alert for the end of time. I want to stay alert for the beginning.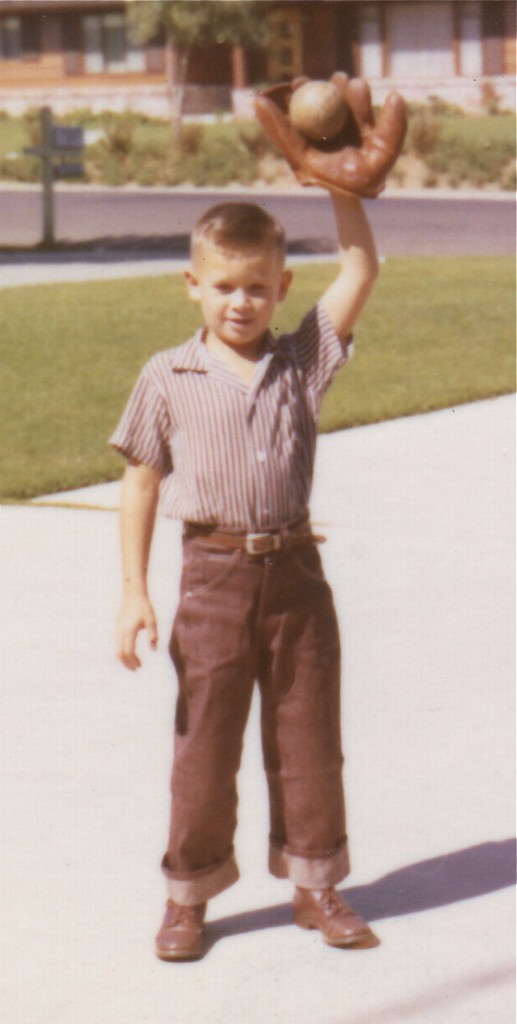 Growing up, I "lived" for baseball, enjoying work-ups or three-flies-up or catch with Dad until it was too dark to see. In middle school, during springtime, a bunch of guys gathered an hour before classes for softball. We rarely had enough for two teams, so we played work-ups. Work-ups meant there might be three or four at the plate to bat and the remaining players took the field. Whenever a person was out, he headed for right field. With each new out, you shifted to center, left, then the infield, and finally got another chance to bat. You "worked up" toward the plate.
I loved to play centerfield. Loved it. Loved it. Loved it so much I'd often let the new right fielder skip center and move to left. Batting was fine; fielding far better. The crack of the bat. A search for the long fly ball. Racing across schoolyard grass. Did I say I loved those moments?
This childhood passion caused me to categorize people into two different groups. There are those who hope the fly ball never comes their way. And there are those hoping every hit is the next ball they will catch. It's an unfair categorization. No one is always liberal vs. conservative in his or her politics. No one only eats toasted bagels vs. cold cereal for breakfast. Any categorizing, even if a by-product of intensive and fair research, has flaws.
And yet I recall standing on a spring morning's wet grass, awaiting the crack of a bat. Alert! Ready! I wanted that long fly ball to head my way.
That is the feeling I desire with Advent's beginning: Stay alert! But not because I'm anticipating the worst of Mark's "darkened sun" and "falling stars." I hope and pray to stay alert for the best.
Once I anticipated a fly ball. Now, with cranky knees and gray, thinning hair, I still claim that longing. My Advent prayer is to long to help another, to grow in my faith, to sense God's presence in the stranger, to race across the dew-laden grass of life and serve my neighbor. I will often fail. But I will, if I'm alert, sometimes succeed in bringing the beginning of time to another.