My friend Mark asked if I wanted to find pho with him.
Pho? Off we went during an Annual Conference lunch break, in search of a hole-in-the-wall restaurant that served pho, a traditional Vietnamese dish. After all, ever since a Conference twenty or so years ago, I've never considered fasting when I have a chance to share table with friends.
The 3rd Sunday of Ordinary Time – for July 3, 2011

"…the Son of Man came eating and drinking…" (Matthew 11:19)

Some definitions…

Pho: Noodles served in a bowl of broth, with slices of beef, vegetables, herbs, and who-knows-what-else that is "every day food" in Southeast Asia. Heavenly. More pho, please!
Annual Conference: United Methodist churches are "connectional," with lay and clergy meeting annually at a regional conference for worship and business.
Fasting:Â  Spiritual discipline, where not eating for a period of time honors God and/or protests a societal concern. (i.e. Caesar Chavez fasted to call attention to the plight of field workers.)
Mark and I attended seminary together nearly forty years ago (sorry for being forthright about that, Mark). He's done extraordinary things during his ministry, serving and working alongside folks in Africa, Central America and Malaysia. He's currently the senior pastor at a large, thriving congregation in California's Silicon Valley where he jokingly—and seriously—describes some of his church members as "masters of the universe*." When Mark worked in Malaysia's Sarawak, he discovered the pleasures of pho. He's as comfortable with children playing on the streets of Southeast Asia as he is in California's high-tech, high-powered jungle.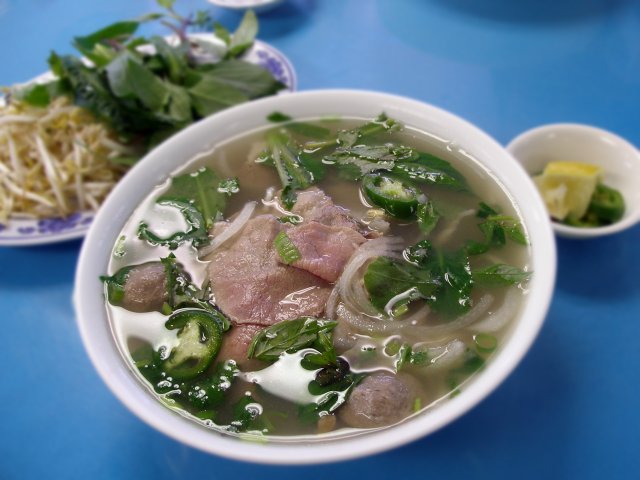 When Mark suggested pho, I had no problem following him down a street and away from Annual Conference business. For me, it's the essence of friendship and Christian fellowship. Table time. Breaking bread and spreading crumbs. Chatting and eating. Napkins tucked on the lap, laughter the best and last spice added to the meal.
In Matthew (along with Luke) Jesus claimed others referred to him as a "drunkard and glutton." Is there a more embarrassing passage in all the Gospels? Who do you follow as a way to embrace God? I choose to walk with the drunkard! Who has shared as no other about the power of forgiveness and the life-altering need to serve neighbor? The guy called a glutton!
Isn't it embarrassing for Christians to have Jesus—the Christ, the Messiah, the Son of Humanity, Mary's child—referred to as drunkard and glutton? Absolutely. And yet, it's also one of the most refreshing revelations about the Nazarene. What mattered…people! What mattered…the equality of a table where all are welcome! What mattered…there's always room for more chairs!
At an Annual Conference years ago, Theresa (another friend from seminary) asked if I wanted to go to lunch. I hardly ever saw her. We were both ministers and, darn it, always busy on weekends and holidays. Theresa was also the person my wife and I asked to marry us, so any opportunity to spend time with her felt precious and essential.
However, when she asked about where to eat, I muttered something like, "Aren't we all supposed to be fasting today?"
A war, or rumors of a war, raged somewhere in the world. Sadly, because the world seems forever in conflict, I can't remember which one. However, thoughtful and impassioned clergy colleagues challenged all who attended Annual Conference that year to "protest" the war, and to reflect on Jesus' way of peace, by fasting for a meal or a day.
Theresa replied, "I agree with them. What is going with ________"—(fill in whatever idolatrous war the United States has fought in the last twenty years)—"is awful, but Annual Conference gives me a chance to spend a little bit of joyful time with friends and that's important too."
We ate while others fasted. We were not wrong and bad. Those who fasted were not right and good. Sidling up to the table is a powerful spiritual discipline when it's done not to stuff the face and belly, but to take a few moments with a friend, a fellow "tax collector and sinner," to renew the relationship and support each other's hopes and sorrows.
I seek the path of the one called a drunkard and glutton. Yes, with you, I can easily find the awful statistics about alcoholism and overeating. Those are devastating concerns. But this most embarrassing passage in Matthew speaks to something much different.
Mark (as with Theresa before) and I shared a few moments together. We will never spend much time around table, but I'll take it when I can get it. I want to hear about Mark's wife and sons, about his long-ago slurping of pho in the early morning of another workday in Malaysia and about how he humbly brings Jesus' call to empower the poorest to the "masters of the universe*."
I think Mark and I dribbled broth on our shirts. Pho be messy. Pho be delicious. Who do you need to share table with today as a way to follow the "drunkard and glutton?"
(*On the off chance any of Mark's current church members read this, rest assured Mark was NOT referring to you as a "master of the universe." Additionally, it was spoken under the influence of pho and actually about other members of other churches Mark may or may not have served.)