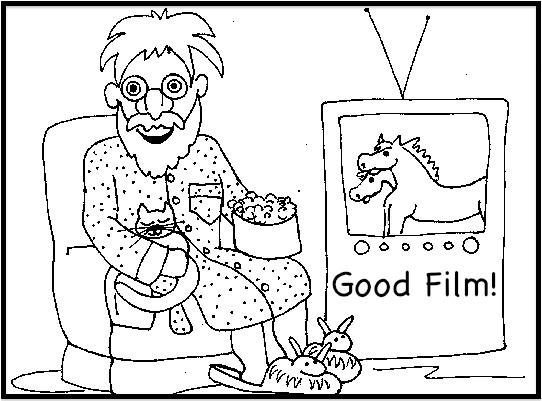 On an occasional basis, I'm gonna invite my alter ego, Lounging Larry, onto the webpage. That dude watches a lot of movies. Maybe he'll appear weekly. Maybe he'll take a long nap and not show up for a month. We'll see!
I've loved movies ever since watching a professor's collection of silent films during seminary. Yeah, my fellow students studied theodicy and Christology. Me, I sat in dark rooms and laughed with Buster Keaton and cried with Charlie Chaplin. That explains my educational limits.
All Lounging Larry reviews will be less than 200 words. It's a self-imposed limit to curtail my brilliance and your boredom.
All reviews will include one or two questions with the thought that—maybe with a friend, maybe in a church group—you might use my film suggestions as a springboard for discussion.
I will only review films I enjoy. I won't stick a thumb up or down. However, you may think my "good" film is a lousy waste of time. Your problem, not mine.
I also hope you give me feedback. Make a comment. Suggest a film. Lounging Larry loves to munch popcorn and settle in for a good cry, laugh, chase, or cliffhanger. Kissing is okay too . . . and I can be as R-rated as the friend you don't want to introduce to your parents.
Want to know a little about my tastes? Best film ever: CHINATOWN. Best silent movie: THE GENERAL. Favorite bad movie: TREMORS. Best trilogy every made: the BOURNE movies (take that LOTR). Film with the best dialog ever written for any artistic endeavor in the history of humanity: CASABLANCA. Enough of this nonsense. If you enjoy Lounging Larry, we'll find out more about each other.
Bottom line, for my sensibilities: film is a great way to explore faith . . . stories are always the best theology.